Vol. 14 No. 52
Pick Hits
At The Movies
Marley & Me
An ambitious young reporter, John Grogan (Owen Wilson), and his wife, Jenny (Jennifer Aniston), also a reporter, move to a Florida, buy a house and adopt a Labrador puppy they name Marley. Marley quickly becomes a rollicking force of nature in their lives. The story is about true life, and the hardships that come with marriage and kids and everything else. A real tear jerker ending.

On DVD
Eagle Eye
Jerry Shaw (Shia LaBeouf) and Rachel Holloman (Michelle Monaghan) are two strangers thrown together by a mysterious phone call from a woman they have never met. Threatening their lives and family, she pushes Jerry and Rachel into a series of increasingly dangerous situations, using the technology of everyday life to track and control their every move. As the situation escalates, these two ordinary people become the country's most wanted fugitives, who must work together to discover what is really happening, and more importantly, why.

The Buzz..
The Terminator, which starred Arnold Schwarzenegger as a killer cyborg sent back in time, will be added to the Library of Congress' National Film Registry. That means a print of the film will be vaulted as protection against deterioration, perhaps to be unleashed in a post apocalyptic future ruled by sentient machines?

MTV will begin another search for America's Best Dance Crew shortly after the new year. The third season of the dance competition, which has been a solid performer for the network, is scheduled to premiere Thursday, Jan. 15. Mario Lopez will be back as host, along with judges Lil Mama, J.C. Chasez and Shane Sparks.

HBO has ponied up for Cocaine Cowboys, a drama about the 1980s drug trade in Miami. Prolific producer Jerry Bruckheimer and director Michael Bay brought the project, based on a documentary by Billy Corben, to the cable channel and will executive produce.

Hundreds of thousands of Americans are wondering how they're going to pay their mortgage next month, but at least one person out there had $5,300 in loose change to blow on Scarlett Johansson's used tissue. Last week on The Tonight Show, Johansson told host Jay Leno that she was still under the weather from a cold she picked up from her co-star in The Spirit, Samuel L. Jackson. "I feel like it's valuable in some way," the actress said, "I feel like I could sell it on eBay." Sensing an opportunity, Leno handed her a box of tissues and encouraged her to got to town. The resulting wad (complete with bonus of smear of lipstick and Johansson's autograph) was then listed on eBay. Proceeds will go to USA Harvest, an organization that works with restaurants to distribute unsold food to those in need.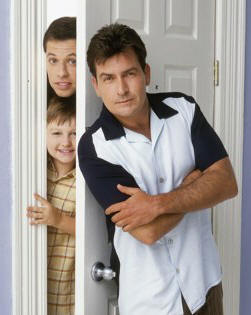 Someone is making money off of CBS' top TV comedy Two and Half Men, but it's not Warner Bros. TV according to a $49 million suit they filed against the network. CBS originally agreed to pay a $750,000 per episode license fee during the show's first four seasons. Thing is, it costs an average of $1.22 million to produce each episode, meaning over the past four years the studio has racked up deficits worth $61.1 million. For seasons five and six (which the show is currently in the middle of), CBS has only paid out a "modest increase" according to the studio.

Lauren Velez is trading in her Dexter badge for a nurse's uniform in a guest arc on Ugly Betty. Velez will appear in multiple episodes of the ABC series, where she'll play a nurse. Just who she's nursing, and how she enters the life of Betty (America Ferrera) and her family, are details that the show is keeping under wraps at the moment.

Watch out Warner Bros. It would seem that the superhero flick Watchmen is really owned by 20th Century Fox, according to Variety. A federal judge ruled that Fox owns the distribution rights to the graphic novel by Alan Moore, and that extends to the big screen debut of the film that was slated to be released from Warner Bros in March. Fox filed suit in February, stating producer Lawrence Gordon's option to acquire the studio's remaining interest in Watchmen was never exercised giving Fox rights under a 1994 agreement.

One more familiar face will be making her final rounds in the ER this season. Alex Kingston, who had a seven season run on the NBC series as Dr. Elizabeth Corday, will reprise her role on Thursday, Jan. 15, NBC says. She joins former TV husband Anthony Edwards and Noah Wyle in making guest appearances during the show's final season.

Rumors have been swirling for weeks that Jennifer Lopez and Marc Anthony's marriage is in trouble, sparked by J Lo arriving at the LA premiere for The Curious Case of Benjamin Button sans her wedding or engagement ring. More damning, perhaps, is a ringless (and Lopez-less) Anthony who has been seen cavorting at New York and Las Vegas nightclubs with a bevy of beauties.

Woody Harrelson and girlfriend Laura Louie have been together for nearly 20 years. Now, though, they're newlyweds. The former Cheers star and No Country for Old Men actor and Louie were married in a small ceremony on the Hawaiian island of Maui. Guests included Willie Nelson and Sean Penn, and Alanis Morissette sang at the ceremony.

Walt Disney Pictures will not be co-financing the next Narnia film (titled Voyage of the Dawn Treader) with Walden Media. The move comes after The Chonicles of Narnia: Prince Caspian produced less than stellar results at the box office but is also surprising considering the studio had set it up as a tentpole franchise and is now abandoning it after the second film.

Jon Favreau is looking to cast Tim Robbins in a small role as Tony Stark's dad in Iron Man 2. While small, the role is reportedly supposed to be pivotal as it is to setup plot points for the Captain America and The Avengers films.

A new rumor is being printed in the tabloids that Eddie Murphy is looking to join the next Batman film as the Riddler while Rachel Weisz will play Catwoman. Also, as part of this rumor, Shia LaBeouf is supposedly going to have an unnamed role. It should be known that these rumors will continue to circle the Net until an official announcement comes from Warner Bros. about the state of the next Batman film. Chris Nolan hasn't officially signed to do the project yet and there is likely not going to be any casting movements until he does.

House star Olivia Wilde and Beau Garrett will both join Tron 2, the sequel to the 1982 Disney cult classic which is being directed by Joseph Kosinski. Sean Bailey is producing along with Steven Lisberger, who co-wrote and directed the original film.

Black Sabbath's Tony Iommi has sued Live Nation for trademark infringement. The Sabbath guitarist claims that the concert giant has been using the band's logo after their contract expired. Live Nation bought merch company Signatures last year, but Sabbath's deal with Signatures expired in 2006. Iommi is seeking damages and immediately ceasing sales of Sabbath products via Live Nation.

Rihanna will perform for the Presidential Inauguration Charity Ball on January 20. The star will be one of many in Washington, DC for the president-elect's big day with Oprah, Diddy and Will Smith also planning their attendance. Proceeds from the event will go to benefit Feeding America, the largest hunger-relief organization in the U.S.

U2's upcoming album, No Line On The Horizon, will have five different incarnations. Billboard reports the album will come in the format of CD, vinyl, digi pack, magazine and box set. The five versions are all set to drop March 3.

The 2009 Vans Warped Tour has been announced. The bill for the 15th annual concert includes dozens of bands such as NOFX, Bad Religion, Silverstein, the Ataris and Alexisonfire.

Zooey Deschanel is engaged to Death Cab for Cutie singer Ben Gibbard. The Hollywood actress and She & Him singer has reportedly been dating the Death Cab For Cutie frontman for a year. According to US Weekly, Zooey was swept off her feet by the sensitive songwriter. Deschanel is currently starring alongside Jim Carrey in the comedy Yes Man.
All intellectual materials are ©2008 Blanket Media.
HOT 20 SONGS

1. If I Were A Boy -Beyonce
2. Drive My Soul - Lights
3. Lovebug - Jonas Brothers
4. Detroit '67 - Sam Roberts
5. Sex On Fire - Kings Of Leon
6. Hot N Cold - Katy Perry
7. Give Me The Music - Eva Avila
8. Human - The Killers
9. Live Your Life - T.I. ft. Rihanna
10. Poker Face - Lady Gaga
11. Love Lockdown - Kanye West
12. Until We Burn In The Sun - Bedouin Soundclash
13. Baby Doll - Girlicious
14. Decode - Paramore
15. Mrs. Officer/Comfortable - Lil Wayne ft. Bobby Valentino
16. Womanizer - Britney Spears
17. Get Up - 50 Cent
18. Rehab - Rihanna ft. Justin Timberlake
19. Single Ladies (Put A Ring On It) - Beyonce
20. Save You - Simple Plan
BOX OFFICE

1. Bedtime Stories
2. Marley & Me
3. The Curious Case of Benjamin Button
4. Yes Man
5. Valkyrie
6. The Tale of Despereaux
7. Seven Pounds
8. The Spirit
• Good (New)
• Defiance (New)
ON DVD

1. Burn After Reading
2. Death Race
3. Traitor
4. The Mummy: Tomb of the Dragon Emperor
5. The Dark Knight
6. Mamma Mia!
7. The House Bunny
8. Step Brothers
• The Duchess (New)
• Eagle Eye (New)
TV

1. Sunday Night Football
2. CSI
3. 60 Minutes
4. Two And A Half Men
5. Criminal Minds
6. The Mentalist
7. CSI: Miami
8. CSI: NY
9. Eleventh Hour
10. NCIS