Vol. 11 No. 52
Pick Hits
At The Movies
Rumor Has It...
Sarah Huttinger's (Jennifer Aniston) life is in a tailspin. She's finally agreed to marry her boyfriend Jeff, but isn't at all sure that marriage is what she really wants. As conflicted as she is about her love life, her professional life isn't much better. An aspiring journalist, Sarah's career has stalled at the New York Times obituary column. To top it all off, she's on her way home to attend her sister's wedding, which means spending a lot of time with her family. But when she meets Internet millionaire Beau Burroughs (Kevin Costner), their encounter unexpectedly unlocks some well kept secrets that may help Sarah uncover the truth about her family and finally discover who she truly is, once and for all. The chemistry between Aniston and Costner is suprisingly good.

On DVD
Into The Blue
Set in the deep, shark-infested waters of the Bahamas, four young divers discover a legendary shipwreck rumored to contain millions in gold at the bottom of the sea, they believe their dream of buried treasure has come true. But nearby on the ocean floor, a sunken plane full of illegal cargo threatens their find. The friends make a pact to keep quiet about both discoveries so they can excavate the shipwreck before a rival treasure hunter uncovers their secret and beats them to the gold. But their plan goes awry when they realize dangerous smugglers are already closing in on the missing plane, and one of the friends makes a fatal decision that quickly turns the treasure hunters into the hunted. A great action adventure movie that the whole family can enjoy.


The Buzz..
Joaquin Phoenix is set to attend a screening of Walk the Line at Folsom State Prison on Jan. 3, nearly four decades after Johnny Cash's infamous concert at the penitentiary. The viewing was set up by the California Prison Fellowship, which partners with churches across the country to minister to prisoners, ex-prisoners and their families.

Britney Spears fired off a $20 million lawsuit against Us Weekly over a column in its Oct. 17 issue that said Spears and husband Kevin Federline feared "raunchy footage" of their bedroom exploits would be made public.

Joining the trend of TV shows migrating to the Internet, a pair of episodes from the CBS comedies Two and a Half Men and How I Met Your Mother are being offered for free video streaming this week from the Yahoo! Web site.

Avril Lavigne can add actress to her list of credentials. The socially conscious pop star might be looking for an Oscar nod for her role in Richard Linklater's film adaptation of the book Fast Food Nation. The novel depicts the dark side of the fast food industry and how it's affected the lifestyles of Americans.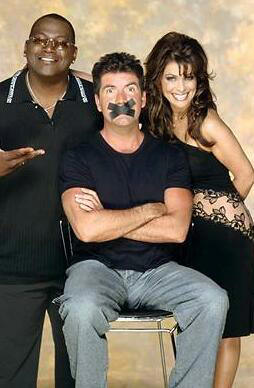 The fifth season of American Idol will kick off on Fox on Jan. 17. During the competition's three week semifinals in late February and early March, the network will air the reality series on three consecutive days each week, with the boys performing on Tuesday and the girls on Wednesday, followed by an hour long live results show on Thursday.

The man accused of blackmailing Girls Gone Wild creator Joe Francis was ordered to stand trial following testimony from Francis and a cameo of sorts from Paris Hilton.

Mariah Carey's Don't Forget About Us rose to the top of Billboard's Hot 100 chart, putting her in a tie with Elvis Presley for second place among artists with the most No. 1 singles in the rock era. The Beatles hold the top spot.

After 36 years on ABC, Monday Night Football concluded its 555 episode network run with a game between the New England Patriots and the New York Jets. The series switches networks next season, when ESPN begins an eight-year deal in which it will pay $1.1 billion per year for Monday night rights.

NBC got some early holiday cheer last week as the game show Deal or No Deal wrapped its five night run with double digit ratings improvements in the crucial 8 p.m. hour, where the network has lagged the most so far this season.

Slipknot percussionist Shawn "Clown" Crahan says the band will spend 2006 off the road after performing 233 shows in support of Vol. 3: (The Subliminal Verses). Slipknot already has been offered a stray date or two on next year's Ozzfest, said Crahan. The next band product to hit shelves should be a DVD.

Velvet Revolver have set Libertad, the Spanish word for freedom, as the working title for their new CD.

Mike Myers split from wife Robin Ruzan was announced by his publicist. No reason was given, just the promise, as expressed by rep Ina Treciokas in a statement, that the pair "remain committed and caring friends."

After four-plus years and two children together, Laura Dern and Ben Harper tied the knot in a Yule-themed ceremony, according to Us Weekly.

Queens of the Stone Age frontman Josh Homme received a visit from an old friend during a show in Los Angeles. Homme was joined by John Garcia, the singer of his previous band, Kyuss.

Carrie Underwood is more than an American Idol: She's Oklahoman of the Year as well. Oklahoma Today magazine picked the country singer who won Fox's talent competition this year, saying the Checotah native encompasses all that makes the state great and has the character and humility to be so honored.

Dreamworks Pictures will distribute the Korean film Typhoon in American theaters next year. This will be the first Korean film to get a major U.S. release. The movie tells of a modern-day pirate planning an attack on North and South Korea. Shooting took place in Thailand, Korea and Russia.

Cinderella frontman Tom Keifer produced three tracks for American Idol runner-up Bo Bice this past November. The tracks Cinnamon & Novacaine, Whiskey Women and Time, and Sinner in a Sin are the bonus tracks on Bo's DualDisc The Real Thing, which was released December 13.

With Destiny's Child calling it a career this fall, group member Kelly Rowland has quickly dived in to work on her next solo album.

Fox Searchlight will be making Johnson Family Vacation 2, with Cedric the Entertainer expected to reprise his role. Johnson Family Vacation 2 is expected to pick up where the Johnsons' holiday ended. The first film, which starred Cedric the Entertainer, followed the Johnson family on their cross country trek to their annual family reunion.
All intellectual materials are ©2005 Blanket Media.
HOT 20 SONGS

1. Crazy - Simple Plan
2. Run It - Chris Brown ft. Juelz Santana
3. Jesus of Suburbia - Green Day
4. Do You Want To - Franz Ferdinand
5. Montreal Calling - Mobile
6. If It's Lovin' - Rihanna
7. Don't Forget About Us - Mariah Carey
8. Hey It's Your Funeral Mama - Alexisonfire
9. Hung Up - Madonna
10. Because of You - Kelly Clarkson
11. Luxurious - Gwen Stefani ft. Slim Thug
12. Real Love - Massari
13. Window Shopper - 50 Cent
14. Pretty Vegas - INXS
15. Yearning - The Trews
16. On My Own - Hedley
17. Sugar, We're Goin' Down - Fall Out Boy
18. Didn't Steal Your Boyfriend - Ashlee Simpson
19. Everyday - Kardinal Ofishall ft. Ray Robinson
20. Monster Hospital - Metric
BOX OFFICE

1. King Kong
2. The Chronicles of Narnia
3. Fun With Dick And Jane
4. Cheaper By The Dozen 2
5. The Family Stone
6. Memoirs Of A Geisha
7. The Ringer
8. Rumor Has It...
9. Wolf Creek
• Match Point (New)
ON DVD

1. The 40-Year-Old Virgin
2. The Exorcism of Emily Rose
3. Serenity
4. Four Brothers
5. The Island
6. Mr. & Mrs. Smith
7. The Brothers Grimm
• Dark Water (New)
• Into The Blue (New)
• Undiscovered (New)
TV

1. CSI
2. NCIS
3. CSI: NY
4. Without A Trace
5. Criminal Minds
6. Cold Case
7. CSI: Miami
8. House
9. Two And A Half Men
10. Monday Night Football