Vol. 12 No. 52
Pick Hits
At The Movies
Night At The Museum
Good hearted dreamer Larry Daley (Ben Stiller), despite being perpetually down on his luck, thinks he's destined for something big. But even he could never have imagined how big, when he accepts what appears to be a menial job as a graveyard shift security guard at a museum. During Larry's watch, extraordinary things begin to occur: Mayans, Roman Gladiators, and cowboys emerge from their diorama to wage epic battles; in his quest for fire, a Neanderthal burns down his own display; Attila the Hun pillages his neighboring exhibits, and a T-Rex reminds everyone why he's history's fiercest predator. Amidst the chaos, the only person Larry can turn to for advice is a wax figure of President Teddy Roosevelt (Robin Williams), who helps our hero harness the bedlam, stop a nefarious plot, and save the museum.
On DVD
The Descent
One year after a tragic accident, six girlfriends meet in a remote part of the Appalachians for their annual caving trip. Deep below the surface of the earth, disaster strikes when a rock falls and blocks their route back to the surface. The girls soon learn that Juno, the thrill seeking leader of the expedition, has brought them to an unexplored cave and that as a result no knows where they are to come rescue them. But there is something else lurking under the earth, a race of monstrous humanoid creatures that are adapted perfectly to life in the dark. As the friends realize they are now prey, they are forced to unleash their most primal instincts in an all out war against an unspeakable horror.


The Buzz..
Hilary Duff is the latest celebrity to become a Barbie doll. Duff's likeness will be used in creating a 12-inch doll. The fashionable star also helped to design clothes for the Hilary doll. Other celebs who have Barbie dolls modeled after them include Beyonce and Reese Witherspoon.

Paris Hilton was one of the most searched celebs of the year according to Google. Pirates of the Caribbean actor Orlando Bloom ranked second. Other popular searches included Borat and Nicole Kidman's wedding which surprisingly beat out TomKat's lavish nuptials.

The newly single Britney Spears recently bought a new home. The pop star has moved into a $7.2 million dollar Mediterranean home in Beverly Hills. The mansion has five bedrooms, a pool, media room and boasts a view of Los Angeles. Brit's neighbors include Gwen Stefani and Jennifer Lopez.

Irish rocker and humanitarian Bono will become a knight of the British empire.

Good Charlotte's fourth album Good Morning Revival will hit stores on March 20th. The boys first single The River features Avenged Sevenfold's front man M. Shadows and Synyster Gates. Joel Madden says he's been friends with the band for a while and thought they'd be perfect to collaborate with on this song.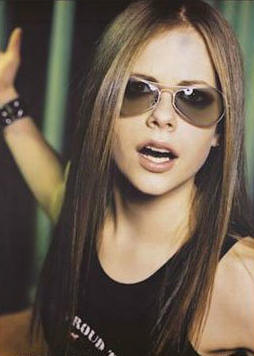 Newlywed Avril Lavigne's next album will be titled The Best Dam Thing. The pop star recently revealed on her myspace blog that the songs will be "fast, fun, young, bratty, aggressive…all the good stuff." The album will hit stores in April and the first single Girlfriend, will be released in February.

Perry Como has grabbed the top two spots on Billboard's ringtones chart with Jingle Bells and We Wish You a Merry Christmas, 61 years after the crooner first enjoyed a Billboard chart-topper.

British author J.K. Rowling has revealed that the long awaited seventh and final book in her wizard saga will be called Harry Potter and the Deathly Hallows, sparking the next phase of Pottermania.

K-Fed is getting ready for the fight of his life. No, not his divorce battle with Britney Spears, but a bout with WWE champion John Cena. The embattled rapper will step in the ring with Cena at a WWE event on New Year's Day in Miami. K-Fed was reportedly booed by the crowd when he appeared at a WWE show in Washington on Monday night, but fired back saying – quote "Make all your jokes, because New Year's Day I'm the one who is going to be laughing."

Pink was in Paris recently speaking out against the Australian wool industry. The animal rights activist says the way merino sheep are treated just to get their wool is cruel. Pink is calling for people to not buy merino wool or sweaters that are made in Australia.

The Grammys are looking for someone to sing with Justin Timberlake. The Recording Academy is holding a contest where the winner will perform onstage with Justin during the show.

Anna Nicole Smith was ordered to bring her infant daughter to California for paternity tests sought by a former boyfriend who claims he is the father of the child.

The Red Hot Chili Peppers released nine songs that didn't make the final track listing of the band's Stadium Arcadium CD through online retailers. The group recorded 38 songs and originally planned to issue Stadium Arcadium as a triple disc set, but scaled it back to a two-CD package. Even though the Chili Peppers are making their music available online, bassist Flea said that he's not a fan himself of buying songs one at a time: "I think that people who really love music are always going to listen to a whole body of work together.

Warner has purchased Roadrunner Records for $73.5 million. The label includes Slipknot, Killswitch Engage, Megadeth, and Cradle Of Filth. The back catalogue includes Biohazard, Sepultura and many others.

Green Day have been writing new songs for the highly anticipated follow-up to 2004's smash hit American Idiot. Singer/guitarist Billie Joe Armstrong says, "Right now we're doing a lot of demos and just writing. We need the moments of inspiration that we have for any sort of particular style. We're in, 'let's have a good time and see what comes out of it' process. There's plenty of time to stress out about it."

Variety reports that Ace Ventura: When Nature Calls and Bruce Almighty screenwriter Steve Oedekerk will rewrite Ripley's Believe It or Not! which has Tim Burton attached to direct and Jim Carrey attached to star in. Scott Alexander and Larry Karaszewski penned the original draft of the script.

Brittany Murphy is in negotiations to star in The White Hotel, an adaptation of the D.M. Thomas novel that once had Barbara Streisand, Meryl Streep, Isabella Rossellini and Nicole Kidman involved at some point.