Vol. 8 No. 14
Pick Hits
Experience It
Jaws Attraction - Universal Studios
Situated in the original section of Universal Studios Orlando, this attraction circles around a concrete-lined lagoon hosting seven mechanical pits, which contain all of the hydraulic equipment used for the maneuvering of the "Jaws" shark caricatures, from the first fin to glide through the water to the thrilling explosion sequence. It's an exhilarating in your face extension to any fan of the film. Infamous for continuous inactivation in semi-annual maintenance periods, it has been tooled to perfection and has not incurred any down time since. A definite must see when in Orlando.
At the Movies
National Lampoon's Van Wilder
Van Wilder, a college student in his seventh year and still senior, learns that his father will not pay for another semester, but Van is so in love with the cushy college life that he will do anything to stay (including making sure he doesn't graduate). He's also got to figure out how to pay for it all now. Will Van Wilder be able to stick around for year eight, or is it time he finally got that diploma? A battle of wit vs. vulgarity, Van Wilder delves into the world of flatulence, projectile vomiting, and premature ejaculation. What more can you ask for.
On Video
K-PAX
A stranger seemingly appears out of nowhere claiming to come from the distant planet of K-PAX and is whisked off to a Manhattan psychiatric hospital. He amazes everyone with his knowledge of outer space, his seeming ability to talk to dogs and cure other patients, but under hypnosis, regresses to an all-too human past. Is he really from another world, or is he a schizophrenic who's put up shields to protect himself from his traumatic past? It's an interesting film that contrasts conceits of madness and sanity with the added benefits of wonderful performances by Kevin Spacey and Jeff Bridges.
The Buzz...
Nickelback frontman Chad Kroeger, Saliva vocalist Josey Scott, Theory of a Dead Man guitarist Tyler Connolly and Pearl Jam drummer Matt Cameron will collaborate on Hero, the second single on the Spiderman soundtrack.
The organizers of Ozzfest have launched an online poll for people to vote on which act should replace the Cornell/Rage project on the main stage of this year's event. The choices are: Slayer, Down, Foo Fighters, Sevendust, Static-X, Nickelback, Tenacious D and Soulfly. To cast your selection go to Ozzfest.com.
The producer of an animated porno movie filing a $140 million libel lawsuit against George Lucas, claiming the filmmaker's spokeswoman accused the film Starballz of being aimed at children.
Researchers releasing a study concluding that teenagers who watch more than an hour of TV a day are much more likely to become violent than those who don't.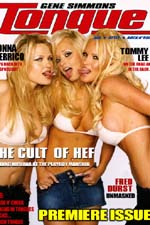 GENE SIMMONS' MAGAZINE HITS THE STANDS MAY 28
May 28th will see the first issue of Gene Simmons Tongue Magazine hit the stands. Simmons and his bandmates of Kiss will also join such fellow superstars as Stevie Wonder and Michael Jackson to perform on an upcoming special marking the golden anniversary of American Bandstand that will air May 3 on ABC.
After spending the past six months fine-tuning the technology, a development team in N.J., are rolling out a souped-up search engine called Teoma that will take aim at Google, which is widely regarded as the best way to find anything on the Web.
MSNBC is negotiating with Phil Donahue about a return to television as the host of a topical prime-time hour.
David Mandel and Steve Lookner are bringing Dave and Steve's Video Game Explosion, which is the most popular program on Burly Bear, to TBS. The show rates the latest electronic toys, with rating scale ranges from "buy it" to "turn off your console, go outside and get some fresh air." Look for it at 2 a.m. ET on Wednesdays and 1 a.m. on Thursdays.
The Baywatch reunion movie will roll on Fox, airing in November during sweeps. The cast will feature 20 actors from wildly popular Baywatch series.
A Dracula theme park in Transylvania has attracted enough investments for the project to go ahead. Investors had bought 96 billion lei 2.9 billion worth of stock, more than the 60 percent needed by law for the project to proceed.
Robert Iler, the 17-year-old costar of HBO's The Sopranos, has been ordered to stand trial May 6 on felony second-degree robbery charges.
Kid Rock, Pink, Train, Shakira and Nas are among the performers who will walk this way to an MTV tribute to Aerosmith. The show will be taped on April 14 in Los Angeles and is scheduled to air on April 17 from 9-10:30 p.m. EST.
James Gandolfini has signed on to voice the DreamWorks Pictures' animated project Sharkslayer. The film will also feature the talents of Will Smith, Angelina Jolie and Renee Zellweger.
French composer Jacques Loussier is suing Eminem and his record label, Interscope, for allegedly stealing a song. Loussier says Slim Shady lifted portions of the jazz-fusion track Pulsion for Kill You, a cut off The Marshall Mathers LP.