Vol. 8 No. 18
Pick Hits
Toy Box
Classic Planet of the Apes Japanese Action Figures
When a spaceship crashes on a distant planet inhabited by intelligent apes, the saga of the Planet of the Apes began. Five films followed, as well as a TV series, a cartoon, and recently a remake by Tim Burton. These high-quality figures feature amazing detail and have never before been available in the U.S. Each figure based on the characters stands approximately 6" tall, features six points of articulation, and comes with accessories related to each character. The blister card packages form a large image when placed together. Choose from: Cornelius, General Ursus, Lucius, and Soldier Ape. This series contains 18 figures total, all destined to be collector items.
At The Movies
Spider-Man
Spider-Man started off as shy high school student Peter Parker, until he was bitten by a genetically-altered spider, giving him amazing abilities. Over time, he learns that with great power, comes great responsibility. First, there is his foray into entertainment, taking on wrestler Bone Saw McGraw. A horrible incident involving his Uncle Ben soon changes his perception of his powers, and he becomes a superhero. His abilities are soon challenged, when scientist Norman Osborn is altered himself in an experiment gone wrong, becoming the Green Goblin, pumpkin bombs, glider, and all. This is a film that knows exactly what it is doing, that has a mission, and that accomplishes it with precision strokes. Spider-Man is the first clear hit film of the summer, so long as you don't mind summer starting May 3.
On DVD
Star Trek The Next Generation - Season One
The Next Generation series finally appears on DVD in a handsome 7 disc boxed set, with all 26 episodes (over 19 hours) from the inaugural season. The first season introduced a new crew to the Enterprise, set 75 years after James T. Kirk's missions. The first episode, Encounter at Farpoint was a two hour premiere that lets us meet the crew members and also introduces a recurring villain, Q, who is a thorn in Captain Jean Luc Picard's side in more than one instalment. All the other episodes are one hour in length. It is a welcome treat to Trekkies who couldn't get enough of the original series, with updated special effects, and superior sound.

The Buzz...
Production is resuming May 6 on Sex and the City, after it was halted when star Sarah Jessica Parker announced her pregnancy earlier this month. HBO is cutting back on the number of episodes produced, from 13 to eight.
Fatboy Slim's Weapon of Choice was voted the best video of all time in an industry poll conducted by VH1.
Latin pop singer Marc Anthony is appearing in a new TV ad for the I Love New York campaign. The spots, the first to appear in English and Spanish, will feature fans mistaking Anthony for Ricky Martin.
A federal appeals court has ruled that Kelsey Grammer and his production company, Grammnet Inc., must pay more than $2 million in unpaid commissions to a former talent agency.
Creed has cancelled their remaining dates on its tour after lead singer Scott Stapp was injured in a car accident.
Donovan Patton is taking over as host of one of television's most popular children's shows, Nickelodeon's Blue's Clues, replacing Steve Burns, the show's host since its debut in December 1996.
About 200 people were arrested on drug charges during a three-night undercover crackdown at a series of rock concerts featuring the group Widespread Panic in which one person died of an apparent overdose.
The cabin made famous in the 1996 movie Fargo was put up for sale on eBay. With literally seconds to go before the deadline, Lindy Martin of Excelsior, Minnesota submitted the final bid of $10,000.
Former Happy Days star Henry Winkler and Michael Levitt are taking over as executive producers of Hollywood Squares, replacing John Moffitt and Pat Lee Tourk, who were let go after Whoopi Goldberg announced her departure.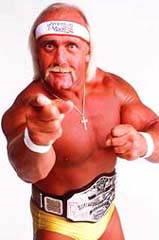 HULKSTER INJURED
Hulk Hogan sustained a few broken ribs during a house show match with Rikishi dating back to before WrestleMania X-8. He has continued to battle through the pain without taking any time off.
Steve Bornstein, president of the troubled ABC television network, has resigned. The announcement was made by Robert Iger, president of The Walt Disney Co., which owns ABC.
Recording Academy president C. Michael Greene is resigning from his post after the Grammy organization launched a sexual harassment probe. Greene, whose $2 million pay check was the highest for a non-profit executive last year, will reportedly get an $8 million severance buyout.
MSNBC has hired brash former New York Post Editor Jerry Nachman as the struggling cable news network's No. 2 executive and host of a late afternoon talk show. Nachman promises to bring a certain amount of flamboyance to MSNBC, which has trailed the cable news ratings leaders, Fox News Channel and CNN.
Tim Burton will direct Columbia Pictures' adventure feature Big Fish for producers Dan Jinks and Bruce Cohen. Richard D. Zanuck also has come aboard to produce the project, with production aimed to start in early fall.
ABC will set aside its normal programming for a full day and evening on Sept. 11 to commemorate the first anniversary of the terrorist attacks on the World Trade Center and Pentagon.