Vol. 8 No. 17
Pick Hits
Off the Record
Richie Scarlet - The Insanity Of Life
Richie Scarlet has released another rock 'n' roll gem with the legendary Ace Frehley of KISS, checking in with his patented stylings on two tunes, Johnny's in Love and Too Far Gone, the latter of which Ace co-wrote. Anton Fig of the David Letterman Band and who got his first big break drumming on Ace's 1st solo LP sits in on skins for three tracks, former Mountain guitarist Leslie West, lays down a killer solo on Who's to Blame, as does Ty Tabor of King's X on Tin Soldiers. A rare treat for rock fans occurs on Ghost of Brian Jones as Dennis Dunaway and Neil Smith of the original Alice Cooper Group lay down bass and drums, respectively.
At The Movies
Jason X
In the year 2455, long after humanity has abandoned Earth as a lifeless planet, an expedition of archaeological students discovers a research facility where two people are cryogenically frozen: one a young woman, the other a large male in a strange mask. The ice begins to thaw, and so the students bring the bodies back to their spaceship, having no idea what they just unleashed on the future. This 10th chapter into the Friday franchise has an updated Jason hunting down some ex-grunts and going mano-a-mano against a leather clad, gun-totting female Android, definitely living up to the positive hype that it's been getting. Full of fun stuff, what else do you want from a Friday The 13th sequel?
On Video
Behind Enemy Lines
A straight-ahead action thriller about a U.S. jet shot down behind enemy lines during the NATO peacekeeping mission in Bosnia. Owen Wilson plays a jet navigator who photographs the graves of genocide victims on a recon mission over Bosnia. When the jet is shot down by Serbians, Wilson goes on the run behind enemy lines while his commanding officer (Gene Hackman) waits for the order from NATO to launch a rescue effort. But due to politics, the rescue is aborted, and Wilson must stay one step ahead of the Serbs that are after his photographs and his life. The action and violence is non-stop, with an old-fashioned root-for-the-good guys adventure that keeps you on the edge of your sofa.

The Buzz...
New Line has launched an all-new Austin Powers Website that includes behind-the-scenes footage of the upcoming sequel, Austin Powers in Goldmember, and a virtual Austin tour. Check it out at austinpowers.com.

Fans lined up for midnight sales of the latest items from a galaxy far, far away as new merchandise for Star Wars Episode II - Attack of the Clones arrived in stores. After a large surplus of merchandise languished on store shelves following 1999's The Phantom Menace, products for the new film are being kept much simpler.

In a courthouse staked out by camera crews, satellite trucks, journalists and starwatchers, Robert Blake pleaded innocent to murdering his wife, Bonny Lee Bakley, nearly one year ago.
Linda Boreman also once was Linda Lovelace, the porn starlet who catapulted to stardom with the 1970s skin flick Deep Throat, died from injuries she sustained in a car accident earlier this month. She was 53.
Disney and Pixar have sealed a deal that will continue the lucrative partnership that has spawned such blockbuster computer-generated cartoons as Toy Story, A Bug's Life and Monsters, Inc..
After several seasons handing out prizes to Survivor losers, Rosie O'Donnell will finally get to present the check for $1 million. CBS has announced that Rosie will host Survivor: Marquesas, The Reunion live from New York's Central Park May 19.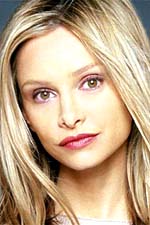 MEN EVERYWHERE REJOICE
The law offices of Cage & Fish are finally shutting down. After a season of disappointing ratings, which even a Matthew Perry guest appearance couldn't boost, Fox has announced it's canceling its Emmy-winning comedy Ally McBeal after five seasons.
Hasbro Inc., the nation's second-largest toymaker, announced a net loss Monday of $17.1 million, or 10 cents a share, for the first quarter of fiscal 2002.
Robert Iler, who plays the rebellious, pot-smoking son of a mob boss on HBO's The Sopranos, pleaded guilty Tuesday to mugging two youths and stealing $40.
Nicolas Cage is in discussions to star in the Warner Bros. drama Matchstick Men with Ridley Scott directing. Cage's deal is expected to go through, with production slated to begin in the summer.
The Rock Fest 2002 tour, featuring Dokken, Ratt, Warrant, Firehouse, and L.A. Guns, have announced several dates so far, with more to follow later. You can check it out in Somerset WN on June 22nd.
AC/DC's vocalist Brian Johnson has collaborated on a track with Jackyl on their latest release, due out as soon as possible, as they are in search of a new label after parting ways with Geffen.
Alice in Chains frontman Layne Staley was found dead in his Seattle home. Authorities say he had been dead for several days with the assumption that it may have been an overdose.
Disney's Monsters, Inc. has passed the $500 million mark at the worldwide box office. Inc. has now grossed $504 million worldwide, second only to The Lion King among animated features.
British prosecutors are dropping charges against a man accused of harassing Elizabeth Hurley after the model-actress failed to provide a statement to a London court.