Vol. 8 No. 3
Pick Hits
Off the Record
Starsailor - Love Is Here
With a band name nicked from a Tim Buckley album and an aesthetic sense that delights in dreamy, whimsical nights dosed with sublime depression, Starsailor sounds many years beyond its 20-something status. The band plays it fairly straight, combing the melancholy of Way To Fall and Lullaby with fresh strokes of very Brit-sounding keyboards-guitar-bass-drums that could be Oasis with sharper record collections. But while there's certainly a mix-n-match quality to their musical enterprise, a touch of Nick Drake here, a swatch of Prayer Boat there, they're also filled with a natural joy that suggests in a few years their albums will be musically further out there. And this will be a fascinating beginning to remember.
At the Movies
Orange County
A smart high school student with his heart set on going to Stanford is horrified when his guidance counselor accidentally sends the wrong transcript with his college application. He spends the rest of the film trying to prove that he's actually a good student with a terrific grade point average. Though MTV's Orange County definitely targets the youth, the film refreshingly offers up a main character with a respectable, undying drive to further his education. It's a light, good-humored comedy, hosting a warm fuzzy message. So if you aren't too put off by some drug references, a few sexual implications (nothing graphic), dysfunctional family antics, and a puke shot, you might want to try this silly, yet substantially entertaining picture.
On Video
Jeepers Creepers
This is a Scary thriller about a brother and sister (Justin Long and Gina Phillips) who head home for spring break and find a frightening world they couldn't imagine even in their wildest nightmares. On a desolate country road the two homeward siblings are nearly run off the road by a maniac in a beat-up truck. They later see the truck near a church, and spot a cloaked figure shoving what appears to be a bloody body down a sewer pipe. They must never have seen a horror film in their lives, cause they return to the church to investigate and, well, you know what happens, they find a grisly world inhabited by a winged devil out to collect human body parts. Can't these kids ever leave well enough alone?
The Buzz...
NBC's Today morning show observed its 50th anniversary with a three-hour retrospective laden with clips and guests.
Ted Demme, a film and television director, whose credits include the film Blow, has died at the age of 38. The cause of death has not been determined and an autopsy will be conducted. Paramedics brought Demme to the emergency room in full cardiac arrest suffered during a celebrity basketball tournament.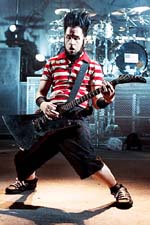 STATIC-X WILL BE AT THE SECOND ANNUAL STREETJAM
The second annual StreetJam Event roars into the Touchstone Energy Center Place at The RiverCentre in St. Paul MN February 8th, 9th and 10th. This year's event will again be a gathering of nationally known Extreme Sports pro athletes (Tony Hawk, Dave Mirra) and music bands (Static-X, Soulfly) just to mention a few. Get the full report at streetjam02.com.

Motorola is introducing a new windup charger that should make it easier to stay in touch. Developed with London-based Freeplay Energy Group, maker of windup radios and flashlights, the FreeCharge is designed to keep dying phone batteries going when a power outlet is out of reach. Cranking its handle for about 45 seconds provides four or five minutes of talk time and several hours of standby time.
Metro-Goldwyn-Mayer, one of Hollywood's most venerable movie studios with the rights to an extensive film library, may be up for sale for $7 billion. The entertainment company has hired investment banking firm Goldman Sachs to solicit bids that are due this week. The studio's Wall Street value is about $5 billion.
Former Conan O'Brien sidekick Andy Richter has inked a deal to star in Andy Richter Controls the Universe, which is due to appear on Fox in a few months. He plays the title character, of course, in a series about an average guy with an active fantasy life.
With performance number 17,162, the world's longest running-musical, The Fantasticks, ended its record-breaking, nearly 42-year run. Likewise, Andrew Lloyd Webber's Cats, London's longest-running musical, will close in May after 21 years on the stage.
During their sold out show at the Joint in Las Vegas on Friday night, Aerosmith's Steven Tyler announced they were recording the performance for an upcoming live album.
Ozzy Osbourne/Black Label Society guitarist Zakk Wylde has had a Signature Amplifier Head issued by Marshall that features Zakk's signature bulls-eye graphic on the front panel.
CNN has agreed to a four-year contract extension with talk show host Larry King that keeps him as the cable network's highest-paid personality. The contract pays King nearly $7 million a year in base salary, but stock options and other incentives could make it worth much more.
Tom Hanks was a double winner at the 28th annual People's Choice Awards, winning favorite actor in both the motion picture and dramatic motion picture categories.
Creating one of the world's largest independent film producers, film companies Intermedia and Spyglass Entertainment Group have announced plans to merge.
Late-night funnyman Conan O'Brien married Liza Powell, a Seattle ad executive he met when she made an appearance on his show.
R&B singer Aaliyah has topped British charts recently with a single that was released as a memorial after her death in a plane crash last summer.
Bowing to pressure from country fans and music stars, the owners of WSM-AM station have announced the historic station will continue to broadcast country music and the Grand Ole Opry rather than switch to an all-talk, all-sports format.
Britney Spears and boyfriend Justin Timberlake are gearing up to co-host a Super Bowl benefit party in New York on February 3rd. The party will be held at Planet Hollywood in NYC and guests can bid on auction items, including a dance class with Justin or a cameo in an upcoming Britney movie, video or commercial. Others whose items are also on the chopping block include Madonna and Tiger Woods.
Destiny's Child singer Michelle Williams has announced plans to launch her own gospel record label. The singer, who's currently recording her own album of gospel music, says she'll start up the label when the superstar R&B trio calls it quits. Meanwhile, Beyonce Knowles and Kelly Rowland have also announced plans to work on solo albums after their European tour.
Ozzy Osbourne will perform some rare tracks when he records his live album in Tokyo at Budokan on February 15th, including Black Skies (which he contributed to the now-defunct video game) and the b-side No Place for Angels.

Pink Floyd guitarist David Gilmour is giving the proceeds from the $6.5 million sale of his London home to Crisis, a U.K. homeless charity.