Vol. 8 No. 5
Pick Hits
Toy Box
Popeye the Sailor Man Series 2 Figures
The much-anticipated second series of Popeye has landed. These are based on one of the most recognized and loved cartoon character of the 20th century. Storm Gear Popeye, has a seafaring ship-wreck deck, typhoon watch telescope, octopus, star fish, and can of spinach. Sailor Popeye, dons his dress whites with a deck swabbin' mop and bucket, and a pop-up spinach can. Sailor Bluto, comes complete in his dress whites with a torpedo, bomb, and torpedo tossing action, Sea Hag, with villainous vulture Bernard, vulture perch, and magic flute, and Poopdeck Pappy, with nautical nappin' hammock, sea chest with treasure, and a golden can of spinach. A fantastic find for a quick fix of childhood.

At The Movies
Birthday Girl
An English bank manager requests a mail-order Russian bride (Nicole Kidman) over the Internet, but soon finds his life tipped topsy-turvy as she exhibits an unexpected possible dangerous side, accented by the arrival of two Russian cousins. Nicole Kidman's career has been full of hits and misses, but with two audience pleasers in 2001 when the actress starred in both Moulin Rouge and the elegantly sublime The Others, she seems to be selecting her roles carefully. Kidman pulls of her part while the expected twists and turns and a decent plot hold down the rest of the film.

On Video
Atlantis: The Lost Empire
A Disney animated Jules Verne-like adventure about a team of explorers who embark in a super-scientific submarine in 1914 in search of the mythical, sunken lost city of Atlantis. A nerdish academic (Michael J. Fox) is bankrolled by an eccentric millionaire for the underwater expedition and, using a mysterious journal, the team of adventurers indeed find the city. It's a lost civilization ruled by a 25,000-year-old king and powered by a magical crystal that supplies all energy and heals all sickness. But it turns out that a part of the crew are mercenaries, bent on stealing the crystal, and it's up to the good guys to save the day. Throw in the pretty 8,500-year-old daughter of the king for a love interest, and you have all the makings of a delightful boy's fantasy adventure.

The Buzz...
Former Beatle Paul McCartney and Rolling Stone Mick Jagger are performing together for the first time on stage to celebrate Queen Elizabeth's Golden Jubilee. The one-off concert, marking the queen's 50-year reign, will also feature Phil Collins, Stevie Wonder and Aretha Franklin and is set for June 3.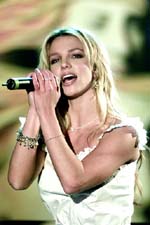 BRITNEY GUEST-STARS IN AUSTIN POWERS 3
The list of guest-stars in the upcoming Austin Powers 3: Goldmember film keeps growing. Danny DeVito, Gwyneth Paltrow and Kevin Spacey plan cameos. Britney Spears and Quincy Jones were already announced as guest stars. Meanwhile, the British company that controls the Bond film license have obtained a cease-and-desist order that prohibits New Line from calling the latest installment of Mike Myers' shagadelic spy series Austin Powers in Goldmember citing copyright infringement.

CBS is developing a four-hour miniseries about Adolf Hitler, exploring the Nazi dictator's early life and rise to power. The film is slated to debut sometime next season.

Gravity Kills is currently on the road with Sevendust, and their Sanctuary debut, Superstarved is set for a March 19th release. Keep an ear out for One Thing, it's the first single.

Thanks to Ben and Jerry's, the Dave Matthews Band will soon be in the frozen-food section of your local supermarket. The duo has announced they're introducing a new flavor, One Sweet Whirled, a riff on the tune One Sweet World from the group's 1993 album, Remember Two Things. The homage to DMB is hyped as a tasty concoction of coffee ice cream, caramel and marshmallow swirls.

Jennifer Love Hewitt has come aboard to star in and co-produce through her LoveSpell Prods. The Fox 2000 romantic comedy My Romance and the Showtime dramatic cable feature Secrets.

In a groundbreaking move sure to delight fans of Imax and animation everywhere, Walt Disney Pictures has announced plans to release its major holiday 2002 animated feature, Treasure Planet, simultaneously in large-format cinemas as well as in 35mm venues. Based on Robert Louis Stevenson's legendary tale Treasure Island, Planet follows the space adventures of a 15-year-old boy as he journeys across a parallel universe in search of the loot of a thousand worlds.

CBS says it's halting production on The Ellen show after 18 episodes, instead of the 22 originally ordered. After debuting as part of CBS' little-watched Friday night lineup, The Ellen Show struggled in the ratings, averaging just 5.9 million viewers in both the 8 p.m. and 8:30 p.m. timeslots.

Popular children's writer Astrid Lindgren, creator of Pippi Longstocking, has died at age 94.

A California high school senior turned heads this weekend with his winter formal date, Playboy Playmate Petra Verkiak. The 35-year-old pinup, who was Miss December 1989, offered to accompany Toby Hocking after she read his college entrance essay. Hocking, a straight-A clarinet player, wrote about how he felt like an outcast before deciding it was up to him to seek out friends and make the most of his years at High School.

DreamWorks Pictures is closing an option deal to acquire the 27 books in the Matt Helm action series to develop into a feature film franchise. This is not the first time a movie project has been developed based on the spy series. Actor-comedian Dean Martin starred as Helm in four feature films.

South Park leads the pack of basic cable shows bringing a new level of raunchiness and violence to television, a watchdog group says in a new study. South Park, an animated show on Comedy Central, was overall the most offensive series, the study said, with a per-hour combined average of 126 violent or raunchy moments. The MTV shows Undergrads and Celebrity Deathmatch were next with, respectively, 73 and 66 such references.

Kid Rock will kick off the first leg of his North American tour with a sold-out show on February 22nd at the Wendler Arena in Saginaw, Michigan. The current itinerary features dates continuing through May 4th, when Kid Rock and his Twisted Brown Trucker band are set to rock Atlanta's Music Midtown 2002 festival.