Vol. 8 No. 21
Pick Hits
Off the Record
Rush - Vapor Trails
Six years and a whole lot of water under the bridge, Rush returns with their first album since Test For Echo. Written and recorded over 14 months in Toronto, producer Paul Northfield (Moist, Ozzy Osbourne, Hole, April Wine) was drafted to help with the home stretch. Hugh Syme, the graphics wizard behind some of Rush's most unforgettable covers also returns to the fold with a typically eye-catching design. Vapor Trails sees Rush breaking new ground and escaping from the rhythmically complex arrangements of past efforts. This streamlined sound gives Rush a contemporary style without pandering to fashion.
At The Movies
Spirit: Stallion of the Cimarron
This wonderfully animated family film follows the adventures of a wild and rambunctious stallion as he journeys through the untamed American Frontier. Encountering man for the first time, Spirit defies being broken, even as he develops a remarkable friendship with a young Lakota brave named Little Creek, and finds love with a beautiful mare named Rain. The story is told from the viewpoint of the horse, with his thoughts heard as narrative (voiced by Matt Damon). Bryan Adams recorded eight new songs for the soundtrack, which are featured prominently in the film.
On Video
Ocean's Eleven
What could be cooler than a remake of a classic Rat Pack heist film featuring George Clooney, Matt Damon, Andy Garcia, Brad Pitt, and Julia Roberts? Danny Ocean (Clooney) and his hand-picked crew of associates gather in Las Vegas to attempt the most extravagant casino robbery ever, taking on three of the biggest, the Bellagio, the Mirage and the MGM Grand simultaneously during a popular boxing event. With enough star power to light the Vegas strip, and a clever plot that will keep you entertained and guessing right up until the final credits, Ocean's Eleven hits on all cylinders.

The Buzz...
Nostalgia seems to be a big factor in TV these days, with three new series based on remakes of old ones. The WB network is reviving Family Affair, ABC brings Dragnet back to life and UPN will make modern supernatural stories in an old format on The Twilight Zone. NBC has a new Sunday drama, American Dreams, about a girl who wants to be a dancer on American Bandstand.
Rosie O'Donnell ended her reign as queen of daytime television by winning a sixth consecutive Daytime Emmy award for best talk show host.
Nintendo announced that it will cut the price of its GameCube video game system by $50 to $149, the latest shot in the ongoing console war that includes Sony's PlayStation 2 and Microsoft's Xbox.
Southeast Asia's most isolated countries will witness the World Cup soccer live on their television screens for the first time after a deal was struck between FIFA and Thailand. Under the deal, FIFA's official broadcaster DhosPaak was paid $400,000 by Thai group ML Business for exclusive rights to broadcast into Thailand, Cambodia, Myanmar and Laos.
A diverse range of guest talent that will appear on Third Eye Blind's third album, Crystal Baller, which the band hopes will be ready for release by October. Limp Bizkit main man Fred Durst co-wrote and will play guitar on Misfits, while Andrew W.K. will provide back-up vocals on Messed Up Kid.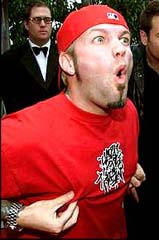 FRED DURST IS ABOUT TO START ROLLIN'
Fred Durst is about to start Rollin', for real. The Limp Bizkit frontman will direct Lords of Dogtown, a feature-film adaptation of the current big-screen documentary Dogtown and Z-Boys which details the origins of skateboarding. Production is scheduled to start in late summer.

If you've ever wanted to attend your very own private Aerosmith concert, you now have a chance. The band has teamed up with Dodge cars for a summer promo campaign, including a contest in which the winner receives a private Aerosmith concert along with tickets for 500 friends.
U2, Metallica, Tom Waits, Garbage, and the Pretenders are the latest acts to sign on for an upcoming Ramones tribute album. Rob Zombie is spearheading the collection, which is also set to feature contributions from Pearl Jam's Eddie Vedder, Red Hot Chili Peppers, Green Day, Rancid, Marilyn Manson, and the Offspring. Look for the as-yet-untitled album sometime this summer.
The Counting Crows have teamed up with Sheryl Crow for a featured track on the group's upcoming album, Hard Candy. Crow appears on the discs first single, American Girls.
CBS' Survivor: Marquesas scored a first-place ratings victory Sunday, in what was one of the most competitive nights of TV ever, facing opposition by The X-Files series finale, NBC's Cosby Show reunion and a two-hour season-ender for ABC's The Practice. Cosby came in second, followed by The X-Files and the Practice respectively.
Wendy's will honor its late founder, Dave Thomas, by adding a reference to him in commercials next month and putting posters of him in restaurants.

After working together on Revolution Studios' upcoming feature Gigli, Ben Affleck and Jennifer Lopez are negotiating to re-team on Miramax Films' Jersey Girl for filmmaker Kevin Smith.
The Supreme Court turned down EchoStar's attempt to end a ban on beaming local network television programming to customers in remote markets.

The Library of Congress has put on line the 111th and 112th collections of materials on its American Memory Web site. The site now includes more than 7.5 million items, which the library claims is the world's largest collection of online educational material.