Vol. 8 No. 7
Pick Hits
Collect It
Topps Spider-Man Movie Cards
Spidey is swinging his way to the motion picture screen this May, and Topps is bringing all the amazing web-slinging, wall-crawling excitement to a deluxe 90-card series. Story cards capture each thrilling scene with spectacular, heart stomping images straight from the film. The non-stop action continues with a gallery of stunning portrait photos with in-depth bios of all the major characters. A special behind-the-scenes subset completes the series with revealing candid photos from the Spider-Man movie set, plus there are four levels of innovative inserts. With 7 cards per pack, 24 packs per box, these are going to be extremely hot cards to collect.
At The Movies
Super Troopers
A tale of four fun-loving Vermont State Troopers stationed in the boondocks near the Canadian border. When the word comes down that their low-volume area may face budget cuts, they try to improve things, with things kicking in gear when they discover a possible drug smuggling operation. Brian Cox, whom we're used to seeing in much more distinguished or, at the very least, edgier efforts, is remarkably game as the troopers' gruff, put-upon professional patriarch. And Marisa Coughlan is suitably bright-eyed, bushy-tailed, and sensible as the one local constabulary member who has some sympathy for the state-sponsored goofballs. Anyone will laugh themselves silly over it if you still retain a soft spot for precollegiate humor.
On Video
Hearts In Atlantis
Anthony Hopkins turns in another one of his classy performances as a strange man who enters the life of an 11-year-old boy in the summer of 1962. Young Bobby lives with his widowed mother in a boarding house in a small Connecticut town when Ted Brautigan (Hopkins) rents a room upstairs. Ted has psychic powers, of sorts, and also claims that nasty men are after him because of it. He pays Bobby a dollar a week to keep an eye out for the men, and to read the daily newspaper to him. In short order Ted becomes a hero to Bobby as the older man teaches him how to look at the world in new and exciting ways. But trouble brews. There's bigotry, betrayal and nastiness in the town, and the only one who can offer any help is the strange man upstairs. Told in flashbacks by a grown-up Bobby, this film is based on a pair of Stephen King stories.
The Buzz...
The fantasy epic The Lord of the Rings: The Fellowship of the Ring led the Oscar field with 13 nominations including best picture, director and supporting actor. Other best-picture nominees were A Beautiful Mind, the class-war satire and murder mystery Gosford Park; In the Bedroom, and Moulin Rouge.
The six actors of NBC's comedy Friends will reportedly make $24 million each to return for a ninth and final season.
An engineer from San Jose has invented a Time Machine that enables television stations to compress their programs to fit in more commercials. It works by going through a program frame-by-frame, and when two identical frames appear side-by-side, one is removed. Usually, this can be done enough in a 22-minute program (the actual length of most sitcoms without commercials), to add 30 seconds of time.
A movie about the unfolding scandal surrounding bankrupt energy trader Enron is in development for cable channel FX.
Two Harvard seniors were accused of embezzling about $91,000 from the Hasty Pudding Theatricals group for drugs, a party and entertainment equipment. Prosecutors said the two used club credit and debit cards to transfer money to their bank accounts.
Freddy Got Fingered, Tom Green's gross-out directorial debut picked up eight nominations for the 22nd Annual Razzie Awards, which single out the most awful movies of the year. Green's film will compete for Worst Picture dis-honors against Mariah Carey's Glitter, Sylvester Stallone's race-car lemon Driven, Kevin Costner and Kurt Russell's ultra-violent Elvis caper 3000 Miles to Graceland and the not-quite-epic war flick Pearl Harbor.
MSNBC has enlisted former Twisted Sister frontman Dee Snider to become the cable news network's official voiceover guy. The singer has been working for MSNBC since November, lending his vocals to promos for the likes of Brian Williams, Alan Keyes and Ashleigh Banfield.
Chicago police are investigating whether R&B singer R. Kelly had sex with an underage girl and videotaped it. The nearly 27-minute tape was sent anonymously to the Chicago Sun-Times last week. Kelly is scheduled to perform at the Winter Olympics tonight in Salt Lake City.
The WB officially confirmed that Felicity is not coming back for another season. The show will wrap up May 22 with a two-hour graduation series finale.
Korn, Papa Roach, Roger Waters, Alanis Morissette, and No Doubt are among the acts that will perform at the Caracas Pop Festival II, scheduled for March 13th through 17th in Venezuela.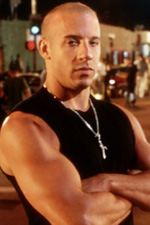 VIN DIESEL AND JA RULE HOLLYWOOD'S NEXT DYNAMIC DUO?
Ja Rule has stated he and Vin Diesel are hoping to be Hollywood's next dynamic duo. They are committed to doing two more movies together, The Fast and the Furious 2 and Riddick. Diesel is currently the front-runner to occupy the slot left by aging action heroes. <![if !supportLineBreakNewLine]>
<![endif]>
Columbia Records will release a compilation CD titled WWF Forced Entry on March 26th that will feature previously tracks by Limp Bizkit, Creed, Marilyn Manson, Dope, Sevendust, Stereomud, Disturbed, Union Underground, Breaking Point, Finger Eleven, Monster Magnet, Rob Zombie, and others. Kid Rock is covering Legs by ZZ Top for the album.
Two-time Oscar winner Kevin Spacey plans to take a break from acting to focus on encouraging up-and-coming filmmakers with his new production company.
World Wrestling Federation Entertainment Inc. has reached an agreement with satellite broadcaster DirecTV to resume airing its live wrestling events.
Barry Manilow is among this year's inductees into the hall, along with Sting, Michael Jackson, Randy Newman, and Ashford & Simpson, as announced by the National Academy of Popular Music Songwriters Hall of Fame.