Vol. 8 No. 50
Pick Hits
Hot Toys
Xmas 2002
Several toys are topping wish lists this Xmas. FurReal Friends, plush cats that move and purr like when petted, look to be a big hit. Bratz dolls are very popular while Barbie as Rapunzel, is still a favorite. Spider Man and Star Wars toys got a boost from recent home releases of their video's and DVD's. Harry Potter fans can re-enact their favorite moments with LEGO's Chamber of Secrets set or get gooey with Mattel's Harry Potter Slime Chamber Play Set. Nickelodeon's SpongeBob SquarePants has namesake products ranging from Eye Poppin' SpongeBob to the SpongeBob Sno-Cone Maker. Nick Jr.'s Dora the Explorer items range from dolls to backpacks to party supplies. Gamers look forward to popular titles like Grand Theft Auto: Vice City, Tony Hawk's Pro Skater 4 and WWE Smackdown 4: Shut Your Mouth. Yu-Gi-Oh! like Pokemon, is a collectible card game that has branched into other areas, including comic books, a cartoon show and action figures. Hasbro's answer to the ever-popular Easy Bake Oven is the Queasy Bake Cookerator. Using such mixes as Chocolate Crud and Mucky Mud, kids cook up gross-looking but edible snacks.
At The Movies
The Hot Chick
Jessica Spencer is the hottest, most popular girl in high school, captain of the cheerleading squad and dating the dreamy quarterback. But she gets a big dose of reality when she wakes up in the body of a 30-year-old man (Rob Schneider). She quickly discovers that trading on your looks isn't so easy when you're a girl who constantly needs a shave. And until she can figure out how to change herself back, Jessica must find a way to win the Cheer Competition, go to the prom, and win her boyfriend back, all as a guy. This film is full of high energy and an unexpected number of belly laughs linked by the sort of situational humor seeing Rob Schneider re-discover the male form. It's a nice, silly diversion in a winter full of more scholarly magic and drama.
On DVD
Twilight Zone: Gold Collection Complete Set
Zone fans better put this item on their list to Santa. This compilation is comprised of 49 discs from all 5 seasons, which are in chronological order of airdate by season. An additional 5 discs, one for each season, have additional information and commentary. The series featured soon-to-be-famous actors such as Robert Redford, Carol Burnett, James Coburn, William Shatner, Burt Reynolds, Robert Duval, Charles Bronson and Dennis Hopper. This is a great collection of The Twilight Zone that carries the viewer from its debut in 1958 through the final episode in 1964. The Gold Collection is numbered and limited to a production of 2500 sets.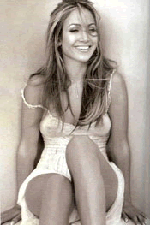 LOVE DON'T COST A THING?
The Buzz...
Jennifer Lopez, weary of becoming a Latina Liz Taylor, has apparently drawn up a pre-nuptial agreement for her husband-to-be, Ben Affleck to sign. According to reports, the legal list of diva demands includes a $5 million USD fine if Ben strays into the arms of another woman, a $1 million USD fine for telling lies, and rumor has it there's also a requirement that Ben and Jen have sex at least four times a week. Lucky for him!
A Harry Potter Web site is hoping fans will dig deep in their pockets for clues to the plot of the next installment in the series about the teenage wizard. The Leaky Cauldron hopes to raise enough money to make the winning bid at an auction for a handwritten note that outlines the fifth Harry Potter book's plot.
Rapper Jay-Z recently revealed that his next album would be his last. His plans after making music apparently include focusing more on developing new artists for his Roc-a-Fella label.
Roone Arledge, the television executive responsible for creating Monday Night Football, Nightline and the Wide World of Sports died at New York's Memorial Sloan-Kettering Cancer Center. He was 71.
The Lord of the Rings: The Fellowship of the Ring and My Big Fat Greek Wedding lead the list of nominees for Favorite Movie at the 29th annual People's Choice Awards.
The fourth season of HBO's The Sopranos ended with Carmela Soprano tossing her mob boss husband Tony Soprano out of the house after she was tipped to his philandering by one of his scorned girlfriends.
China has paid a record $3.6 million to buy an 11th-century Chinese scroll from a Japanese museum as part of a new effort to recover national treasures.
Film director Francis Ford Coppola has agreed to pay $31.5 million, a wine industry record, for the Cohn Vineyard in Napa Valley.
Colin Quinn is previewing a new talk show on Comedy Central. Tough Crowd with Colin Quinn gets an eight-segment tryout following The Daily Show with Jon Stewart.
Alec Baldwin is in negotiations to take on his first starring role in several years in the Walt Disney Co. mob project Providence.
The WB Network is inching toward its first profitable year ever, thanks in part to a wily scheduling play on Sunday afternoons. This season, the network began getting the jump on primetime Sundays with encore airings of the dramas Smallville and Everwood starting at 5 p.m.
Julia Stiles is in negotiations to star in Paramount Pictures/Lions Gate Films' romantic comedy The Prince and the Freshman, which Martha Coolidge will direct for Sobini Films.
Scooby-Doo star Matthew Lillard will star opposite Josh Hartnett in the Lakeshore Entertainment/MGM thriller Wicker Park for director Paul McGuigan.
Cable network FX is in talks with NASCAR to create a reality series involving the stock car racing circuit.
Paramount Pictures and Nickelodeon Films have optioned feature film rights to fantasy writer Holly Black and illustrator Tony DiTerlizzi's The Spiderwick Chronicles, a six-part book series that Artists Production Group and Gotham Group are producing.
AC/DC have inked a new multi-album deal with Sony Music Entertainment. In addition to releasing AC/DC's future albums, SME's Epic Records will drop enhanced, remastered discs of the Aussie rockers' entire back catalog. The first reissues, set to roll out in early 2003, include Back in Black, AC/DC Live, High Voltage, Dirty Deeds Done Dirt Cheap and Highway to Hell.
Let's see who Axl's apologists put the blame on this time. For the second time on this tour, Guns 'N Roses did not take the stage (First Union Center in Philadelphia) as planned and a fan melee followed. The sold-out concert drew an estimated 14,000 fans.
Biohazard frontman Evan Seinfeld has gotten engaged to porn star Tera Patrick and plans on starring in adult films with her in the near future.
Puerto Rican pop star Marc Anthony has renewed his vows to former Miss Universe Dayanara Torres in a ceremony dubbed the year's biggest event on the island.
Christopher Lee has played the villain in James Bond, Star Wars and The Lord of the Rings. He now makes no secret of the fact that he would love to play Professor Albus Dumbledore, in the next Harry Potter film.
With Liam Gallagher's two front teeth repaired, Oasis is resuming its European tour in Wales.
Jude Law and Gwyneth Paltrow are pairing on the big-budget sci-fi thriller The World of Tomorrow, described as retro sci-fi in the vein of Raiders of the Lost Ark set at the turn of the 20th century.
Entertainment giant Vivendi Universal is signing an agreement this weekend to build a Universal Studios theme park in Shanghai in an attempt to steal the thunder of the Walt Disney Company, which has its own ambitions for a theme park on the mainland.
Twisted Sister is set to join Poison on their annual Summer run next year, barring a joining up with Judas Priest, which would be the first choice of Dee and Co.
Treasure Planet, which cost an estimated $180 million to make and market is expected to be the biggest money loser in the history of Disney animation.
R&B newcomer Ashanti made an impressive debut at the Billboard Music Awards, taking home eight awards while rap star Nelly won honors in six categories. The album of the year went to Eminem for The Eminem Show.
Organizers are trying to track down four of the original 15 statues handed out at the first awards in 1929 to include in an exhibit commemorating the 75th anniversary of the Oscars.
Sex and the City writer Cindy Chupack has inked a deal that promises to keep her in bed with HBO for a few more years.
Saturday Night Live alum Cheri Oteri is set to join the cast of New Line Cinema's When Harry Met Lloyd: Dumb & Dumberer.