Vol. 8 No. 35
Pick Hits
Caught In the Act
Ozzfest 2002 - Somerset WI
If you had no way of seeing this show due to circumstances (such as making excuses not to have a great time) then let us be the next best thing to being there. 35,000 plus fans were treated to a barrage of hard rock licks and kicks from Drowning Pool, P.O.D., Zakk Wylde's Black Label Society, Rob Zombie, System of a Down and of course Ozzy Osbourne. The Stage show was stripped down to the bare minimum of amps and equipment due to high winds and wet weather during setup, but this had little effect on the rabid fans who turned out in force early to catch a stellar second stage lineup headed by Down. Somerset is always the best venue to catch the Ozzfest, so mark it on your calendars for next year.
At the Movies
Fear Dot Com
Do you like to watch? Images flash across the screen and her seductive tone summons you closer, inviting you in. If you want to see more you'll be logged on to the internet site feardot.com, and the game begins. What follows is a haze of hellish images that leave unsuspecting voyeurs suffering from morbid hallucinations and unspeakable terror. A series of deaths arouse the suspicion of a police detective and a health examiner, who suspect it may all have to do with the victims' shared visits to feardotcom, run by a black widow woman who may be playing a deadly game. Check out the official fear.com website before seeing this fun filled fright fest, if you dare.
On Video
Queen of the Damned
Adapted from Anne Rice's series The Vampire Chronicles, this hot-blooded rock-infused vampire tale focuses on Lestat who becomes a pop star and plays up his heritage, violating the unspoken code that states that vampires should keep away from the limelight. Throw in a paranormal investigator and the centuries old queen of the vampires (Aaliyah) who picks this time to wake up, and the rivers of blood flow from New Orleans to Death Valley, where a climactic rock concert takes place. Cutting edge vamp flick keeps your attention and, in particular, shows off Aaliyah and what she might have become on screen if she hadn't passed.

The Buzz...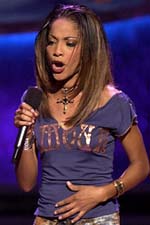 AMERICAN IDOL SCORES CONTRACT
Despite being voted from American Idol, Tamyra Gray is the first aspiring Idol to score a management contract. Tom Ennis, producer of the Fox reality series, has picked up the option to manage the career of the 23-year-old. Ennis' 19 Entertainment has contractual agreements with the 10 finalists and he plans to sign others, including the eventual winner. The agreements allow him up to three months after the final September 4 episode to make a decision.
LL Cool J is touring for the first time in four years, previewing material from his forthcoming 10th album, slated for release this fall.
Talent agent-turned-studio executive Ted Ashley, who played a key role in shaping Warner Bros. into a modern movie powerhouse, died in New York of acute leukemia following a long illness. He was 80.
XXX writer Rich Wilkes has been hired by Sony's Columbia Pictures to adapt the computer game Return to Castle Wolfenstein for the big screen. The project, optioned last month by the studio, is to be based on the popular Castle Wolfenstein title for the PC by Activision.
On October 9th Marvel Comics will release the Marvel Encyclopedia. This new volume will be a full color-guide to the Marvel Universe with over 100 entries covering the most prominent characters in the Marvel Universe.
Nirvana's Greatest Hits is expected to hit the shelves on October 22nd through Universal Music.
The release date for Pearl Jam's as-yet-untitled seventh studio album has been bumped up one week to Nov. 12. I Am Mine will be the disc's first single and is set to hit radio on Sept. 17. Other cuts confirmed for the disc include Love Boat Captain and Bushleaguer.
Godsmack's Sully Erna is hoping to jump-start a second career as an actor. He recently signed with the William Morris talent agency and is reading a number of movie scripts.
MacGyver, the late-1980s television series that featured a crafty secret agent played by Richard Dean Anderson, has completed a plot for the big screen.
The Manhattan district attorney's office declined to prosecute the son of former morning television host Bryant Gumbel who was arrested on charges he snatched a purse from a woman walking on a Manhattan sidewalk.
Celine Dion's palatial Florida home is up for sale, and will an equally impressive $20 million price tag.
After teaming with 20th Century Fox on the upcoming romantic comedy Just Married, starring Ashton Kutcher and Brittany Murphy, helmer Shawn Levy is in negotiations to direct another romantic comedy for the studio, Fever Pitch.
Destiny's Child singer Kelly Rowland will share screen time with a pair of Hollywood horror kingpins in her big-screen debut, as the pop star has joined the cast of New Line Cinema's Freddy vs. Jason.
Screenwriters Lauren Iungerich and Brad Follmer have sold the pitch Superhero Summer Camp to Warner Bros. The duo will pen a screenplay based on the material of a story line that follows a group of misfit kids who go to summer camp and discover that it's a training ground for superheroes.
Jason Biggs has been added to the cast of Miramax Films' Jersey Girl for filmmaker Kevin Smith. The project begins shooting this week in Philadelphia and New Jersey.
Joe Satriani's chrome Ibanez guitar was stolen at the Ruth Eckerd Hall in Clearwater, FL. Satriani is offering a $500 reward, no questions asked. Check out Satriani.com for more information.
Violence marred the end of England's Leeds Festival when several hundred concertgoers set fires and clashed with police. Guns N' Roses headlined the three-day event on Friday, while Foo Fighters were among Sunday's main acts.