Vol. 8 No. 6
Pick Hits
Off The Record
Diana Krall - The Look of Love
Her latest album shows Diana Krall has confirmed her exceptional status as a jazz singer. Her new CD is polished and clean and was recorded together with the London Symphony Orchestra. Her new ballads and Bossa Novas are sizzling. The title song The Look of Love is a great start leading to her soft piano playing towards the end of Besame Mucho which is captivating. Diana Krall's voice sounds fuller, richer and softer than before, not to mention she is very easy on the eyes. This 5th outing for Ms. Krall has allowed her to slightly step away from the piano and express a different side.

At The Movies
Collateral Damage
This rescheduled film (it was pegged to open last fall) tells the story of family man and fire-fighter Gordon Brewer (Arnold Schwarzenegger), who is plunged into the complex and dangerous world of international terrorism after he loses his wife and child in a bombing credited to Claudio The Wolf Perrini. Frustrated with the official investigation and haunted by the thought that the man responsible for murdering his family might never be brought to justice, Brewer takes matters into his own hands and tracks his quarry ultimately to Colombia. A sure hit, with the need to see the bad guys brought to justice in this day and age.

On Video
The Curse Of The Jade Scorpion
This film is one of Woody Allen's better recent outings. Set in the 1940s, a time when men were men and women were not supposed to be men, the film is a combination noir detective mystery and homage to a bygone era, laced with a wonderful jazz soundtrack. Someone is stealing millions in jewels from New York City's upper crust and the only man who can crack the case is completely clueless. Allen stars as CW Briggs, a top insurance investigator who goes up against his company's new efficiency expert (a thoroughly modern Helen Hunt). The pair hate each other instantly which, as is typical of films of the era, means they'll fall in love. But there's other problems too. She's having an affair with the company head, a wily hypnotist puts CW under his control, a rich nymphomaniac gets in the way, and all clues point to the jewel robberies being an inside job. And guess who gets fingered?

The Buzz...
Kimberly Peirce, who co-wrote and directed the critically acclaimed feature Boys Don't Cry, is in final negotiations to direct a big-screen adaptation of Arthur C. Clarke's science fiction novel Childhood's End for Universal Pictures/Beacon Pictures.

EBay Inc. and Sotheby's are joining forces in a new partnership, matching the technology savvy of the leading Internet auction site with the upscale heft of one of the oldest names in real-world auctions.

Spurred by growing concerns about online privacy, Hewlett-Packard Co. will preinstall privacy-protection software in its Pavilion personal computers sold in North America.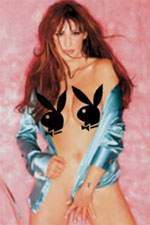 '80's SENSATION TIFFANY POSES FOR PLAYBOY
'80s pop sensation Tiffany, who enjoyed a hit with a dance-pop cover of I Think We're Alone Now, has opted to take it all off for Playboy Magazine. The publication's website confirmed that she will be in the buff in the magazine's April issue.

Herb Block, the famous editorial cartoonist for The Washington Post, left $50 million to create a philanthropic foundation when he died in October, according to the group's new president.

Russell Crowe will likely to earn a third straight Oscar nomination as best actor. He will also make his third appearance as a presenter at this year's Academy Awards.

Comedy Central is profiling Heroes of Black Comedy in a five-part tribute. It pays homage to some influential black comics, beginning with Chris Rock, then continuing with the self-billed Original Kings of Comedy, who consist of D. L. Hughley as well as Steve Harvey, Bernie Mac and Cedric the Entertainer. Whoopi Goldberg, Hip Hop Comedy and Richard Pryor round out the series.

The British girl band Atomic Kitten has inked a deal to promote Avon cosmetics. The trio will receive an undisclosed sum (rumored to run 6 figures) to endorse products from the Color Trend range. The band members will appear on packaging and in Avon catalogues.

Stephen King recently stated that he had five more books to write and then, "That's it. I'm done." King's many best sellers include The Stand, Christine, It and Hearts in Atlantis.

Alice Cooper has collaborated with pop sensations A*TEENS on a remake of Cooper's classic School's Out, which the boy band plans to release later this year.

A new supergroup is being formed in Los Angeles consisting of Sammy Hagar, Journey guitarist Neal Schon, drummer Dean Castronovo and Slash. Van Halen bassist Michael Anthony has also been linked to the project.

After 11 studio albums, three lead singers, and loads of highs and lows, Van Halen and its record label of some 25 years, Warner Bros., have parted ways. The split occurred approximately one month ago, but the band chose not to share the news on their site.

Former Rockette Pamela Everett has files a $2.5 million lawsuit against Radio City Entertainment that her former employer is illegally using her photographs for commercial purposes.

EMI boss Alain Levy cleaning house at the under performing Virgin Records America, firing co presidents Ray Cooper and Ashley Newton. Virgin will shut down its L.A. offices, lay off most staffers and relocate its headquarters.

Within the next 3 weeks Helix will be recording demos in London at a local recording studio. Songs to be recorded: Hard to think of the Sunshine (when your heart is filled with rain), Panic, & I Just Wanna Be Stoned.

Swedish rock kings The Hellacopters have signed to Gearhead Records in America.