Vol. 8 No. 19
Pick Hits
Play It
Spider Man for Xbox
Based on the wildly popular film, Spider-Man: The Movie allows fans to play in highly detailed, 3D environments. This full roaming, action-adventure game lets players jump into Spidey's webbed shoes and battle the forces of evil. Players crawl, leap and swing from the dizzying heights of skyscrapers to catch criminals, super-villains and, ultimately, come face-to-face with the Green Goblin in a death-defying display of aerial combat. During the course of the game, players must use Spider-Man's Spider-Sense, agility, quick wits and strength to evade pursuit and overcome obstacles. Spider-Man for Xbox features two exclusive levels and a new arch-villain, Kraven, that cannot be found on any other system.
At the Movies
Unfaithful
Edward (Richard Gere) and Connie Sumner (Diane Lane) are a living the American dream. Together with their eight-year-old son, a dog and a housekeeper, they share an enviable life in the suburbs of New York City. This happy marriage falls prey to an outsider when Connie has a fateful collision with a stranger. It pulls Connie into an affair, which becomes her obsession. When Edward learns that his wife has lied to him, suspicion propels him to uncover the devastating details of her infidelity. This film is the Fatal Attraction for women, with a plot that reveals a sophisticated, interesting adult drama.
On Video
The Deep End
A moody, visually delightful mystery that garnered multiple awards, including Best Cinematography and Best Actress. Set around Lake Tahoe, a woman (Tilda Swinton) hides the corpse of her gay teen son's lover, hoping to prevent the police from suspecting him in their murder investigation. Trying to cover the body up, however, certainly has ramifications, including blackmail. The film spirals in a tense filled attack, as a revealing video of her son in action is unveiled. The film unspools, with a final twist and remarkable visuals.

The Buzz...
Will Ferrell is announcing he's leaving Saturday Night Live after seven years as a Not-Ready-for-Prime-Time player. His final show will be SNL's May 18 season finale.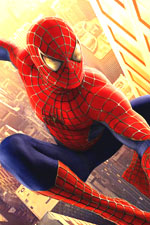 THE WEBSLINGER JOINS MTV
MTV is planning a winter debut for a new Spider-Man cartoon that will feature the voices of former Doogie Howser star Neil Patrick Harris as Peter Parker, singer Lisa Loeb as Mary Jane Watson and Beverly Hills, 90210 alum Ian Ziering as Harry Osborn, Parker's friend, son and successor to the original Green Goblin.
Actress Claire Danes is replacing newcomer Sophia Bush in Terminator 3: Rise of the Machines, after director Jonathan Mostow decided Bush looked too young for the role of John Conner's love interest. The Arnold Schwarzenegger flick started shooting four weeks ago.
World Wrestling Federation Entertainment is changing its name from WWF to World Wrestling Entertainment, WWE, after losing a court battle with the World Wildlife Fund (WWF) over its old moniker. The new name will reflect the company's growing multimedia empire.
The estate of late Odd Couple star Walter Matthau is filing a $1 million lawsuit against Columbia Pictures over royalties owed the performer for two decade-old films.
Hollywood mogul and DreamWorks cofounder David Geffen is donating $200 million to the UCLA medical school which will be the largest single donation ever given to a U.S. medical school.
The Midwest's biggest radio festival will mark its 10th birthday this Memorial Day Weekend in Somerset, Wisconsin. 93Xfest will feature Kid Rock, Incubus, Hoobastank, Papa Roach, Sevendust, and Static-X just to name a few. The two-day event kicks off on May 24th. Check out the details at www.93x.com.
The daughter-in-law of fashion designer Luciano Benetton is suing Penthouse magazine for $10 million Monday for publishing unauthorized photographs of her sunbathing topless, while allegedly misidentifying her as Russian tennis star Anna Kournikova.
Online movie ticketing services are gearing up for the next blockbuster. Both AOL Moviefone and Fandango have already begun selling tickets to Star Wars: Episode II: Attack of the Clones, two weeks before it bows May 16.
Meredith Vieira of ABC's The View will do double duty as host of the syndicated version of Who Wants to Be a Millionaire.
Otis Blackwell, who wrote dozens of hit songs including Don't Be Cruel and All Shook Up for Elvis Presley, died of a heart attack. He was 70.
Spider-Man has leaped from comic book to record book, becoming the first movie to hit $100 million in its first weekend.
Sony Corp. has started developing the next generation of its PlayStation video game for sale by 2005, when it plans to roll out a console that would allow gamers to play opponents over high-speed Internet networks.
Limp Bizkit have finalized a new guitarist to replace Wes Borland. Recent rumors suggest that former Snot guitarist Mike Smith is the replacement, with an official announcement expected to be made soon.
With Bill Maher's Politically Incorrect days apparently numbered, ABC is reportedly looking to Jimmy Kimmel, the co-host of Comedy Central's hilarious The Man Show, to replace him.
Bruce Willis bought 12,000 boxes of Girl Scout cookies from Troop 231, to be sent overseas to US soldiers. Willis got the suggestion from his daughters.