Vol. 8 No. 37
Pick Hits
Off The Record
Queens Of The Stone Age - Songs For The Deaf
Hailing from California, the Queens are everything you want in hard rock by displaying playful, tuneful, dynamic music. This is their 3rd full-length album with core members Josh Homme and Nick Oliveri, mixing it up with a top-flight bunch of ringers that includes Nirvana/Foo Fighters ace Dave Grohl, and Screaming Trees vocalist Mark Lanegan. Tunes like First It Giveth, Song for the Dead, Sky Is Falling, and Another Love Song display the wistful tug and harmonic complexity of Goss's old band Masters of Reality. Check out this powerful blast and entertaining hard rock album that can stand beside any of the classics.
Read It
The Thief Lord
Relief has arrived for parents who long to see their children carting flashlights off to bed for undercover reading. No, J.K. Rowling has not released a new Harry Potter novel, but German writer Cornelia Funke's The Thief Lord has hit our shores. Geared to readers 9 and up, this exquisitely told tale of adventure and intrigue set in contemporary Venice can be read by teenagers and adults alike. The Thief Lord tells of two orphaned brothers, Prosper and Boniface who are on the run from their German aunt and uncle. It would be a shame to reveal too many secrets from Funke's well-crafted plot, so we won't. After reading The Thief Lord, your kids may stop asking about a week's vacation to Disney World and beg for an airline ticket to Venice.
On Video
We Were Soldiers
Based upon the best selling book We Were Soldiers Once ... and Young, by Lieutenant-General Harold G. Moore and journalist Joseph L. Galloway, this top-notch war drama follows Moore (Mel Gibson) as he leads his troops into one of the first major battles of the Vietnam War. In a place soon to be known as the Valley of Death, 400 American soldiers found themselves surrounded by 2,000 North Vietnamese troops. The fighting is realistic enough to make you squint away from the screen, and the sentimentality is piled on (as the women at home find out about their lovers and husbands' deaths), but the film is admirable in its depiction of the war-is-hell ethos. And, it actually paints the enemy as being human.

The Buzz...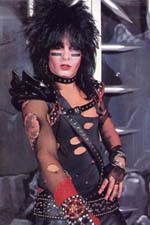 MOTLEY CRUE REUNION TOUR?
Mötley Crüe's Nikki Sixx has promised that "if all goes well, there will be a farewell tour, an amazing soundtrack and a movie" — presumably an adaptation of the band's autobiography, "The Dirt" — "all hitting in late 2003, early 2004," in a recent posting on the band's Web site. He also talked about a new group he's forming with Kris Kohl (Adema), Tracii Guns (L.A. Guns), an unnamed second guitarist and a vocalist named London.
In a surprise move, TNT the cable network has decided to axe its supernatural drama Witchblade starring Yancy Butler. This is despite the series significantly improving the TNT's Tuesday night ratings.
Supermodel Tyra Banks, who established a summer camp to help girls develop self-esteem two years ago in California, plans to open a similar camp in Florida.
Director James Cameron is going back to Titanic, this time with a 3-D camera. With help from his brother, Mike, and cinematographer Vince Pace, Cameron designed a lightweight camera able to film the sunken Titanic in 3-D. Two robots carried the camera and swam through the ship's grand interior.
Imax Corporation and director George Lucas have announced they're joining forces to release Star Wars: Attack of the Clones to really big screens everywhere. It will be distributed by 20th Century Fox to Imax theaters in North America on November 1.
Brainwashed, released by George Harrison's Dark Horse Records and Capitol, is due in stores November 19, just 10 days before the one-year anniversary of Harrison's passing. It will feature several of the rocker's final recordings, including tracks laid down just months before his death last November.
Reese Witherspoon will pocket a whopping $15 million to star in a sequel to her comedy hit Legally Blonde. The actress also will produce the flick
Oprah Winfrey will be the first to receive the Bob Hope Humanitarian Award to be given at the 54th annual Emmys.
ABC Television and McDonald's are teaming up to promote ABC's fall prime-time schedule.
McDonald's will tout the network's shows running during the 8 p.m. to 9 p.m. time period, which ABC is calling Happy Hour. Advertisements for the shows and questions for an accompanying sweepstakes quiz will appear on tray liners, bags, signs in drive-through windows and posters. The sweepstakes runs from Sept. 23 through Oct.7.
J.A.G. series star Catherine Bell has closed a deal to head to the big screen, joining Jim Carrey, Jennifer Aniston and Morgan Freeman in Universal Pictures' spiritual comedy Bruce Almighty.
Swimfan's Jason Ritter has replaced Brad Renfro and will star opposite Monica Keena in New Line Cinema's horror franchise clash Freddy vs. Jason.
Metallica plans to release their expansive Live S**t: Binge and Purge collection on DVD on Nov. 12. The original set, which came out in 1993, featured three VHS videocassettes of concert footage and three audio CDs; the reissue includes two DVDs instead of the VHS tapes.
The three remaining members of Rage Against the Machine and ex-Soundgarden singer Chris Cornell are back in a Los Angeles studio hashing out new material for their debut album. A new website suggests that the quartet has adopted the name Audioslave. The band's first release reportedly is not expected before early 2003.
AC/DC and Black Sabbath are among 15 acts that have been chosen for possible induction into the Rock and Roll Hall of Fame in 2003. The Aussie rockers have been nominated three times previously, while the British heavy metal pioneers have been up for the distinction six times.
Serious Nirvana fans might want to put their bids in on eBay item #1765388613, the four-bedroom, two-bath Montesano, Wash., residence where late leader Kurt Cobain lived from age 11 to 15. The asking price is $200,000, even though the home's value was assessed at only $52,660 two years ago. The auction ends Sunday.
Tim Burton, the director behind the 1989 Batman feature and the man who started the franchise, will also direct a new musical version of Batman on Broadway.
Britain's Prince Harry, hurt by lurid headlines and stories since the death of his mother Princess Diana, will mark his 18th birthday by paying tribute to her deep devotion to charity work. Harry has decided to mark his coming of age next Sunday with a series of public visits reflecting Diana's charity interests in a bid to remind people of her good work.
Tougher Than Leather: The Rise Of Run-D.M.C., a biography of the legendary rap group penned by noted journalist Bill Adler, has been updated and re-released. The book returns with a new introduction, cover art, and 12 pages of rare photos of Run-D.M.C. not included in the original.
Peter Gabriel fans making travel plans for this month should try to book their flights on Delta. One of the in-flight entertainment choices now being offered by the airline is Gabriel's new album Up, which won't be released commercially until September 24.
Staind will release a DVD of their MTV "Unplugged" performance, recorded last July, on November 12. The DVD will feature two songs that were not included when the show aired, along with favorites like "It's Been Awhile" and "Outside."