Vol. 8 No. 34
Pick Hits
On TV
Freaks and Geeks
Beginning Saturdays on NBC in September, Freaks and Geeks will hit the airwaves. Expect nothing less than excellent writing and marvelous performances by the most natural teen actors since My So-Called Life. High school is seen for what it is and was with this series taking place in the 1980s. Nothing is too exaggerated or sentimentalized as a sister (Linda Cardellini) and her younger brother (John Daley) are interesting people who love their parents and each other.
At The Movies
Simone
The career of a disillusioned producer (Al Pacino), who is desperate for a hit, is endangered when his star walks off the film set. Forced to think fast, the producer decides to digitally create an actress "Simone" to sub for the star--the first totally believable synthetic actress. The "actress" becomes an overnight sensation, with a major singing career as well, and everyone thinks she's a real person. However, as Simone's fame skyrockets, he cannot bear to admit his fraud to himself or the world. This film is a drama, a comic satire, and a cautionary tale of technology. Simone takes swipes at everyone, fans, stars and filmmakers to guarantee that no one leaves the theatre without feeling either entertained or personally affronted.
On Video
The Sweetest Thing
A trio of hot babes (Cameron Diaz, Christina Applegate, Selma Blair) ply their romantic trade in San Francisco, looking for the right guy but tumbling in and out of sex faster than a runaway cable car. Sexy and bold Christina Walters (Diaz), after years of avoiding meaningful relationships with men, unexpectedly meets her perfect match (Thomas Jane) one night while hanging out with best girlfriends Courtney (Applegate) and Jane (Blair). When she finds out the next morning that he's suddenly left town, she and Courtney set out to find him on a wild road trip, encountering a series of hilarious misadventures on their journey. Their search ultimately leads them to a surprising discovery and the realization that love is, after all, the sweetest thing.

The Buzz...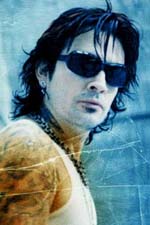 TOMMY LEE JOINS OZZFEST
Tommy Lee will assume the Ozzfest main-stage slot that was left vacant with the passing of Drowning Pool singer Dave Williams. The ex-Mötley Crüe drummer-turned-frontman will join up with Ozzy Osbourne, Rob Zombie, System of a Down and the rest of the Ozzfest 2002 crew August 22 in Denver, according to his publicist. Lee will continue throughout the remainder of the trek, which winds down September 8 in Dallas.
An audience at the Ilha Do Ermal festival in Braga, Portugal, gave Nickelback two songs before pelting them with rocks, forcing Chad Kroeger to say "See ya," and flip the audience his middle finger as he walked off.
With just over one month to go before the release of the trio's second album, 3LW's Naturi Naughton, with her lawyer in tow, told New York City radio jock Wendy Williams that she has been forced out of the group.
American Idol hit a season high with 12.7 million viewers last Tuesday. It was the most popular show among the 18-to-49-year-old demographic craved by advertisers for the fifth week in a row, the first Fox series ever to achieve that.

Elvis Presley's fans, around 35,000 of them, braved intermittent rain to file past the rock icon's grave to pay tribute on the 25th anniversary of his death. Organizers said it was the largest turnout ever for the vigil that has become an annual event at Presley's mansion.

With an arsenal of hit films such as Spider-Man, Men in Black II and current box office champ XXX, Sony Pictures said it broke its own industry record for North American ticket sales in a calendar year.

The WWE fans may have seen the last of Hulk Hogan - at least for the immediate future. Reports indicate that Hogan and Vince McMahon are once again at an impasse, with money and an exhausting schedule at the core of the dispute. Hogan has not been booked for any future dates with the company, including Sunday's Summer Slam pay-per-view.

Backstreet Boy Nick Carter is readying his debut album as a solo artist, Now Or Never, for worldwide release on October 29.

Law and Order: SVU star and rapper Ice-T is getting married to Coco, a voluptuous, blonde, 23-year-old swimsuit model.

Fox's contract with Major League Baseball includes monetary protection if the players' strike disrupts the playoffs and the World Series, but the network would lose its big fall event and a major platform for promoting its primetime lineup. If the players strike on August 30, MLB could end up owing Fox at least $500 million.

Mr. Potato Head, the toy created by Hasbro, marks his 50th birthday this year. In the past 50 years, Hasbro has sold more than 50 million Mr. Potato Heads to eager kids who want to try their hand at creating a happy face on a tater.

John Mellencamp, Sheryl Crow and James Taylor are among the performers expected at two concerts that will benefit the family of Timothy White, the Billboard editor in chief who recently died of a heart attack.

General Mills and publisher Simon & Schuster Audio are joining to promote audio books on cereal boxes.

Robert De Niro filed notice of a $1 million lawsuit Monday over a photograph of him and fellow actor Sean Penn blowing out their birthday candles at a private party last year.

Song writer Paul Simon will replace Paul McCartney at this year's 25th annual Kennedy Center honors, traditionally attended by the president and first lady.

Mötley Crüe has just signed a deal to turn their autobiography, The Dirt, into a film, according to bassist Nikki Sixx.

Jaime Sommers could return to TV with new adventures next summer. In the original 1976-78 Bionic Woman series, Sommers, played by Lindsay Wagner, was rebuilt by docs at the top-secret government agency Office of Scientific Intelligence (OSI). This time, she has cable's USA Networks and the producers of the Austin Powers franchise to thank for her new chance at life.
Sebastian Bach has signed to star in a year-long national tour of "Jesus Christ Superstar," beginning November 1 in California, according to the hard rocker's Web site. The former Skid Row frontman has previously appeared on stage in Broadway's "Jekyll & Hyde" and "The Rocky Horror Show."
Slash, Queen's Brian May and Steve Vai are among the guitarists who will lend their fretwork to the upcoming, as-yet-untitled record from the latest incarnation of British Invasion group the Yardbirds.
Oscar-winning actor Charlton Heston, 77, in his first published interview since announcing that he has symptoms consistent with Alzheimer's disease, said he had no plans to retire.
Opie and Anthony, co-hosts of WNEW-FM's popular afternoon drive-time program, remained off the air for a second day Tuesday while a 350,000-member Catholic group pushed for their station to get its license revoked. The pair allegedly broadcast a live, eyewitness account of a couple having sex in St. Patrick's Cathedral.