Vol. 8 No. 2
Pick Hits
Off the Record
I Am Sam - Various Artists
This movie soundtrack to the recently released film I Am Sam proves the best covers take a famous song and twist it into something with its own merit. This album reworks 17 songs by the best band there'll ever be, the Beatles, and dips them like soft vanilla ice cream cones into the flavors of current contemporary artists. Several of today's current hitmakers step up to the mike, such as Sarah McLachlan (Blackbird), Eddie Vedder (You've Got to Hide Your Love Away), Sheryl Crow (Mother Nature's Son) and The Black Crowes (Lucy in the Sky with Diamonds). Mixed with the songwriting talents of Lennon and McCartney, this album is a sure favourite.
At the Movies
Jimmy Neutron: By Genius
He might be the smartest kid in the galaxy, but Jimmy Neutron still has to deal with everyday things like homework and girls, and those parental units called Mom and Dad. But when slimy aliens kidnap all of the planet's parents, thanks in part to Jimmy's handcrafted toaster satellite, all heck breaks loose. Jimmy is simply adorable to watch. He's backed by a charming mechanical dog and an equally witty supporting cast, who go ballistic when they discover they don't have adult supervision. Kid network Nickelodeon should be proud of their first foray into computer-animated movies. Jimmy Neutron is an enjoyable holiday surprise for the entire family.

On Video
The Fast and the Furious
Vin Diesel puts in a dynamic performance in this blockbuster film that is sure to get your pulse pounding. Brian (Paul Walker), is young man who is interested in entering the world of illegal street racing. As a newcomer, the veteran racers rebuff him, but when he helps an expert driver (Diesel) elude the police, he is taken into the fold. But Brian is actually an undercover police officer, whose job is to discover the culprits behind a rash of robberies that police and the FBI are convinced have a connection to street racing. The DVD offers a carload of quality features such as an 18-minute making-of featurette, which includes the standard behind-the-scenes clips and cast & crew interviews and two separate special features that deal with the spectacular stunts at the film's climax. Director Rob Cohen has created a film which quickly and efficiently bypasses the brain and goes straight for the guts and the groin.
The Buzz...
Dave Thomas, the owner and pitchman whose homespun ads built Wendy's Old-Fashioned Hamburgers into one of the world's most successful fast-food franchises, has died at age 69.
Embarrassed CNN executives yanked an on-air promotion that referred to anchorwoman Paula Zahn as sexy, accompanied by the sound of a zipper. The 15-second spot promoting Zahn's morning news show aired about a dozen times on CNN Saturday and Sunday.
Yves Saint Laurent, the master designer who created undying trends such as the pantsuit and came to represent the ultimate in elegance, announced his retirement Monday. He said he would close the legendary fashion house he started 40 years ago.
The fantasy epic The Lord of the Rings: The Fellowship of the Ring took home best-picture honors and two other prizes at the first American Film Institute Awards.
U2 snagged a slew of nominations for the 44th Grammy Awards with a total of eight nods, including album, record and song of the year. This year's biggest Grammy surprise comes via new-school R&B artist India.Arie, who landed nominations for album of the year with her debut Acoustic Soul and single Video up for album and song of the year respectively. Fellow R&B newcomer Alicia Keys received a total of seven nominations, including record and song of the year and new artist.
Heirs of the Three Stooges will get profits from posthumous depictions of Moe, Larry and Curly, thanks to the U.S. Supreme Court. The court bypassed a chance to give First Amendment protection to photographers and artists who specialize in celebrities, turning back an appeal.
The Massachusetts Institute of Technology and a California company filed a lawsuit in Texas last week claiming that 94 companies, including Microsoft Corp., have illegally used their patented image editing software.
Whoopi Goldberg has been tapped to host the 74th Annual Academy Awards. This will mark Goldberg's fourth time presenting the event.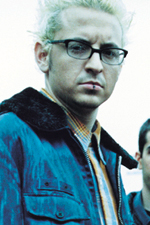 LINKIN PARK HAS TOP SELLING ALBUM OF 2001
Fueled by a December surge in sales and the explosive singles One Step Closer and In the End, Linkin Park out of California sold more than 4.8 million copies of their debut disc to top the list of best-selling albums for 2001, according to a year-end report from SoundScan, which has been keeping track of these things since 1991. Only a few thousand copies separated Hybrid Theory from the runner-up, Shaggy's Hot Shot, which moved 4.5 million discs thanks largely to the smash single It Wasn't Me.
Following in the footsteps of Prince and P. Diddy, the wackiest member of TLC has decided on a new nickname to go with her new record label. Lisa "Left Eye" Lopes now prefers to be known as N.I.N.A. The acronym is short for New Identity Not Applicable.
The boys of 'N Sync will have a cameo in the upcoming Stars Wars: Episode 2 – Attack of the Clones. A Lucasfilm spokeswoman confirmed what Star Wars fan sites had been buzzing about for days, saying the fivesome will appear briefly in a big scene.
Michael Jordan's wife has filed for divorce, citing irreconcilable differences with the basketball superstar after 12 years of marriage. Juanita Jordan is seeking permanent custody of the couple's three children, their 25,000-square-foot house in Highland Park, north of the city, and half the couple's estimated $300 million fortune.
PBS is starting a weekly news program with Bill Moyers that will round out its Friday night public affairs lineup. NOW with Bill Moyers will begin Jan. 18, airing after Wall Street Week with Louis Rukeyser.
Comedian Avery Schreiber, who with his partner Jack Burns was a fixture on television in the 1960s and '70s, died Monday of a heart attack. He was 66.
The Red Hot Chili Peppers and Garbage are the first two acts announced to participate in this year's eclectic Roskilde festival. The four-day event will take place June 27-30 in the 1,000-year-old Danish town of the same name. The festival's 2000 incarnation was marred by tragedy when eight attendees were trampled to death and 26 others injured during Pearl Jam's set.