Vol. 8 No. 24
Pick Hits
Off The Record
Avril Lavigne - Let Go
Many are predicting this 17-year-old from Napanee, Ont., is going to be the latest Canadian female to make it big south of the border. She was signed directly to Arista in the U.S. by label head Antonio Reid, and her pop-rock debut album hit stores Tuesday with a top 20 song blazing the way. Lavigne has an impressive, big voice reminiscent of Alanis Morissette, but it's mixed with the pop sensibility and soul-searching songwriting of youth. It proves to be a powerful combo on such songs as Losing Grip, I'm With You, and her current smash single, Complicated. Time will tell if Lavigne has the legs to be the next big thing, but for now she is cute, bubbly and fun to listen to.
At The Movies
Scooby Doo
Mystery Inc is fed up with the mundane aspects of their mysteries. Daphne gets captured, Velma and Fred have a plan, Shaggy and Scooby muck everything up, and, at the end, the supernatural phenomena they've been fighting is someone in a mask. After a time it gets pretty boring, and the gang breaks up. But they're called back together to solve a mystery. They go to Spooky Island, an amusement park on a tropical island, where mysterious things are happening. And this time, they have to face real supernatural forces at work with real monsters, demons and in the end, save the world. Everybody loved Scooby growing up. He's the inner goof and coward in all of us.
On DVD
The Mothman Prophecies
John Klein's (Richard Gere) perfect life is disrupted when his wife swerves to avoid a strange figure in the road, and both wind up in a terrible car accident. She dies, leaving behind only some odd sketches. Although he has no idea what the unusual black, winged figure is in the drawings, the images are burned into his memories. As a couple years pass, John finds himself having to drive to conduct an interview, but instead of arriving as planned, he has somehow traveled four hundred miles in less than two hours. This is just the first of many unexplainable events. The film starts off in one direction, and throws in several more twists, before deciding to show us its cards, which is well worth the wait.

The Buzz...
Police in St. Paul, Minnesota, are on the lookout for Lucy, one of the 100-odd statues around St. Paul for its annual celebration of the beloved Peanuts characters. The statue is five-feet tall and weighs 400 pounds.
On what would have been his 85th birthday, Ohio celebrated its first Dean Martin Day in the entertainer's hometown.
Some Eminem fans may soon be able to take a ride in the Detroit-area rapper's old car. A purple Ford Mustang that once belonged to Eminem, whose real name is Marshall Mathers, was traded in last week at Russ Milne Ford.
Brendan Fraser has been tapped to star alongside Bugs Bunny, Daffy Duck and other contract players in Warner Bros. Pictures' live-action/animated feature Looney Tunes: Back in Action, directed by Joe Dante.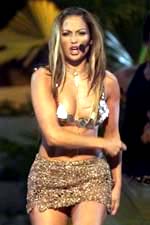 J-LO DITCHES HUBBY
FOR P. DIDDY?
Sean "P. Diddy" Combs has denied rumors that he is involved with former flame Jennifer Lopez. The rap mogul, whose current hit is I Need a Girl, has been mentioned in some reports as the cause of Lopez' separation from her husband of eight months, dancer Cris Judd.
Edward Norton will star opposite Mark Wahlberg and Charlize Theron in Paramount Pictures' The Italian Job for director F. Gary Gray and studio-based DeLine Pictures.
Steven Spielberg's A.I. Artificial Intelligence emerged with five wins at the 28th annual Saturn Awards. The event recognizes outstanding achievement in the science fiction, horror and fantasy genres in film and television.
Johnny Depp is in negotiations to sign a two-picture deal with the Walt Disney Co. that will see the actor working on back-to-back action projects for the producer, Pirates of the Caribbean and Takedown.
The Wonder Twins' powers have been reactivated. Apparently thinking what's good for Spider-Man is good for Jayna and Zan, Warner Bros. is teaming with Gaylord Films to develop a live-action flick about the teen titans from the planet Exxor, that were featured on the Saturday morning cartoon, Superfriends.
The Rolling Stones will roll out this tour with the Pretenders and No Doubt opening for selected shows. Singer Mick Jagger is to be knighted by Queen Elizabeth II for his service to music.
CBS has given producers the go-ahead to make a four-hour miniseries about the rise to power of Adolf Hitler, based on a best-selling book.
The average age of the casual video gamer is now 28, up from 18 a decade ago, according to one recent survey. More than 60 percent of those who've played video games for less than a year are women.