Vol. 8 No. 28
Pick Hits
Off the Record
Oasis - Heathen Chemistry
Perk up your ears and 'cause Oasis is back, and in top form. Noel Gallagher has handed down the reigns of running the show giving Heathen Chemistry to be formed by Liam Gallagher, the brash young singer intent on reclaiming the classic Oasis sound. Liam's Born On A Different Cloud, Better Man and Songbird, peaks your interest in a way they haven't since 1995's (What's The Story) Morning Glory?. They may have lost the World Cup, but, for better or worse, England still has Oasis. Family squabbling may have almost doomed this band, but they can still make great music when put to the task.
At the Movies
Halloween: Resurrection
A group of six teenagers stage a live Internet chat from the house Michael Myers grew up in. The doors are locked, the windows are boarded, but what the group doesn't know is that Michael Myers has also been locked inside and is bent on killing them all. The 7th film in this series, Halloween: H20, was fairly successful, so this 8th film was sort of to be expected. The ending of the previous effort allows the concept to go off in many different directions. So grab a date, sit down and enjoy some nostalgic slicing and dicing.
On Video
Jimmy Neutron: Boy Genius
A delightful animated adventure of Nickelodeon's Jimmy Neutron, a whiz-kid who has created all sorts of robots and convenience saving devices but has difficulty getting the attention of the cute girl in school. One of his projects back fires when an invading alien army notices the little human, follows him back to Earth, and discovers a planet of adults just ripe for the picking. So one night the evil creatures land, kidnap all the parents, and whisk them away to their home planet. Now it's up to Jimmy and his friends to save the day by creating spaceships from amusement park rides and flying off to rescue all the city's moms and dads. An inoffensive, non-threatening, highly entertaining video for the kids.

The Buzz...
The Las Vegas hotel room where John Entwistle died has become a tourist destination. Since the Who bassist's death on June 27, the Hard Rock Hotel And Casino has received dozens of calls from people who ask about reserving the room where he died.
A chalk and wash drawing found in a box in a New York City design museum is a work by Michelangelo worth more than $10 million, according to museum officials.
Sharon Osbourne, wife of Ozzy and co-star of the MTV reality series The Osbournes, has been released after undergoing surgery for colon cancer.
Joey Fatone, a member of the boy band 'N Sync, will make his Broadway debut Aug. 5 in Rent.
Animator Ward Kimball, who helped develop and refine such characters as Mickey Mouse and Jiminy Cricket, has died. He was 88.
David Hasselhoff has checked himself into The Betty Ford Center for treatment of alcoholism.
The remix of b's A Little Less Conversation debuted at number one on the U.S. singles charts. The track, which has been topping the British charts for the past three weeks mostly due to airplay during the World Cup, will now be added to the upcoming Elvis 30 #1 Hits collection due in September.
Eddie Van Halen and his wife, actress Valerie Bertinelli, have decided to call it quits after 21 years of marriage.
Austin Powers star Mike Myers is reportedly in talks to play Keith Moon in a film about the legendary drummer with The Who.
In the newest James Bond adventure, Die Another Day, if a fencing instructor should bear a striking resemblance to a certain Material Girl, it's not just your imagination. In addition to providing the film's title song, Madonna has agreed to a cameo appearance as well.
The first of the two upcoming Matrix sequels, The Matrix Reloaded, will be released May 15, 2003, one day earlier than expected. Warner Brothers has never before released a film on a Thursday. It will open on more than 3,200 screens, eight days before the Memorial Day holiday weekend. The third Matrix film, The Matrix Revolutions, will be released sometime in the holiday season of 2003.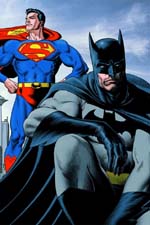 SUPERMAN VS BATMAN?
Warner Bros. has confirmed it's developing Superman vs. Batman, a film that could launch a new superhero franchise for the studio. For a large portion of the movie the two superheros are at each other's throats. But then, of course, because they are both crime fighters, they join forces again and fight evil.
Toby Keith's upcoming Unleashed album was originally scheduled for an August release, but to stay one step ahead of music pirates, the album was pushed up to a July 23 release.
Sci Fi Channel is taking a Quantum Leap with a remake of the NBC sci-fi series.
Former British pop star Adam Ant, will stand trial on assault and firearms charges Aug. 12.The 47-year-old pleaded not guilty to charges that he threatened a man with an imitation firearm and broke a window in a north London pub.
Michael Jackson, the self-christened "King of Pop", spoke out against the industry's treatment of black artists. "The record companies really do conspire against the artists," Jackson said, and he went on to say that generations of black musicians have been hurt by profit-grabbing record companies. These statements came soon after Jackson accused his label, Sony Music, of not properly promoting his latest album, "Invincible."
WWE superstar Kevin Nash had successful surgery on Tuesday afternoon in Birmingham, Ala., to repair his left quadriceps muscle, which was completely torn off the bone. Nash's recovery will be slow and extensive, a year ago Triple H suffered the same injury and took over 9 months to return.