Vol. 8 No. 13
Pick Hits
Off The Record
Natalie Imbruglia - White Lilies Island
Named after the English isle on which she now lives, this disc presents a more grounded Ms. Imbruglia resulting in a far more consistent effort than her last album which produced the successful hit Torn. The opening track That Day starts the listening experience down a path of passion while Butterflies is unexpectedly darker than her previous work. Both tracks are similar in style to Torn but are still unique in the circle of current music. A stand out track called Do You Love provides fat guitar riffs for a change of pace. Overall, it's a good solid pop album.

At The Movies
Panic Room
This story centers around a divorced woman (Jodie Foster) and her daughter, who are caught up in a cat-and-mouse game inside their New York brownstone when three burglars come looking for a hidden cache of cash. Mother and daughter hide in the panic room, a secret room designed for just such a purpose, but still end up fighting for their lives. Full of solid performances by all throughout the movie this film gives little room for complaint. It moves at a breakneck pace and never seems to slow down. The suspense is constant, so if you're looking for a jolt this is the one.

On Video
Donnie Darko
A very dark psychological black comedy about a slightly askew middle-class high school student whose sleepless nights and nocturnal wanderings around the neighborhood brought on by his medication are augmented with nightly visits by Frank, a six-foot-tall, sharp-toothed rabbit that saves his life when a jet engine falls from the sky into his empty bedroom. Though Donnie is now a celebrity and gets close to the cute new girl in school nothing changes for the better. The bunny warns him that the world will end in 28 days which heightens more and more bizarre behavior.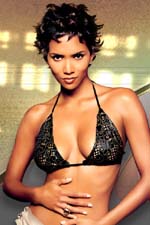 HALLE BERRY WINS OSCAR
The Buzz...
Shrek claimed the first-ever Oscar for best-animated feature film. Halle Berry was named best actress for Monster's Ball and Denzel Washington took best actor for Training Day, while fan favorite Ron Howard picked up an Oscar for directing A Beautiful Mind.

Nick Stahl (In the Bedroom) has been cast as the male lead opposite Arnold Schwarzenegger in T3: Rise of the Machines. Jonathan Mostow is directing the project, which goes into production in Los Angeles on April 15.

Dustin Hoffman will star opposite Edward Burns in Lions Gate Films' suspense drama Confidence for director James Foley.

Gabriel Mann is set to join John Frankenheimer's untitled prequel to The Exorcist for Morgan Creek Prods. Shooting begins in the spring in the United Kingdom and Spain.

Imax unveiled its plans for Apollo 13 to be the first mainstream live-action movie digitally repurposed from 35mm film for showing on the giant 15/70 format. Apollo 13: The Imax Experience will be distributed to Imax theatres throughout the world.

Tom Sizemore is set to make his debut as a TV series leading man with the untitled Michael Mann drama pilot for CBS from Studios USA.

The World Wrestling Federation and Ozzfest are teaming up. According to Sharon Osbourne, Ozzy's wife and manager, the Federation is the main sponsor of Ozzfest 2002. She said Federation Superstars would be introducing bands and signing autographs at shows on the 32-date hard-rock tour. In turn, some bands on the tour may perform on Federation events.

Led Zeppelin are suing Atlantic Records for copyright infringement. Jimmy Page, Robert Plant, John Paul Jones, and the heirs of late drummer John Bonham contend that the U.S. label has refused to pay increased royalty fees, currently almost four times the amount specified when the contract was signed, on 42 Zeppelin songs from the band's first five albums. If an agreement is reached, the settlement will likely run in the millions.

Playboy is putting together a Women of Enron pictorial and is inviting employees past and present to send snapshots of themselves in bikinis if they wish to pose.

Chris Cornell, has left the new supergroup he formed with former Rage Against the Machine members Tim Commerford, Brad Wilk, and Tom Morello. The unnamed bands had originally started work on their never-completed debut album early last year and were due to perform at this year's US Ozzfest dates.

ABC is estimating that 77 million viewers watched all or part of the Oscar telecast. The record-long ceremony (at four hours, 16 minutes) set a record-low household rating of 25.4, worse than last year's previous low, 26.2.

Robert De Niro and British rock legends Queen are teaming up to produce We Will Rock You, a new futuristic musical packed with the supergroup's greatest hits. The show opens in London in May.

After 10 years ZZ Top guitarist Dusty Hill is exchanging wedding vows with actress Charleen McCrory.

A week after Andrea Yates was convicted of drowning her children, documents related to the case were available for auction online. A crime victims' advocate was successful in getting a medical record removed, but five other items remained on eBay.

CNN is backing off from a plan to sell sponsorships on CNN Student News, a program it produces for classrooms that has been commercial-free since its start in 1989.

The Misfits, featuring Jerry Only, Marky Ramone and Dez Cadena, are in the studio recording an album consisting of punk covers of classic '50s rock and roll hits.

Billy Idol is planning a late summer tour. The first three shows have been announced with the first show on August 6th in South Dakota.