Vol. 8 No. 51
Pick Hits
Off the Record
Bob Dylan - Live 1975: The Rolling Thunder Revue
The only official documentation of Bob Dylan's legendary gypsy sideshow-like Rolling Thunder Revue available until now were some scenes from the Renaldo & Clara film and 1976's Hard Rain. What he does with a rock version of The Lonesome Death Of Hattie Carroll, is brilliance personified. The acoustic stuff, Including two tunes from Blood On The Tracks, is likewise. Of special note are surprisingly soaring duets with Joan Baez on four tracks and Roger McGuinn on the Closing Knockin' On Heaven's Door. Beautifully annotated with wonderful photos and liner notes, the arrival of this set is something Dylan fans will be celebrating for years to come.

At The Movies
The Lord of the Rings: The Two Towers
The Two Towers follows the continuing quest of Frodo Baggins (Elijah Wood) and the Fellowship that has joined together to destroy the One Ring and stand against the evil of the dark lord Sauron. Packed with breathtaking mountains and glades, swooping camera movements, and enough chatty forest oddballs and light-show apparitions to send every other scene skittering off in a new direction. There is no recap. No reminder of what we saw before. No pandering to people who have never seen the first film. The Two Towers knows who its audience is and thus jumps straight into what those people have all been waiting for, the rest of the story. You could hardly ask for more spectacle for your movie dollar.

On Video
The Country bears
11-year-old Beary Barrington acts differently than anyone else in his family, doesn't look like any of them, and has never quite fit in with his parents or brother. Looking for more folks like himself and his higher purpose in life, Beary strikes out on his own to reunite his favorite band, the Country Bears (Ted Bedderhead, Fred Bedderhead, Zeb Zoober and Tennessee O'Neil) for a benefit concert to save Country Bear Hall, the legendary venue where the band got its start. Just a fun movie for the whole family to sit down and enjoy together.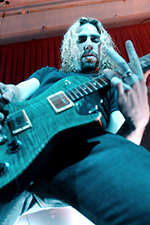 IT'S ALRIGHT FOR NICKELBACK
The Buzz...
Nickelback and Kid Rock are about to remind you, "Saturday Night's Alright for Fighting." The Canadian Quartet and the American Bad Ass have joined forces with Pantera's Dimebag Darrell to record a cover version of Elton John's 1973 classic. With their busy schedules, the song was more of a virtual collaboration than a conventional one, since the three parties never actually shared studio space but e-mailed music files back and forth. Nickelback frontman Chad Kroeger also has a previously recorded song he intends to donate to country singer Faith Hill.
R.E.M. is set to tour next summer after a four year break from the road. The band will kick off thier world trek on June 27 at England's Glastonbury Festival and hit North America by fall.
MTV is planning to usher in 2003 with a pajama party featuring performances from the Foo Fighters, Avril Lavigne, Busta Rhymes and Good Charlotte. Ashton Kutcher and Brittany Murphy will co-host with Carson Daly.
Kelly Clarkson's debut album will hit shelves in the spring, around the same time Justin Guarini will release his first record. Both singers are recording their albums in Miami, where they are also filming the movie "From Justin to Kelly."

The cancellation of the first Guns 'N Roses tour in nearly a decade is directly due to lead singer Axl Rose's increasingly bizarre behavior. Rose is very close to checking himself into a psychiatric clinic to deal with 'exhaustion' and a number of other emotional problems.

PBS is shutting down Computer Chronicles, a national public television series devoted to personal computing, after 20 years because of the lack of high-tech sponsors currently weathering hard times in the economy.

The American Film Institute has honored Martin Scorsese's Gangs of New York and Peter Jackson's The Lord of the Rings: The Two Towers as two of the 10 best movies of 2002.

Extreme motocross rider Carey Hart is hinting that he might be headed down the aisle with pop singer Pink.

Bon Jovi offered to pay the fines for a fan that plunged into Sydney Harbor and swam toward the stage where the band was playing a free concert in Darling Harbor. The man made it to the stage, where Jon Bon Jovi helped haul him out, to a huge ovation from the crowd of 20,000.

The Rock plans on coming back to WWE in time for WrestleMania and he wants to wrestle Bill Goldberg. WWE is apparently offering a short-term contract to Goldberg for a few dates before WrestleMania, with the big payoff of course being the PPV itself.

Remember the 1980s? Atari, Rubik's Cube, the Brat Pack, break-dancing. It's pop culture that's celebrated in VH1's I Love the '80s, a 10-hour, five-night miniseries that examines what defined the decade.

Godsmack have nearly completed their third album, which they've dubbed Faceless. The follow-up to 2000's Awake is slated to drop April 8.

Actress Alyssa Milano has swapped Justin Timberlake for Limp Bizkit singer Fred Durst. The actress, who hooked up with the 'N SYNC singer after his split with Britney Spears, was spotted with Durst at L.A.'s Whiskey Bar.

Metallica are lining up a headlining show at Donington Park, U.K. on Jun. 1, 2003. This would be the band's first U.K. appearance since they headlined the Big Day Out in 1999.

Nickelback already have laid down three songs for the follow-up to 2001's mega-platinum effort, Silver Side Up, despite touring almost nonstop over the last year and a half.

3 Doors Down have tacked several new dates on to their upcoming tour with openers Theory of a Deadman. The jaunt now kicks off Jan. 8 in Atlanta and currently is scheduled through a Valentine's Day performance in Kansas City, Mo.

Blink-182 drummer Travis Barker turned down an opportunity to join Slayer as a replacement for Dave Lombardo.

Firefly, Fox's struggling sci-fi series, masterminded by Buffy the Vampire Slayer creator Joss Whedon, has been cancelled.

A teenager died while practicing what police say was a stunt he and a friend had seen in the movie Jackass. Stephen Paul Rauen, 15, was ejected from the top of a friend's car after he'd jumped onto the hood.

Arnold Schwarzenegger and Cedric the Entertainer are in early negotiations to star in Intermedia Films' Joe's Last Chance for director Andrew Bergman and Outlaw Prods.

Hip-hop star-turned-actor Method Man has signed on to join the ensemble cast of the New Line Cinema thriller The Other Side of Simple. Method Man, who most recently appeared on the big screen in the comedy How High, will play the leader of a local gang. The cast includes Hayden Christensen, Vince Vaughn and Don Cheadle.

Training Day director Antoine Fuqua is lined up to bring one of history's most legendary figures to the big screen as he is set to helm the Jerry Bruckheimer produced King Arthur for the Walt Disney Co. A spring start date is being eyed.

David Lee Roth is filing a lawsuit against his former Van Halen bandmates accusing them of failing to pay him royalties. He's seeking more than $200,000 in damages.

The bell is set to ring for round 6 of Rocky. MGM has signed Sylvester Stallone to write a Rocky VI screenplay with an update to the story.

Jim Belushi and Monty Python alumnus Eric Idle have joined Regis Philbin to complete the voice cast for the English-language version of Miramax's Pinocchio, Roberto Benigni's retelling of the classic Italian fairy tale.

Far From Heaven, Todd Haynes' homage to the Technicolor melodramas of the 1950s, was the big winner at the New York Film Critics Circle Awards, taking honors for best film and best director.

A state program is granting $1 million for construction of a performing arts center named for actress Dixie Carter, a native of Carroll County.