Vol. 8 No. 25
Pick Hits
Off The Record
Tram - A Kind of Closure
English duo Tram has been perfecting the art of music as therapy in their previous two outings. For its third release, Tram presents a record that goes well beyond the band's previous efforts. Although the basic ingredients of slow, guitar-based tunes remain at its core, the approach, the sounds and the arrangements have been fine-tuned to perfection. Beginning with Three Years, perhaps Tram's best track to date, Paul Anderson sings in a falsetto so pure and effortless you'll have a hard time believing he is not a she. The pair's attention to detail is in evidence throughout this recording. Great stuff.
At the Movies
Lilo and Stich
A Hawaiian girl adopts a dog who is actually an alien, a quite evil alien to be precise. Stitch is a criminal who was being transported to an intergalactic prison whose ship crashed on Earth, and he is posing as a dog (complete with hiding two of his six legs so he will look the part) to escape detection from the alien police who are now looking for him. A great movie with a message we all should live by, being that family means nobody gets left behind or forgotten, and with Disney's stamp on the product, you know the animation will be top notch.
On DVD
I Am Sam
A stirring melodrama about the trials and tribulations of a mentally retarded single father fighting to regain custody of his seven-year-old daughter. Sean Penn plays Sam, who has raised his daughter Lucy single-handedly despite his handicap. But one day through a set of implausible circumstances he's arrested on false charges and the child is whisked away, and it's up to the court to evaluate Sam on his ability to continue to raise Lucy. Sam seeks a lawyer (Michelle Pfeiffer), and as they struggle to convince the system that Sam deserves to get his daughter back she learns the power of unconditional love.

The Buzz...
Michael Jackson has confirmed that after over 25 years on the label, he has parted with his record company Sony.
Dr. Dre has been named the biggest earning RnB artist of the last year taking home a $1 million per week. Dre not only has his own recording career but also produces Eminem, Snoop Dogg and Mary J. Blige.
Amy Fisher will write a biweekly column for a Long Island newspaper. Fisher, now 28, will write a story about her account of life after prison. That story will appear in the June 20 edition of the free newspaper, which is available only on Long Island.
Visit Red Hot Chili Peppers' official website through July 5 to hear a new song each day from the quartet's forthcoming By the Way album, which drops July 9. You can also watch the video for the disc's first single, which won't hit MTV until next week.
J.Lo is expanding to include a whole line of merchandise. Jennifer Lopez has signed an exclusive merchandising and licensing deal with Signatures Networks (the people who brought us the KISS Kasket) to stamp her name and likeness on everything from greeting cards and calendars to back-to-school stuff.
NASCAR and Britney Spears have announced plans for a dramatic feature film to star the 20-year-old popster that will be set in the world of stock-car racing.
In the believe it when I see it category, Guns N' Roses are lining up a U.S. tour that likely will run from September to December. No dates have been finalized yet.
Income for the major U.S. studios from the worldwide release of feature films to all media increased by nearly $1.3 billion last year to a record $31 billion for the seven members of the MPAA.
Sting was inducted into the Songwriters Hall of Fame. Other inductees included, Barry Manilow, Michael Jackson, and Randy Newman-who won the Billboard Century Award.
The Osbournes are planning to license a bunch of merchandise, including sleepwear, dartboards, backpacks, and a voice-activated teddy bear that yells, "I'm the *%#*ing prince of darkness!"
A new comedy gang of six single friends is coming to NBC. "Coupling," referred to at the network as "Friends" with sex, centers on the love and lust of a group of six thirtysomethings who are either involved, formerly involved or looking to become intimately involved with one another.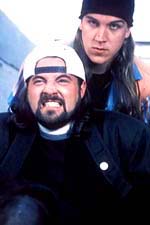 THE POOP SHOOT IS OPEN!
Kevin Smith, director of such films as Clerks and Dogma, has launched a new pop-culture news Web site called MoviePoopShoot.com. Smith hopes the site will bring together some of the casting gossip, Hollywood developments and comic book, music and TV news that he and many of his fans regularly read.
The Dixie Chicks, who accused Sony Music of cheating them out of millions of dollars in royalties, have reconciled with the company and will release their next record under a new label jointly created by the group and Sony.
Pamela Anderson is out of a TV gig now that Columbia TriStar Domestic Television has announced it is pulling the plug on her weekly syndicated action series VIP. The reason, according to the studio, was the money problems of its producing partner, KirchMedia.