Vol. 8 No. 4
Pick Hits
Off the Record
Nine Inch Nails - And All That Could Have Been
While Nine Inch Nails are often hailed for their live shows, the praise is usually focused less on the music and more on Trent Reznor's sheer intensity and his willingness to mount a serious spectacle. This 16-song document of NIN's sold-out Fragility 2000 U.S. tour should silence the skeptics. And All That Could Have Been captures the aforementioned elements, but more important, it shows a heart and immediacy not usually associated with Reznor's sound. NIN take more chances in concert, twisting and stretching familiar songs. While not altered to the point of indulgence, Head like a Hole and Closer are punctuated with moments that could make listeners stop banging their heads long enough to scratch them for a moment.
At the Movies
Black Hawk Down
This is the true story of the Battle of Mogadishu, the longest sustained ground battle involving American soldiers since the Vietnam War. An elite force of 120 American Delta units and Ranger infantry were dropped into Mogadishu on October 3rd, 1993, to abduct two of Somalian warlord Mohamed Farrah Aidid's lieutenants. Instead, two UH-60 Black Hawk helicopters were shot down, and what was expected to take an hour lasted 15, resulting in the deaths of 18 Americans, 73 wounded, and hundreds of Somalians dead. Ridley Scott and Jerry Bruckheimer team up on this fast paced riveting film, often telling the story with graphic visual depictions.
On Video
American Pie 2
The high school seniors that we met and loved last year have just completed their freshman year of college and though a couple of the romantic relationships have fizzled, the fun-loving boys are sticking together for a season of merriment at an endless summer-resort beach party. Leading the levity is Jim (Jason Biggs) who moves out to the lakeside retreat with Stifler, who like everyone else of both genders has just one thing on his mind but is the one least likely to hide his consuming preoccupation. Their resulting escapades make up one of the funniest teen flicks ever. Look for a scene involving Biggs, a risquι tape, and Krazy Glue. And just like the first installment, Eugene Levy steals the show as Jim's dad.
The Buzz...
The track listing has been finalized for the soundtrack to The Scorpion King, the upcoming second sequel to The Mummy. The disc will feature new tracks from Creed, System of a Down, Nickelback, Sevendust, Drowning Pool, Hoobastank, Mushroomhead and others. Godsmack's new song, I Stand Alone, will be the first single off the soundtrack, which drops March 26.
The reviews of The Scorpion King movie have been rather unflattering thus far. The Rock is scheduled to do re-shoots that should last through mid-February.
A new reality TV series featuring Ozzy Osbourne and his family will debut on MTV on March 5. The Osbournes, filmed over a six-month period at the family's Southern California residence, provides an uncensored look at the home life of the metal madman, his wife/manager Sharon and their two children, Jack and Kelly.

Steven Tyler says he wouldn't mind hooking up with Friends star Jennifer Aniston. The Aerosmith frontman recently learned that the actress admitted he was the one man her husband, Brad Pitt, would approve of her having an affair with. "My wife loves Brad, so if we can do a swap thing, we're good," the rocker jests.
Four years after the beginning of a scandal that almost forced a president out of office, Monica Lewinsky appeared at a news conference to promote an HBO documentary scheduled to debut on March 3. Called Monica in Black and White, it largely consists of her answering questions from an audience of HBO staff and college students.
A 1790s-vintage portrait of George Washington will soon be moving from the George Washington Museum in Virginia to Barbra Streisand's home in Malibu, Calif. The oil painting has been on display at the museum since October. Streisand outbid the Mount Vernon Ladies Association to buy the painting for $412,750 at a Sotheby's auction in May, but agreed at the association's request to lend the artwork to the national historic site for four months.
Comedian Jon Stewart will once again serve as host of this year's Grammy Awards.
Lou Pearlman, the man behind such pop creations as the Backstreet Boys, 'N Sync and O-Town is moving onto a different type of two-dimensional character. Pearlman says he's teaming up with Archie Entertainment to launch real-life music groups based on The Archies and Josie and the Pussycats comic books.
After nine seasons and 201 episodes, Chris Carter decided it was time to call it a wrap at the end of the season in May for the X-Files.
America's favorite cat Garfield, his dull-witted canine cohort Odie and their perpetually single owner Jon Arbuckle are making their way to the big screen as a live-action/CGI feature. 20th Century Fox has optioned feature rights to Garfield, the long-running comic strip that John Davis will produce through his Davis Entertainment.
Jennifer Lopez topped the list on this years episode of E!'s Rank, the Sexiest Woman in Entertainment. She joins George Clooney, named the Sexiest Man in Entertainment who was given the same honor by Rank last fall.
More than three decades after its first release and nearly two months after George Harrison's death, the ex-Beatle's hit single My Sweet Lord has returned to the top of the British pop charts.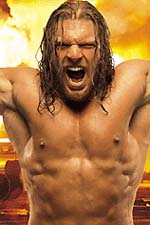 THE GAME RETURNS
The return of WWF Superstar Triple H to WWF programming has been a ratings winner! After nearly eight months of rehabilitation on a torn quadriceps muscle, The Game returned to a sold-out Madison Square Garden and helped drive RAW to its second highest rating since August. His return could not have come at a better time as the WWF has seen its ratings plunge recently due to the unimaginative WCW invasion storyline.
Kmart Corp., known for its BlueLight Special and low prices, has become the largest retailer to seek Chapter 11 bankruptcy protection.
MTV will premiere three new primetime animated series in the second half of 2002. Freshman satirizes college life through two first-year goofs Del and Sanford, Spider-Man is based on the Marvel Comics character while Clone High will chronicle the modern day experiences of cloned historical figures such as Abraham Lincoln.