Vol. 8 No. 9
Pick Hits
Caught In The Act
Creed
With over 20 million combined sales and counting of their three albums (My Own Prison, Human Clay, Weathered), Creed has amassed an amazing run of number one songs and a huge international fan base. How do they pull it off live? From the opening pulse of their new single Bullets, Creed ripped through a flawless set of songs, backed by an impressive set of pyrotechnics and fire, set amid a state of the art stage set. Between the barrage of hits, frontman Scott Stapp's rhetoric with the sold out crowd of 16,000 plus at the Xcel Energy Center made the affair seem like an intimate performance at times. Highlight songs of the show included One and the show closer What's This Life For. Coming back for a four song encore, the band ended with pumped up versions of Higher and My Sacrifice, reinforcing why they are the biggest act in rock today.
At the Movies
40 Days and 40 Nights
A young man (Josh Hartnett) breaks up with his girlfriend and then tests himself by swearing off physical contact with girls for the 40 days of Lent, while his ex schemes to seduce him back into her life, thus breaking his vow. But when he meets the girl of his dreams, things get a little more complicated. The misunderstandings are cleverly contrived while the main characters chemistry is undeniably potent. Both bring an immeasurable level of class to the script. It's tough to dislike a film where Maggie Gyllenhaal questions the authenticity of the immaculate orgasm. At the very least, 40 Days and 40 Nights should provide couples with something to talk about long after the curtain closes. A great date film.
On Video
Jay and Silent Bob Strike Back
Kevin Smith's final film in his New Jersey series (Clerks, Mallrats, Chasing Amy) will appeal to new and old fans alike. Jay and Silent Bob, who before now have pretty much kept to the background with small but key riotous roles in Smith's previous outings now take center stage. It turns out that big, bad movie company Miramax has usurped the comic book characters Bluntman and Chronic, which are based on Jay and Silent Bob, and are about to make a motion picture of their antics. Well, the boys will have none of this, so they take off for Hollywood to shut down the production. There are plenty of misunderstandings, slapstick, offbeat sexual jokes, and snide attacks at Miramax films. Keep your eyes open for a plethora of cameo appearances.
The Buzz...
Animation god Chuck Jones, one of the masterminds behind Bugs Bunny, Daffy Duck, Porky Pig, Road Runner and the other Looney Tunes characters, died of heart failure at the age of 89.
NBC is reporting that it has made a $75 million profit from its broadcast of the Salt Lake City Winter Olympics. The network's ad sales totalled $740 million, with $20 million sold after the games began.
The Family Values tour CD is due for release on May 7 through Elektra.
A technology company in Florida is poised to ask the government for permission to market a first-ever computer ID chip that could be placed underneath a person's skin. For airports, nuclear power plants and other high security facilities, the immediate benefits could be a closer-to-foolproof security system.
Hobbled throughout his comeback by a painful right knee injury, Michael Jordan is taking a break to have arthroscopic surgery. Jordan was placed on the injured list this week for only the second time in his career. He is expected to miss at least five games.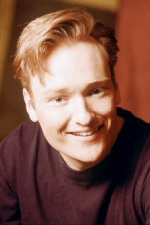 CONAN O'BRIEN TURNS
DOWN THE FOX NETWORK
NBC has extended Late Night host Conan O'Brien's contract for an additional four years in a deal that reportedly doubles his salary to nearly $8 million a year. The Fox network, which has been out of the late-night TV game for a couple of years, reportedly approached O'Brien, offering him a time slot an hour earlier than his current 12:35 a.m. start. O'Brien decided to stay loyal to NBC.
The makers of a Charley Pride CD, the first known copy-protected compact disc released in the United States, have agreed to inform consumers that the disc will not play in computer CD-ROM drives or DVD players.
The Writers Guild of America plans to honor Frasier co-creator David Angell, who died in a hijacked plane during the Sept. 11 terrorist attacks.
Robert Downey Jr., who's approaching the end of a yearlong stint in court-ordered drug rehab, has signed up to star in The Singing Detective, a feature version of the famed BBC miniseries.
The Sunday afternoon U.S. Canada hockey final drew 38 million viewers, the highest since the U.S. beat Finland for the gold medal in Lake Placid in 1980 and higher than any NHL telecast in history.
The King of Pop has entered the independent film business. Michael Jackson's Neverland Entertainment has invested $15 million-$20 million in Mark Damon's production and distribution company MDP Worldwide, making Jackson and his new producing partner Raju Patel major shareholders in the company.
Check out the premiere of Watching Ellie, a new NBC comedy in which Seinfeld star Julia Louis-Dreyfus stars as Ellie Riggs, a Los Angeles nightclub singer.
The first pilot order of the season for UPN is a new twist on an old classic, The Twilight Zone. The new series would be the third TV incarnation of the sci-fi classic.
Former child actor Macaulay Culkin has agreed to star in his first film in eight years, a biopic about party promoter and convicted murder Michael Alig entitled Party Monster.
Kurt Cobain's work journals, including writings, lyrics and drawings, will be published this fall by Riverhead Books. Financial terms were not disclosed, but the deal is almost certainly worth seven figures or higher.
Showtime has given the green light to Stealing Sinatra, a film about the 1963 kidnapping of Frank Sinatra Jr.