Vol. 8 No. 20
Pick Hits
Off the Record
Kinky - Self titled
A five-piece band from the streets of Monterey, Mexico, Kinky mixes native culture with booming big beats, electro burps, and live instruments. Brilliantly combining Spanish dialogue and hauntingly serene vocals with conga, timbales, accordion, cheesy organ, and funky guitar, Kinky intertwines it all with coiling bass, mad samples, and sexy synthetic grooves. Kinky has a unique sense of sonic and melodic architecture, apparent in the ominous ambient thriller Great Spot, and San Antonio, which bumps amidst guitar, flute, and organ. Throughout, Kinky conveys a feeling of dazed sun worship and exhilaration of simple pleasures.
At The Movies
Star Wars Episode II: Attack of the Clones
Taking place a decade after Episode 1 where we see that Anakin has grown into the accomplished Jedi apprentice of Obi-Wan, who himself has transitioned from student to teacher. The two Jedi are assigned to protect Padmé whose life is threatened by a faction of political separatists. As relationships form and powerful forces collide, these heroes face choices that will impact not only their own fates, but the destiny of the Republic. Full of thrilling action, gorgeous imagery, and epic yarn that one can find in few other places, Clones is the surest bet of the summer blockbusters in terms of mass appeal, as it extends the franchise's target audience, and if it works, George Lucas has the Star Wars and Titanic markets in one package.
On Video
The Others
This chilling horror drama has a tour-de-force performance by Nicole Kidman as a young mother with two small children living in an isolated house which has no phone or electricity but is eerily alive with unwanted visitors and events. A young boy named Victor cries all the time, a piano plays by itself, and chandeliers shake when no one's walking in the room above. To make matters worse, the two youngsters are allergic to sunlight, and the windows are constantly covered, making the house perpetually dark. Into this terrifying place come three new servants, who seem to know something that the young woman won't come to terms with. Without a heavy reliance on special effects, this film chills and thrills the soul with its emphasis on unseen, unknown terrors.

The Buzz...
Tom Cruise is producing and possibly starring in a new big-screen version of H.G. Wells' classic The War of the Worlds. The alien-invasion story is scheduled to go into production in 2003.
NBC, which unveils its fall line-up Monday, is placing orders for four new dramas and four new comedies. Included is the L.A. cop series Boomtown, starring Donnie Wahlberg, the Mexican drug series Kingpin and In-Laws, starring Dennis Farina and Jean Smart.
A decade after slamming Murphy Brown for its take on single motherhood, former Vice President Dan Quayle is praising The Osbournes for its family values. "I think there are some very good lessons there that are being transmitted, of not doing drugs, of not doing alcohol," he said.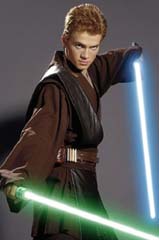 STAR WARS II ALREADY
ON THE 'NET
Pirated versions of Star Wars: Episode II - Attack of the Clones are already appearing on the Internet a week before its official release. One expert claims the film will have been seen by a million people before it even opens.
Former Home Improvement co-star Richard Karn is replacing Louie Anderson as host of the syndicated game show Family Feud.
The family of Jimi Hendrix suing a recording company over the rights to recordings the legendary guitarist made before he became famous.
Just in case anyone is keeping track, the infamous pop-star couple of Britney Spears and Justin Timberlake are reported to be back on.
Josh Todd of Buckcherry is jamming and writing with Nikki Sixx (Motely Crue), Slash and Steve Gorman (ex-Black Crowes) in what may form a supergroup.
Struggling in the ratings, ABC will try to reinvent itself by adding seven new series, scheduling a weekday happy hour of comedies and removing Who Wants to Be a Millionaire from the schedule.
Japanese electronics and entertainment giant Sony Corp. slashed the U.S. price of its PlayStation 2 video-game console to $199 - $100 cheaper than its biggest rival, Microsoft Corp.'s Xbox.
Paramount Pictures and MTV Films have teamed with rapper Ludacris and Original Film to develop a comedic feature film around the rap star tentatively titled Skip Day, which Phil Bowman will write.
Korn has been taking some heat for spending over 4 million on their upcoming album.
Ted Nugent has endorsed the sport of hunting, and now he's nurturing the art of gourmet cooking by issuing Kill It and Grill It, a practical guide to cornering, exterminating, gutting, cooking and eating wild animals. Recipes include maple-bourbon wild boar, barbecue black bear and sweet and sour antelope.
The parents of late-singer Aaliyah have launched a lawsuit against Virgin Records and video director Hype Williams, for wrongful death, survival damages, and breach of contract. The suit stems from the crash of an allegedly overloaded plane that went down on the way back from the Bahamas after shooting the video for, Rock the Boat.