Vol. 8 No. 52
Pick Hits
Off the Record
Garageland - Scorpio Rising
Garageland may be from New Zealand, but its music has more in common with the '60s British Invasion than any Aussie band this side of the Easybeats. On its third album, Garageland takes its melodic cues from the Beatles and that group's English peers such as the Kinks and a tad of the Small Faces. Opener Life Is So Sweet sounds like an excellent Del Amitri outtake. Been Around is almost like Buddy Holly meeting War's Summer, and Carry Me South is a beautiful and irresistible little pop gem, reminiscent of so many pop-rock classics that you'd almost need a jukebox to identify them all. Singer-songwriter Jeremy Eade writes and wordplay to accompany those clever hooks. If pop-rock still ruled, Garageland would be world renowned.

At The Movies
The Wild Thornberrys
Inspired by the popular Nickelodeon TV series, The Wild Thornberrys Movie is one of the best films of the holiday season, if not the best. The family consists of British ecologist Nigel Thornberry (voiced by Tim Curry) and his American wife Marianne (voiced by Jodi Carlisle) who have taken the clan to the Serengeti Plains on an adventure. The star of the family, and the film, is 12-year-old Eliza Thornberry (voiced by Lacey Chabert), who has a magical, secret power. She can converse with animals, but she can't tell anyone or she'll lose it. Her best friend is a chimp named Darwin (voiced by Tom Kane) who makes the usual monkey sounds when he's around the other family members but who speaks in proper English, British-style, to Eliza. Eliza discovers that poachers plan to kill an elephant herd with an electrified fence and she and Darwin, must stop them. Its PG rating should be a clue that The Wild Thornberrys Movie never condescends to its target audience.

On Video
Blood Work
Clint Eastwood's 23rd film as a director is a straight-ahead suspense thriller with a twist.
Eastwood plays Terry McCaleb, an aging FBI agent who suffers a heart attack, gets a heart transplant, and is forced to retire from the Bureau. Frail and living on his boat in San Pedro Harbor, Eastwood is called back to unofficial action by a woman who wants him to solve the case of her murdered sister which turns out that the heart harvested from the dead woman now beats
in Eastwood's chest. The retired FBI man leaps into action, relying on his skills as an investigator instead of his skills as a brawler to solve the case. There's plenty of underworld garbage about, and Eastwood, as is typical in his darkly-lit scenarios, must bump up against it all to get the job done.

The Buzz...
NBC's Friends aren't breaking up yet. The network announced a surprise agreement Saturday to keep the top-rated comedy on the air for another season.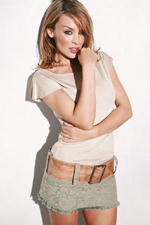 KYLIE STARS ON THE OSBOURNES
Ozzy Osbourne and Kylie Minogue reportedly will sing a duet, Especially for You, when the Australian pop goddess makes a guest appearance on MTV's The Osbournes in early 2003. The appearance is the brainchild of Kelly Osbourne, who has become friends with Minogue.

Destiny's Child leader Beyoncé Knowles will become the voice of the Pepsi Generation in ads to begin airing next month.

Old school action stars with films in the pipeline include Bruce Willis, 47, reprising his role as John McClane in Die Hard 4; Mel Gibson, 46, hitting the road again in Mad Max 4; Harrison Ford, 60, cracking the whip once more in Indiana Jones 4; and Arnold Schwarzenegger, 55, making another killing in Terminator 3

Eminem dominated 2002 music sales with both the top-selling album and soundtrack, year-end RIAA figures show.

HBO Home Video has devised what it considers to be its largest promotional campaign ever for the Feb. 11 sell-through release of My Big Fat Greek Wedding on VHS and DVD. Taking advantage of Valentine's Day gift giving, HBO marketing executives have lined up cross promotional partnerships with such companies as FTD.com, Kay Jewelers and Modern Bride magazine.

Hollywood fought back against a maker of DVD movie-copying software, countersuing the company for allegedly trafficking the tools of digital theft.

The movie musical Chicago received a leading eight Golden Globe nominations Thursday, while The Hours got seven and Adaptation six.

Gannett Co. Inc. is considering launching a 24-hour cable channel that would feature content from its TV properties and USA Today.

The author of Hiding Your Money and his lawyer-partner were indicted for helping wealthy Americans buy shares of defunct offshore banks to avoid paying income taxes.

George Strait is known more for singing than roping skills, but he will be inducted into the Texas Cowboy Hall of Fame on Jan. 10 in Fort Worth.

Liza Minnelli and her husband, David Gest, have filed a $23 million lawsuit against cable television network VH1 and others for dropping plans to air a reality show that centered on their lives.

The rock mockumentary This is Spinal Tap will be preserved by the National Film Registry. It joins the children's classic The Black Stallion, sci-fi groundbreaker Alien, and 22 other films selected this year for preservation by the Library of Congress.

Ozzfest, was the lone festival tour among the top 25 tours for 2002, grossing $24.5 million. Paul McCartney raked in $126.1 million, with the Rolling Stones ($90 million), Cher ($67.6 million), Billy Joel / Elton John ($66 million), and Dave Matthews Band ($52.8 million) rounding out the top 5. Other tours of note included Creed ($37.3 million), Aerosmith ($36.3 million), The Who ($28.6 million), and Blink-182 / Green Day ($20 million).

Joe Strummer, frontman with the Clash whose 1979 track London Calling exploded as one of punk's biggest anthems, has died at the age of 50.

Time Magazine named two women who uncovered massive accounting fraud at Enron Corp. and WorldCom Inc. and a third who detailed FBI failures after the Sept. 11 attacks as its 2002 Persons of the Year.

Paul McCartney was granted his own coat of arms featuring a bird holding a guitar in it claws and the motto Ecce Cor Meum, Latin for Behold My Heart.

A long lost tape of Bob Marley jamming with friends during his pre-reggae period is selling at Christie's auction house for $26,290.

Hollywood exec Warren Lieberfarb, who pioneered the creation of DVDs is stepping down as president of Warner Bros. home video division.

Steven Spielberg was revealed to be the anonymous bidder who plunked down $207,000 for the Oscar Bette Davis won for Dangerous. The director will give this latest Oscar back to Academy of Motion Picture Arts & Sciences.

The next video from Red Hot Chili Peppers should be a surreal one, even for them. The funk-rock quartet will wear plastic buckets, fruit and children's toys in the clip for Can't Stop, which will premiere in January.

Sum 41 has been offered the opening slot on Iron Maiden's forthcoming world tour. The band will be tied up most of the time, but may however find the time to join Maiden on the road.

Rob Zombie's long-awaited Ramones tribute album, We're A Happy Family, will hit the shelves in February. The album package will be loaded with tons of exclusive pictures and liner notes written by horror writer Stephen King.