Vol. 8 No. 23
Pick Hits
Read It
Futurama/Simpsons: Crossover Crisis #1
Crossover events have become fan-favorites since Marvel started the Secret Wars series back in the 80s. Bongo Comics is giving us the Futurama/Simpsons Special: Infinitely Secret Crossover Crisis #1. What would happen if the Planet Express crew met the Simpsons, and how is it even possible? Take one millennial edition of a Bongo comic, add in two Brain Spawns, mix in one 20th century man plucked out of time who's destined to save the universe, and stir it up with an interstellar three-eyed creature with a huge appetite and anything is possible. This is a bold new step for Bongo as they are making this a two-part mini-series.

At The Movies
Bad Company
CIA operative Kevin Pope is suave, brilliant, and right on the verge of completing a top-secret mission to keep a rogue nuclear weapon off the black market when he is suddenly killed. With the clock ticking and no other options available, the CIA reluctantly enlists Kevin's long-lost identical twin brother, Jake (Chris Rock), to take his place. But since Jake is the mirror opposite of Kevin, a working-class Joe, it's a comically uphill challenge to train him as a secret agent and get him in the field before disaster strikes. Anthony Hopkins plays a veteran CIA agent who trains Rock to act like an agent.
On DVD
Legend Ultimate Edition
This DVD includes both the never-before-released, 113-minute Director's Cut and the version that was released theatrically. In this classic fantasy/adventure, pure good and foulest evil battle to the death. Set amid a timeless mythical forest inhabited by fairies, goblins and other magical folk is the story of Jack, a forest dweller who lives in solitude and harmony with the animals of the woods, including Unicorns, who are key to keeping light alive and evil at bay. Chosen by fate to undertake a heroic quest, Jack must brave a host of terrors to not only save his true love, but also rescue a captive unicorn, or the world will be plunged into a never-ending ice age where the dawn never comes and evil reigns supreme.

The Buzz...
A lawsuit filed by actress Jennifer Aniston against two magazine publishers who ran a photo of her sunbathing topless will proceed. Aniston sued Man's World Publications and Crescent Publishing Group, claiming that a photographer with a telephoto lens scaled a neighbor's wall to take shots of her in her back yard.
Director Steven Spielberg received his bachelor's degree in film and electronic arts at
California State University where he dropped out more than 30 years ago.
Writer/director Frank Darabont (The Shawshank Redemption, The Majestic) is expected to sign a deal to write the script for the much anticipated fourth installment in the Indiana Jones franchise. Paramount is reportedly hoping to have the film ready in time for a July 2005 opening.
Singer-actress Bette Midler is planning to place about 100 acres of her land on Hawaii's Kauai Island into the federal Wetlands Reserve Program for the benefit of endangered waterfowl to help restore the land after it was drained for sugarcane.
Moviegoers want to see films with patriotic themes and wouldn't shy away from movies dealing squarely with the events of Sept. 11. A poll conducted for The Hollywood Reporter showed that 76.3 percent of the 1,041 adults surveyed are interested in seeing a film portraying the heroism of passengers on doomed airliners on Sept. 11.
Columbia Records' Legacy is planning to release five more vintage Johnny Cash albums on September 3. The country legend will then release his latest disc, American 4: The Man Comes Around, sometime in the fall.
Columbia Pictures has picked up feature film rights to Rob Liefeld's Internet comic strip Shrink! as a vehicle for Jennifer Lopez to star in and produce through her studio-based Nuyorican Prods.
Lena Olin is joining the cast of ABC's Alias for a guaranteed 16 episodes next season, playing the mother of secret agent Sydney Bristow (Jennifer Garner).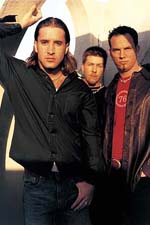 STAPP'S BACK!! CREED RESUMES TOUR
Creed is resuming touring on July 11 in Virginia Beach, Virginia after lead singer Scott Stapp's back injury suffered in a car accident in April forced the band to nix its latest trek.
In a partnership that will test the hypothesis that two Brads are better than one, manager/producer Brad Gray and client Brad Pitt are going into the movie production business together.
Lance Bass, a member of hugely popular U.S. boy band 'N Sync, has won a preliminary go-ahead from Russian doctors to become the first pop star in space and the youngest spaceman ever.
Napster filed for Chapter 11 bankruptcy, seeking court protection from creditors as Bertelsmann AG follows through on a plan to take over what's left of the company.
Basketball coach Bobby Knight, known for his explosive temper, is scheduled to appear alongside Jack Nicholson and Adam Sandler in the upcoming movie Anger Management.