Vol. 8 No. 15
Pick Hits
Off the Record
54/40 - The Singles Collection
54/40's latest collection amasses the best of this veteran pop-rock outfit's 20-year career with two new tracks. A quick viewing of the track list proves what an impact this band has had on the Canadian scene, scoring a string of consistent hits. Including Baby Ran, I Go Blind, Lies to Me, One Day In Your Life, Ocean Pearl and One Gun just for starters, this disc is a must have for the casual fan, and an already bought for the serious connoisseur. Time has shown that 54/40 is one of the greatest (and often most overlooked) Canadian musical success stories.

At The Movies
Changing Lanes
A young lawyer (Ben Affleck) and a businessman (Samuel L. Jackson) share a small automobile accident and their mutual road rage escalates into a feud. This film is a thought-provoking drama that explores the ethical choices at the foundation of our social relationships. Roger Michell's crisp direction enhances this film as he cuts effortlessly between Jackson and Affleck, establishing their similarities and differences and showing how their lives are ever more intertwined. A story that focuses on compelling issues, which are raised in a very gripping film.

On Video
Serendipity
A light comedy starring John Cusack as Jonathan Trager and Kate Beckinsale as Sara Thomas, two Manhattan singles who meet in a pre-Christmas shopping rush. They spend a wonderful day together, but Sara is a believer of preordination. She puts her name in a copy of a book she's going to sell the next day, and if Jonathan finds it, then the pair will reconnect. Several years later, Jonathan and Sara are on the verge of getting married, but not to each other. He's still in N.Y., she's in the West and as their vows near, they can't stop thinking of each other. So both enlist their best friends in a last minute effort to track down their mystery lovers, and make love flourish.

The Buzz...
The Rock will be leaving the WWF until around June due to a promotional tour for his new movie The Scorpion King. The WWF does not currently have The Rock scheduled for their next two pay-per-views, Backlash and Judgment Day.

Stars Tobey Maguire, Kirsten Dunst and director Sam Raimi have all reupped for a Spidey sequel, to start production early next year. The writing-producing team behind WB's Smallville will pen the script, picking up where David Koepp (Panic Room) left off.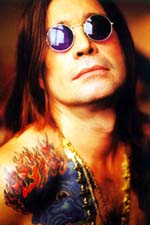 PRINCE OF DARKNESS' SHOW IS A SMASH HIT!
Smash reality hit The Osborne's pulled in a whopping 7.1 million viewers, the largest audience yet for a show that's become MTV's biggest success to date. Last week, it was the fourth most-watched program on cable. And since its debut, the 13-episode series has averaged 6 million viewers.

South Park creators Trey Parker and Matt Stone have killed off Kenny for good. The mumbling character, who once died during every episode, has not returned in the new South Park instalments and has been replaced by a new kid named Butters.

Rio de Janeiro tourism officials are planning to sue producers of The Simpsons over its depiction of the Brazilian city in a recent episode. Brazilians criticized the use of stereotypes in the episode.

Academy Award winner Kevin Costner is returning to the director's chair for the first time in five years. He will direct, produce and star in the Western feature Open Range co-starring Robert Duvall. The project begins production in June in Calgary, Alberta.

Microsoft is moving ahead with its efforts to court entertainment industry companies as it tries to move into yet another new market, movie and television distribution.

There's bad news for fans of Fat Albert. Preproduction on the live-action version of the beloved 'toon has been halted due to creative differences between creator Bill Cosby and the film's director, Forest Whitaker.

ABC's and Nightline host Ted Koppel have reached an agreement that will keep the late-night news show in its time slot for at least two more years.

MGM have finally given Austin Powers a license to poke fun at James Bond. After weeks of haggling the studio behind the 007 films may allow New Line Cinema to use Goldmember in the title of the third Austin Powers film after all.

Miramax is finally setting a Christmas week release date for Martin Scorsese's Gangs of New York. The film's release has been pushed back several times, while Scorsese and Miramax co-chairman Harvey Weinstein have reportedly battled over the film's running time.

Hit French reality TV show Le Coach is shaping up to be one of the next big European formats to land on U.S. shores. The breakout hit for French broadcaster TF1 has been picked up by Los Angeles-based Fox World for a global formatting launch.

Veteran 60 Minutes newsman Mike Wallace, 83, says he will reduce his role significantly on the news magazine starting next fall. Wallace, the oldest full-time news correspondent in network television, says he'll cut his workload in half.

Star Wars star Ewan McGregor admits that The Phantom Menace was "kind of flat." He says Attack of the Clones has "much more humor and there is much more color."

R. Kelly is defending himself against persistent allegations that he taped himself having sex with underage girls. MTV reports that the R&B singer called in to Chicago's WGCI-FM after protesters shattered R. Kelly CDs and demanded that the radio station stop playing his music.