Vol. 8 No. 22
Pick Hits
Off the Record
Moby - 18
Radio and video wouldn't touch Moby before his trippy music became the background for hip advertising around the world. Now he's one of the hottest acts around, the first DJ superstar, basically. Artfully combining vintage samples or new recordings made to sound vintage blended with hypnotic grooves, the likable mixmaster has a flair for writing songs. There is a certain minimal elegance to this music, quite evident in the current hit single We Are All Made of Stars. Moby's humble recognition of his own fame is also a breath of fresh air in this ego driven industry.

At The Movies
The Sum of All Fears
European terrorists get their hands on a lost nuclear device, and set about on their plans to use it at the Super Bowl. The plan is to disguise the attack as being caused by Russia, in the hopes of rekindling the Cold War. Luckily, young CIA analyst Jack Ryan (Ben Affleck) is on the case. The Sum of All Fears should be a good indication of the public's ability to tolerate a shockingly brutal and incredibly realistic look at a devastating terrorist act committed on U.S. soil. Tom Clancy's story is plausible, the movie is exciting and the timing is right. America is now absolutely ready to see it. Acceptable for kids around 12 and up.
On Video
Harry Potter and the Sorcerer's Stone
J.K Rowlings' first book of wizards and witchcraft made it to the big screen as the family film of the year. "Harry" is a wonder to behold for its acting, continuity of story line, and special effects. Alerted on his 11th birthday that he's the orphaned son of two powerful wizards, Harry is whisked away to the Hogwarts School of Witchcraft and Wizardry to learn the tricks of the trade and fight off the evil wizard who killed his parents. Even with a running time of two and a half hours, this film is so full of great acting, screenwriting and direction that the time just flies. Kudos to the supporting talents of Maggie Smith, Richard Harris, Robbie Coltrane and Alan Rickman.

The Buzz...
Producers are halting production on the TNT sci-fi drama Witchblade after series star Yancy Butler voluntarily checked herself into rehab for alcohol abuse. Six of the show's 13 episodes have been shot, and the premiere of the second season is still set for June 16.
The recording industry and artists are calling for a government investigation and tougher laws banning payola, in which radio stations are paid for playing certain music on the radio.
VH1's Divas Las Vegas special, which featured performances by Cher, the Dixie Chicks, Celine Dion, Mary J. Blige and Shakira, has raised more than $1.4 million for the network's Save the Music Foundation, which aids school music programs.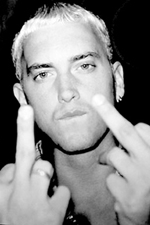 DAMN INTERNET PRIATES!
Eminem, bumped up his album release to combat Internet pirates once again. The Eminem Show is out now.
NBC is ordering six new episodes of The Rerun Show, a half-hour series in which an acting ensemble spoofs scenes from classic sitcoms. The show is set to air Tuesdays at 8:30 p.m. starting in mid-July.
MTV is enlisting Nickelback, Boyz II Men and Sheryl Crow among the U.S. performers joining Japanese stars Rip Slyme and Zeebra for the first-ever Japan edition of its Video Music Awards.
ABBA songwriting duo Björn Ulvaeus and Benny Anderson were presented with an international award for lifetime achievement by the British Academy of Composers and Songwriters.
Barbara Walters is donating $1 million to her alma mater, Sarah Lawrence College, to go toward a gallery in a new arts center. The gallery will be named for Walters.
FHM magazine has named Russian tennis babe Anna Kournikova the world's sexiest woman in its annual poll.
Dave Berg, the longtime Mad magazine cartoonist who spoofed everyday life for more than 40 years with his The Lighter Side comic strip, died May 16 at age 81.
Music producer Tom Werman is suing Mötley Crüe and the band's label for back royalties, claiming they withheld money owed him for his work on three early albums.
Robert Evans, the former head of Paramount Pictures who approved some of today's cinematic masterpieces, now has a star on the Hollywood Walk of Fame.
Jerry Lewis the legendary comedian returned home after doctors checked on an electronic device implanted to ease chronic back pain. With the battery-powered gadget in working order, the 76-year-old entertainer is now planning to get back on stage in Las Vegas later this year.
7TH Heaven star Barry Watson has revealed that he's battling Hodgkin's disease.