Vol. 8 No. 33
Pick Hits
Off The Record
Elvis - Today, Tomorrow & Forever
A unique four CD/CS anthology that consists of 100 unreleased tracks by the King of Rock & Roll. This CD follows Elvis' career chronologically with rarities from nearly all his studio recording sessions and several historic live highlights. This is just the beginning of an onslaught of releases to come with a special fall release of Elvis #1s, which features 30 of the legendary singers's #1 hits, culled from throughout his career. What more can be said about The King, and his music, you're either a fan or not. So for those millions of fans out there, sit back and enjoy this rare treat as you glue on your side burns and shake your legs in celebration of an icon.
At The Movies
Blue Crush
This is the story of two young women working as hotel maids in a remote Maui community who have nothing else to do with their time, so they surf, and become very good at it, eventually entering a traditionally all-male surf competition. Crafted by filmmakers dedicated to the sport, Blue Crush brings together world-class surfers in front of the camera and behind-the-scenes, and features some of the best sequences of women surfing ever captured on film. It also allows Blue Crush to display its young men and women in all assortments of skimpy attire. Action packed, sleek and sexy.
On Video
Showtime
Two of the movies most charismatic stars, Robert De Niro and Eddie Murphy, team up for a cop comedy about a pair of L.A.P.D. detectives who become fodder for a TV reality show. A network producer (Rene Russo) follows them around and films their misadventures. The gimmick is that Murphy's character really wants to be an actor, so he spends as much time preening for the camera as he does fighting crime. There are plenty of gags added on to the typical cop fare of car crashes, chases and gunfights, as well as a subplot involving a drug dealer who uses a super gun capable of launching rockets. It's totally unbelievable but, hey, it's a comedy, and it stars De Niro and Murphy, who are always worth watching, and Russo, who's doubly worth watching.

The Buzz...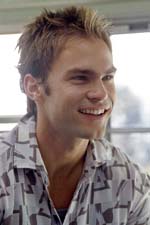 STIFFMEISTER STRIKES BACK
Universal Pictures has completed the script for the third installment of American Pie, which contains a wedding and of course, a bachelor party. The major male characters reunite, including Stifler (Seann William Scott), who will be at the center of this story. But the interesting news is that none of the female roles are in the script: Nadia, Heather, and the rest of the crew have been written out.
Drowning Pool singer Dave Williams was found dead on the band's tour bus Wednesday afternoon. The quartet from Dallas, Texas has been performing as one of the main stage attractions on Ozzfest. A spokesperson for the band at Wind-Up Records says the cause of death has not yet been determined.
Actor Jason Priestley faces weeks of healing and rehabilitation but is expected to fully recover from head and spinal injuries he suffered in a high-speed crash during practice for an auto race.
The Worst-Kept Secret in comics is out! Writer, film-maker Kevin Smith will soon return to write a Dardevil title for Marvel Comics. But he won't be coming back to the monthly Marvel Knights title he so successfully helped relaunch a few years ago. Rather, he'll be writing a Daredvil mini-series entitled "Daredevil/Bullseye: Target."
Madonna has written a song for red hot Kylie Minogue. Alone Again will be released as a double A-side along with Come Into My World from Kylie's Fever album.
Metallica's new album should be done this year, but the band wants absolutely no deadlines to deal with. An early 2003 release is likely.
The latest in the big name battle movies that have suddenly become so popular, Freddy vs. Jason has gotten the official green light from New Line. It will be the first of the battle films to hit theaters with Alien vs. Predator and Batman vs. Superman both planned for 2004.
Mindfire Entertainment has announced that they have finalized a deal with Harris Publications to produce a live-action feature film based on Vampirella.
Ed Headrick, father of the modern Frisbee and designer of Wham-O's first flying disc, has died. He was 78.
Nine Inch Nails' Trent Reznor is the latest addition to an ever-growing list of artists whom ex-Rage Against the Machine frontman Zack De La Rocha has collaborated with for his first solo album. De La Rocha also has enlisted DJ Shadow, Gorillaz's Dan the Automator, the Roots' Questlove and Cypress Hill's DJ Muggs for the disc.
Demi Moore will appear as an evil fallen angel in the Charlie's Angels sequel, Charlie's Angels 2: Halo
A nonprofit environmental group that John Denver founded is raising money for a life-size bronze statue of the singer.
The Walworth County Sheriff's Department said 411 citations were issued for violations of drug laws at last weekend's reunion of the remaining members of the Grateful Dead at Alpine Valley Music Theatre.
Brian Cox has signed on to play the villain William Stryker in X-Men 2 for director Bryan Singer and 20th Century Fox.
An arrest warrant has been issued for Motley Crue lead singer Vince Neil for allegedly slugging record producer Michael Schuman several times in the face in the parking lot of the Rainbow Room nightclub.
Lisa Marie Presley tied the knot with actor Nicolas Cage in a ceremony on the Big Island.
Arnold Schwarzenegger said he's excited about next summer's release of Terminator 3: Rise of the Machines, which is scheduled for release on July 2, 2003.
Michael "Mikey" Houser, guitarist and singer for the rock band Widespread Panic, died after a battle with pancreatic cancer. He was 40.
Veteran rock band Aerosmith is hitting the road this week with Run D.M.C. and Kid Rock in tow.
Lance Bass' space flight has been threatened yet again. After missing the first deadline for payment and having it pushed back, the deadline has once again been missed.
Former wrestling superstar "Stone Cold" Steve Austin was arrested on charges of spousal abuse. The charges stem from an incident on June 15th. His wife Debora claims he punched her in the face and back at their San Antonio home.