Vol. 8 No. 27
Pick Hits
Off the Record
Peter Gabriel - Long Walk Home
Peter Gabriel is scheduled to release a new studio album sometime in the next year or so. But for now, his fans will have to settle for this, the soundtrack to a movie called Rabbit Proof Fence. Soundtracks are interesting places for musicians to hide, and he sounds quite natural doing so. And even in a blindfold test, you'd probably guess it was his creation. The record plays as true to Gabriel's previous efforts as any of his other releases. That's both how distinctive and predictable he's become. Check it out.
At the Movies
Men in Black 2
Can you believe that five years have passed since the first film? The premise is simple to figure out, Earth may be destroyed if the Light of Zartha falls into the hands of the man-eating Serleena (Lara Flynn Boyle laying on the sass), a Kylothian root creature who takes the form of a Victoria's Secret model, and her two-headed henchman. The movie clocks in at a trim 88 minutes, and things move more swiftly than in a cartoon. Technical effects are top-notch, which doesn't mean the creatures don't look fake. That's part of the joke. Audiences will be in stitches.
On Video
Max Keeble's Big Move
A nerdy 12-year-old deals with the rites of passage of his first year in junior high school. Alex D. Linz stars as Max Keeble, who faces several obstacles in his efforts to be cool on campus: his nerdy friends, the school bully, the principal (Larry Miller) out to get him and an evil ice cream man (Jamie Kennedy). When Max's parents tell him they're going to move, Max seizes the opportunity to turn the tables on his foes and with his friends begins a weeklong all-out retaliation. But just when things are looking up for Max, his parents inform him that they're not going to move after all, and Max must now face the consequences of his actions.

The Buzz...
The family of 1950s singing sensation Rosemary Clooney had to close a public memorial service due to tremendous response for seats in the Beverly Hills church.
The man who introduced the Hula Hoop and the Frisbee to America, Wham-O co-founder Arthur Melin, has died of Alzheimer's disease.
Surviving members of the Doors Ray Manzarek, Robby Krieger and John Densmore will regroup to perform a concert in September at the Harley-Davidson Open Road Tour event at the California Motor Speedway on September 6th – 8th.
Pearl Jam has changed plans surrounding its forthcoming album releases. Eddie Vedder and crew will now release a still-untitled album of all-new original material in November with a B-sides album shelved until sometime early next year.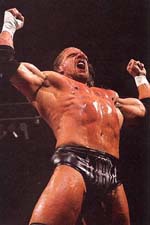 OZZFEST GETS THE 'F OUT!
Several WWE Superstars will be making appearances at the Ozzfest 2002 tour, which kicks off this Saturday in Bristow, Virginia. Triple H, Lita, Matt Hardy, Billy Kidman, Torrie Wilson, Chris Jericho, Bubba Ray Dudley, and Terri will all be appearing on select dates. The superstars will be introducing some of the acts and participating at the WWE booth in the Village of the Damed area. More information can be found at WWE.com and Ozzfest.com.
Internet audio and video company RealNetworks plans a launch for a new games-subscription service called GamePass that allows users to pay a monthly fee and receive free or discounted computer games to download.
A lawsuit that accused the makers of the television series The Sopranos of offending Italian Americans by depicting them as mobsters has been dropped.
The defunct Rage Against the Machine/Chris Cornell project may be back from the dead. There are reports that the group currently is seeking new management. Its debut disc is slated to drop on Epic Records sometime this fall.
The Grateful Dead's hyped reunion is back from the dead thanks to local officials overturning an earlier decision in Wisconsin. Terrapin Station: A Grateful Dead Family Reunion, a Sold out two-day festival August 3-4 at the Alpine Valley Music Theater in East Troy got the green light after a two-day appeals hearing, during which the band and promoter Clear Channel Entertainment presented a revised security plan.
Former Guns N' Roses members Slash, Duff McKagan and Matt Sorum will make appearances in an upcoming video by the Strokes. The clip for Someday will feature the New York quintet playing Family Feud against other rock musicians. Guest spots by Def Leppard and ex-Marilyn Manson bassist Twiggy Ramirez also are rumored.
Actor Kevin Sorbo, who had a five-year stint as television's Hercules, will visit North Carolina in October to tout his new furniture collection. Sorbo joins a growing list of celebrities, including Martha Stewart and former Charlie's Angels star Jaclyn Smith, expected to show off their wares during this fall's International Home Furnishings Market.
Marc Anthony and his wife, former Miss Universe Dayanara Torres, have separated, according to Anthony's production company. The couple married in May 2000 in Las Vegas and have a 16-month-old son.
Fox Broadcasting Co. will celebrate the 30th anniversary of the cult classic The Rocky Horror Picture Show with The Rocky Horror Birthday Show, a two-hour movie to be produced by Fox TV Studios. Lou Adler, who executive produced the 1975 feature will also be at the helm this time around.
Thieves have raided Australian supermodel Elle Macpherson's $3 million west London home in fashionable Notting Hill.
A London taxi driver who accused Hollywood star Woody Harrelson of wrecking his cab dropped charges after the American actor paid for the damages.
British rockers The Who have began their U.S. tour despite the death of bass player John Entwistle. They hired session musician Pino Palladino to fill in for their fallen comrade.