Vol. 8 No. 31
Pick Hits
Art Attack
Vintage Movie Posters
Movie posters, like other pop culture items, were canonized as a collectible when the auction houses became involved. Christie's held the first auction dedicated solely to movie posters in 1990 and continues to hold yearly sales for top end material. In financial terms, vintage movie posters are generally recognized as an attractive investment. The quantities are limited, and the practice of collecting movie posters is still relatively new. As the hobby grows in popularity and the more desirable posters become more difficult to obtain, values seem certain
to continue to rise. Some collect for their visual appeal, some for their graphic design or some for sentimental reasons. Very often it is just a
fantastic movie, and you want to capture some of that spirit for your home.
At The Movies
Signs
Graham Hess is a widower who lives on a small Pennsylvania farm with his younger brother and two children. A former reverend, he has lost his faith and renounced religion after the tragic death of his wife. His life begins to take a twist into the surreal when a crop circle mysteriously appears in his cornfield. At first believing it was made by pranksters, he soon begins to wonder if there's more to it. Little does he realize that what he discovers about the circles may save his family. The performances in this film are first rate. Mel Gibson is fantastic as usual. Joaquin Phoenix provides much needed comic relief and humanity to this otherwise dark film. If you're looking for a good scare and an interesting twist on the whole alien invasion concept, this is one you'll want to check out.
On Video
Collateral Damage
A by-the-book Schwarzenegger action flick notable only because it was the first major studio film pulled from last fall's release schedule because of September 11. Arnold Schwarzenegger stars as Gordy Brewer, a Los Angeles firefighter whose wife and son are killed in a terrorist bombing masterminded by a South American bad guy. Against the advice of friends, as well as the CIA and FBI, Brewer heads down to Columbia to get even. He infiltrates rebel strongholds, destroys cocaine cash crops and generally wreaks havoc with the guerrillas. Typical Schwarzenegger fare, but entertaining none the less.

The Buzz...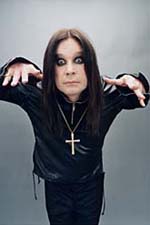 THE SHOW MUST GO ON!
Ozzy Osbourne will take a three week break from his headlining duties on Ozzfest 2002 to be by his wife Sharon's side while she undergoes her first course of chemotherapy treatments. System Of A Down will move into the headlining slot when Ozzy jumps off the tour following the July 28th date in Atlanta. He will resume headlining Ozzfest 2002 in Denver on August 22nd.
Snake Plissken, the anti-hero from Escape From New York, is making a multimedia comeback beginning in the spring. An anime feature film is in the works for a 2004 release, with a comic book series to follow.
Gary Frank has become the latest addition to Marvel's growing line of exclusive artists and writers. Frank's first new Marvel work will be seen in Avengers #'s 61and 62, both of which are scheduled for December release.
Actor Robert Blake's adult daughter won permanent custody of her 2-year-old half-sister, who was born to the Baretta star and his wife, who he is accused of shooting to death last year.
Two veteran producers from The Simpsons are finalizing a deal to join a new television take on The Monkees. NBC, which aired the original 1966-68 comedy and had first dibs on a sequel, is in discussions to pick up the revived series.
Anna Kournikova is in an extreme state of defensive guard towards her sporting credibility. Her world ranking has plummeted from number 8 at the end of 2000 to number 54, with the media attacking the true value of her enormous wealth estimated at $75 million and the off-court commercial activities which are seen by many as incompatible with becoming a successful athlete.
A wool sweater worn by Olivia de Havilland sold for nearly three times its expected price as a Georgia man auctioned off most of his collection of Gone With the Wind memorabilia for $334,000.
Actor/director Forest Whitaker will be the host of a new incarnation of The Twilight Zone, which will air at 9 p.m. Wednesday's right after Star Trek: Enterprise on UPN.
Also looking to revive the past is The WB, which is airing a remake of Family Affair. Tim Curry stars as Mr. French, the Sebastian Cabot role, and Gary Cole is in the Brian Keith role of Uncle Bill.
Actors Elizabeth Taylor, James Earl Jones and Chita Rivera will share with musicians Paul McCartney and James Levine the 25th annual honors of the John F. Kennedy Center for the Performing Arts.
Technology giant IBM Corp. will purchase the consulting and technology services arm of PricewaterhouseCoopers for $3.5 billion in cash and stock.
The perfume and cosmetics company Coty Inc. has partnered with Celine Dion to come up with an eau de Celine, a perfume that will be available soon.
Jim Carrey will play a melancholy TV reporter in the upcoming comedy, Bruce Almighty, which will be shot on location in Buffalo and Niagara Falls in September.
Anjelica Huston has signed on to star opposite Hilary Swank in Iron Jawed Angels, an HBO telefilm about turn-of-the-century suffragist Alice Paul.
Having made itself into a global television and live event powerhouse, World Wrestling Entertainment, Inc., has established WWE Films to focus its efforts on expanding its role within the film and television industries and has appointed Joel Simon to be the new division's president. The success of The Rock in The Scorpion King is an example of the type of opportunity WWE Films will seek for its superstars.