Vol. 8 No. 11
Pick Hits
Off The Record
The Hellacopters - High Visibility
Sweden's The Hellacopters, featuring former Entombed drummer Nicke Andersson on guitar/vocals, will issue their latest studio album, High Visibility, in the US through Gearhead Records during March. Thin Lizzy fans should really give this album a try, because of the storytelling lyrics and Lizzy-like drumbreaks. And Nick Royale's vocals make it seem like Phil Lynott has risen from the grave in some of the songs. The new Hellacopters disc contains thirteen classic sounding tunes that should please rock fans worldwide, although there's no surprises to watch out for. This is just one straight ahead kickin' rock record.
At The Movies
Ice Age
Set during the Ice Age, this is the story of a human infant who is found by a group of animals that includes a woolly mammoth, a sabre-toothed tiger, and a pair of giant sloths. Together, they try to reunite the baby with his parents. The whole concept of Ice Age is really fun. It's a time period where humans and prehistoric creatures interacted, but it is rarely fully explored. The voice line-up for this film is well cast, featuring Ray Romano as a grouchy mammoth and Denis Leary as the surly sabre-tooth. However, it is the sabre-tooth squirrel Scrat that really steals the show. Check out Ice Age, it is well worth seeing on the big screen.
On Video
Joy Ride
Straight-ahead thrills and chills make this teen suspenser a real joy ride of an outing. Paul Walker (The Fast and the Furious) stars as college student who sets out on a trip home, along the way picking up his errant brother whom he bails out of jail. The boys have fun with their CB radio, playing a prank on a trucker by creating a fictitious female named Candy Cane and setting up a meeting in a motel room. When the meeting turns to murder and the police can't find the trucker, the boys resume their trip, stopping to pick up Paul's unrequited love, Venna. But the trio is being pursued by the never-seen trucker, setting up all sorts of nasty encounters, including a wild chase scene in a cornfield, some kidnappings, and a thrilling finale that will leave you on the proverbial edge of your seat.
The Buzz...
Malcolm in the Middle star Frankie Muniz is reportedly close to scoring a $2 million paycheck to star in the teenage spy flick Agent Cody Banks. The deal would make him the highest-paid child actor since Macaulay Culkin in his Home Alone days.
Oprah Winfrey is planning to end her talk-show at the end of the 2005-06 season, which will be the 20th anniversary of The Oprah Winfrey Show's premiere in syndication.
Two tours featuring glam-rocks finest acts will vie for your concert dollar this summer. Poison, Cinderella, Faster Pussycat and Winger will head out together on May 16th, while Dokken, Ratt, Warrant, Firehouse and L.A. Guns, lined up respectively, will tour beginning on June 21st.
VH1 is stepping up its output of original TV movies, signing a deal for MGM Television to produce five music-themed movies for VH1 during the next three years.
Mark Wahlberg is hatching The Entourage, a comedy series for HBO about the chaotic existence of the core group of people behind a movie star.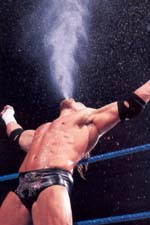 DROWNING POOL WILL PLAY "THE GAME" AT WRESTLEMANIA X8
Wind-up Records recording artist Drowning Pool has now sold well over a million copies of Sinner. The band will headline the Jagermeister tour with Coal Chamber and others, and will be in Toronto to perform at the WWF's Wrestlemania. They will open the show in the Skydome with the band's latest single, Tear Away, and then perform "The Game", as Triple H enters the ring.
David Letterman has decided to remain with CBS, spurning a multimillion-dollar offer to jump to ABC. That leaves ABC's corporate bosses trying to mend fences with Nightline host Ted Koppel, whose time slot was offered to Letterman.
Sony Pictures Entertainment Inc. has agreed to pay the state of Connecticut $326,000 for using fake reviews attributed to a local newspaper in promoting its films.
An estimated 39 million people tuned in Sunday night to the CBS 9/11 documentary that featured video footage from inside the World Trade Center after the terrorist attacks, making it last weeks most watched show.
Sally Jessy Raphael's daytime talk show, the longest-running of its genre, has been canceled after almost two decades on the air.
MGM and producers of the latest 007 flick announced that James Bond's 20th big-screen adventure will be called Die Another Day.
RealNetworks and Nokia have entered into what the companies characterized as a long-term, comprehensive relationship to bring audio and video to mobile devices.
Randy Quaid has signed on to head The Grubbs, a family comedy in the hopper for Fox, while John Larroquette is eyeing a family ensemble drama in the works for ABC and Touchstone Television.
98 Degrees singer Drew Lachey is dismissing break-up rumors in a statement on his group's official Website, but he does say the boys are currently "taking a break."
Paul McCartney is choosing his hometown of Liverpool to unveil an exhibition of about 70 paintings, sculptures and photographs running May 24 to August 4.