Vol. 8 No. 12
Pick Hits
Off The Record
Alanis Morissette - Under Rug Swept
This is the third full studio album since the Ottawa-born singer's transformation from teen pop act to platinum selling megastar. Recorded in several studios, including Toronto's Great Big Sound, it's also Morissette's first true solo effort, writing and producing the whole package herself. Her melodic sense and expressive voice remain the most impressive weapons in her arsenal. We know that Morissette has mastered the confessional, half-whispered ballad, so it's nice to hear her cut loose on the brass-knuckled rock of 21 Things I Want In A Lover. As Morissette has matured, her anger has diminished, which enables a more likeable aspect of her music to shine through.
At The Movies
Showtime
This spoof of buddy cop movies is about two very different police officers who are forced to work together, as stars of a new reality-based TV show a major city's police department hopes will boost their publicity, morale, and image in general. The two detectives are a straight-laced, no-nonsense Robert De Niro-type (De Niro) and a showboating, outlandish rookie with all the attitude of Eddie Murphy (Murphy). Rene Russo plays their TV show's producer, in this clever and often hilarious look at our growing fascination with reality shows.
On Video
Training Day
This movie tracks the events of the first day on the job of a rookie cop (Ethan Hawke) working in the Los Angeles Police Department's undercover narcotics unit. His partner is Alonzo, a corrupt veteran cop (Denzel Washington). A movie that was rescheduled due to 9/11, this multiple Oscar nominated film is not to be missed when it hits video shelves. Fine casting and strong performances make a well written script even more poignant.
The Buzz...
The makers of A Beautiful Mind have objected to an alleged smear campaign aimed at hurting the Oscar chances of their movie, which is up for eight Academy Awards including best picture.
Revlon is paying ABC millions of dollars to be featured as a foil for Susan Lucci's character in the soap opera All My Children over the next several months. Lucci's character, Erica Kane, runs her own cosmetics company, and when Revlon tries to hire one of her employees, Erica sends her daughter to become a corporate spy instead. Revlon has promised to pay multimillions in advertising over the next several months in return for being featured in the show.
Due to the fact that the entire new Korn CD, Untouchables, has been leaked and is currently available for download via a variety of file-sharing applications over the Internet, Immortal/Epic Records have moved up the album's release date back up to May 14th.
Aerosmith has begun working on their follow up to Just Push Play. Joe Perry told the Aerosmith fan club that it may be a greatest-hits record that would cover all three decades of their career, with a few new songs as well.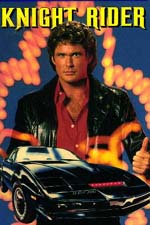 KNIGHT RIDER IS GEARING UP FOR A REVIVAL
Revolution Studios is gearing up to revive Knight Rider, NBC's hit 1980's action series featuring David Hasselhoff as a crime fighter aided by his talking Trans Am K.I.T.T, for a potential big-screen franchise. Hasselhoff is on board to executive produce the flick with series creator Glen Larson.
Canadian rock trio Rush, will release Vapor Trails, their first all new album in 5 years, on May 14th. A North American tour is planned for summer and fall.
Beginning in April, Internet service providers with customers in Pennsylvania will be legally responsible for blocking access to child pornography.
Sylvester "Pat" Weaver, who created NBC's Today and Tonight shows, brought opera and a flurry of new commercials to TV and shaped the way Americans watched the young medium, has died. He was 93.
Ice Age froze out the competition at movie theatres as the animated film about prehistoric pals opened with a whopping $47.9 million, a record for a movie debuting in March.
Representatives of Mike Tyson and Lennox Lewis were in Memphis to discuss a possible June fight at The Pyramid.
Britney Spears may be adding her name to the growing list of celebrities turned restaurateurs. The pop princess is reportedly planning to open her own Manhattan eatery with the aid of famed New York dining-scene impresario Bobby Ochs.
Nathan Lane and Matthew Broderick's box-office-bursting stint in The Producers has ended. The two actors, who originated the stage roles of Max Bialystock and Leo Bloom, bid adieu to the Mel Brooks musical, capping a yearlong run that saw the show take Broadway by storm with rave reviews, unprecedented ticket sales and a record 12 Tony Awards.
Fox's Celebrity Boxing special hooked some of the biggest numbers of the season, attracting about 15.5 million viewers. The show was so successful that Fox executives are now planning to go the distance with the concept. Already talk has begun about putting on future fights featuring the formerly famous (and infamous), with the next bout possibly coming as soon as May sweeps.
Billy Joel and Elton John have postponed the rest of their U.S. concert dates together to allow Joel to recover from an illness.
A trio of top-name talent including Eddie Murphy, director Rob Minkoff and producer Don Hahn are negotiating to come aboard Walt Disney Haunted Mansion.
Johnny Depp will star as Peter Pan author J.M. Barrie in Miramax Films' Neverland. The project, to be directed by Monster's Ball helmer Marc Forster, will go into production in the summer in London.
The NFL might give ABC's Monday Night Football a boost next year by moving games from the league's Sunday schedule to Monday night during the last four weeks of the season.
Staind guitarist Mike Mushok will begin working on the band's new album while the group takes a break. The new album will be the follow-up to the band's breakthrough 2001 release, Break the Cycle. Meanwhile, the 11-song Staind: MTV Unplugged DVD is set for an Aug. 21 release date. It includes two performances that didn't appear on the TV show, Suffer and Pressure, as well as backstage footage.
Saturday Night Live alumna Molly Shannon has signed on for a multi-episode stint on HBO's Sex and the City. The actress is also in talks to join the cast of ABC's remake of The Music Man to air under the Wonderful World of Disney banner.
After six years with Paramount Pictures, Mel Gibson and his producing partner Bruce Davey are moving their Icon Prods. to 20th Century Fox. Icon has signed a two-year, first-look deal that includes at least one project in which Gibson will star.
Ex-Motley Crue drummer Tommy Lee will be joined by guitarist J3 and drummer Will Hunt in his solo project formerly known as Methods Of Mayhem. His sophomore CD, Never A Dull Moment, is due for release on MCA Records May 21st.