Pick Hits...
Off The Record...
Buckcherry
Time Bomb
Some albums just knock you down from the first spin and just get better with each listen. Buckcherry's new release is one of those. This record is a hard rock fest that comes out screaming and barely lets up for a breather. The single, Ridin', is a worthy successor to their breakthrough smash Lit Up, with similar hooks, plenty of catchy riffs and a simple sing-song chorus that sticks to your brain like Crazy Glue. Time Bomb is to the year 2001 what Guns N' Roses Appetite For Destruction was for the 1987. Buckcherry is living up to their promise as the saviors of rock n' roll, and if that's what you dig, then you will surely love this album.
At the Movies...
Along Came a Spider
Two children are kidnapped from an upper class Washington D.C. private school. Soon Dr. Alex Cross is on the case, teaming up with a female Secret Service agent, with clues pointing to the missing girls being connected to a streak of murders taking place in the city. All signs lead to someone by the name of Gary Soneji, who may be the greatest criminal mind Cross has come up against yet. If you are a fan of the highly successful trend of psychological thrillers like The Bone Collector and Hannibal, this is your ticket.

On Video...
Charlie's Angels
This big screen upgrading of TV's Charlie Angels has three things going for it the star power of Drew Barrymore, Cameron Diaz and Lucy Liu. Three female private investigators are called upon to solve the kidnapping of a technology baron and concentrate on the high-flying, man-butt-kicking action sequences that makes this the ultimate female action flick. TV's jiggle has become widescreen cleavage brimming with energy. Bill Murray plays the Angels' right-hand man, Bosley. Watch closely, never in the movie do the Angels pull out a gun, they leave it up to their wits and ample physical skills.

The Buzz...
In what's shaping up to be a battle of media titans, AOL Time Warner Inc. is moving ahead with plans to create a new music channel that will go up against Viacom's MTV Networks, which includes MTV, MTV2 and VH1.
<![if !supportLineBreakNewLine]>
<![endif]>The Real Steel Tour line-up has been confirmed as Pantera, Slayer, Static-X, Skrape, and Morbid Angel. Look for it this summer.

Buffy the Vampire Slayer still doesn't know what network they'll end up on next season, but a new cartoon version of the butt-kicking heroine has found itself a home on Fox.

The Rosie O'Donnell Show will go off the air in June 2002 when her current deal expires.

Suzanne Somers revealing on Larry King Live that she is battling breast cancer and has had liposuction after the removal of part of her breast. She also says she decided against chemotherapy in favor of homeopathic treatment.

To be the best of the best in TV Land, you have to win a Peabody. The Sopranos have taken the award two years running.
<![if !supportLineBreakNewLine]>
<![endif]>Actress Jodie Foster is pregnant again, and as before, there's no word as to who the father might be. The 38-year-old actress, who has never married, is expecting her second bundle of joy in November.
Jennifer Lopez is reportedly getting more than $10 million to star as an FBI agent for director Tony Scott in the Warner Bros. crime thriller Taking Lives. The project concerns a serial murderer who kills strangers and assumes their identities.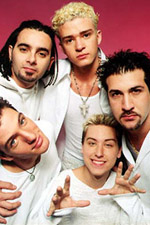 NEW NSYNC ALBUM AVAILABLE JUNE 26
The boys of 'N Sync will be back again June 26, with a new album in stores. The band's fourth LP will be titled Celebrity, appropriately enough, as the quintet has rocketed to superstar status over the past year and a half. Last year's No Strings Attached broke sales records when it sold 2.4 million copies in its first week on the rack.
Warner Bros. already has two Batman films in development, but they're squeezing even more mileage out of one of their biggest franchises. Catwoman, is getting a movie of her own. Ashley Judd has agreed to play the nine-lived female villain. The fifth and sixth Batman films in development are a live-action prequel, and a futuristic version based on the WB Network cartoon Batman Beyond.
Mariah Carey has bid farewell to her record company Columbia, and reportedly signed a deal with Virgin Records.
Madonna will go on tour for the first time in eight years.
Slipknot's new album, Iowa, will be released on July 24th through Roadrunner Records.