Pick Hits...
Caught In The Act...
Summerfest 2001
For anyone trying to find the ultimate live music experience, look no further than Milwaukee's Summerfest. Dubbed "the biggest music festival" by the Guiness Book of World Records, this 11 day event has a 30+ year history and draws an astounding 1 million plus guests. Musical guests this year ranged from the funk of Prince, dance flavored Destiny's Child, country artist Tim McGraw and rock gods Bon Jovi (who put on an incredible show on the final night of the fest) along with hundreds of other acts covering all genres and tastes. With so much going on at once, it's hard to absorb it all, whether you're sampling one of the dozens of restaurants or drinking ice cold brews (this is Milwaukee after all), the fun is in the trying. Summerfest is not just a festival, it's an incredible music, food and people experience.

At The Movies...
Legally Blonde
We've all heard them before. Dumb blonde jokes featuring flaxen haired beauties whose bust size
always exceed their IQs. Legally Blonde capitalizes on the image and plays it up for laughs by inserting a sorority girl beauty queen into the highly competitive world known as Harvard Law School. A young woman with blonde hair (Witherspoon) is dumped by her boyfriend when he goes to Harvard for law school. To show him that she's more than just good looks, she enrolls in law school there herself, eventually taking on a big murder case in Beverly Hills. Legally Blonde is essentially Private Benjamin goes to law school, with liberal dashes of Clueless thrown in. Witherspoon shines as the perky, pampered blonde, injecting the film with so much good will it's hard to dislike it. <![if !supportLineBreakNewLine]>
<![endif]>
On Video...
You Can Count On Me
Lost in the flurry of end-of-the-year big budget thrillers, this delightful small drama deserves a big second chance on video. After years of drifting away from his family, footloose and fancy-free Terry returns to his small home town to visit his sister Sammy and 8-year-old nephew. Sammy works as a loan officer, and is a responsible mother and churchgoer. Terry's arrival shakes things up. He stays longer than he had expected, taking a paternal interest in Sammy's son, freeing her from the chores of motherhood and
allowing her to express her wild side. She indulges in a bad affair with her married boss and turns down the marriage request of a solid but boring suitor. Both Terry and Sammy are searching for meaning in their lives. As in the real world, these characters have difficulty resolving their inner and outer conflicts, yet they do end up learning something more about themselves and life.

The Buzz...
The stars of Shrek, which is so far this year's highest-grossing film, with $240 million in domestic box-office receipts, stand to make up to $35,000 an hour voicing the computer-animated comedy's sequel. That princely sum is what Mike Myers, Eddie Murphy, and Cameron Diaz could be making if negotiations with DreamWorks go well.
The seventh annual Basilica Block Party attracted record crowds this year. Friday night's event featuring the Wallflowers and Semisonic was the first time the outdoor downtown Minneapolis has ever sold out.

At a court hearing, prosecutors and lawyers for Sopranos star Robert Iler agreed the robbery and drug-possession case against the young actor requires further investigation. Iler is free on $2,500 bail. He faces up to 15 years in prison if convicted.

The RealNetworks Webcast of Big Brother 2 is running uncensored, showing several housemates parading around in their birthday suits.

Director Simon West has produced a special alternate version of his Tomb Raider for release on DVD including some scenes that were cut out of the original.

The BBC's making a Buffy the Vampire Slayer spinoff series with the help of creator Joss Whedon. Tentatively titled The Watcher, the show will be more adult-oriented and star British actor Anthony Stewart Head, who plays librarian Rupert Giles on the show.

McFarlane Toys will be making a six-inch action figure in the likeness of Doors singer Jim Morrison, another in its line of rock n' roll toys.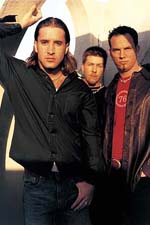 NEW CREED ALBUM
SET TO BE RELEASED
LATE NOVEMBER
Creed have finished writing songs for their third effort and have rented a house in Florida to begin work on the album with producer John Kurzweg and have begun setting up a studio inside to track the album. The band plans to finish the album and release it on November 20th.

38 Special, on the road this summer playing their catchy, hard-rocking American music to eager fans are scheduled to release a Christmas album, A Wild-Eyed Christmas Night, this September. The yuletide release will be the follow-up to 1999's Live at Sturgis, recorded at a concert at the famous annual biker rally in Sturgis, SD.
In a preview of the new fall show Enterprise, new captain Scott Bakula stated "I am the first captain of the first starship to go out into space. This is 150 years from today. This is 2151, 100 years before Kirk and Spock. So we are the first. We've just figured out how to use the propulsion system and we are going out in warp speed for the first time."
Zany Brainy, the upscale toy retailer with 187 stores across the country, has agreed to be sold for $115 million to Waterton Management, a Los Angeles investment firm, if a federal bankruptcy court approves.
Playboy founder Hugh Hefner is paying $4.5 million for a new mansion in Holmby Hills, just west of Beverly Hills. The new property is reportedly an investment and Hef will remain ensconced at his famous mansion.

Just in case you're wondering Napster is still down. The file sharing service has blocked all file transfers, blaming problems in assembling the database needed for its new filters, which use acoustic fingerprinting technology.