Pick Hits...
Off the Record...
The Quireboys
This Is Rock 'N' Roll
The Quireboys are back in action with almost all original members and an 13 song album of swaggering whiskey biscuits that rock, roll and weep in all the right places, though is unlikely to set the charts on fire. Lead by the gravel-throated whiskey-soaked voice of Spike and the rock steady bass of Nigel Mogg (nephew of UFO singer Phil Mogg), the Quireboys wear their influences on their sleeve: Stones, Faces, more Stones and even more Faces. And in this day and age, it's a welcome sound. This Is Rock 'N' Roll covers every nuance of the blues-rock palate, the boozy rockers, the soulful ballads, the boogie piano, the twin Keef/Ronnie guitar attack, the Hammond organ swells, and so on. This is an album full of butt wigglin' rock the way the classic rock bands played it.
At The Movies...
The Glass House
When Ruby (Leelee Sobieski) and her younger brother Rhett's parents, Grace and Dave Baker are killed in a car crash, their parents' best friends, Erin and Terry Glass become their guardians. Ruby and Rhett are promised a world of opulence and California fun, all they have to do is move into the Glasses' gated house in picturesque Malibu. But in this taut psychological thriller, trust can be as transparent as The Glass House. Before long, Ruby suspects that Erin and Terry may not be the ideal guardians they seem to be. But are her suspicions justified or merely the perceptions of a rebellious teen with a fertile imagination? Hansel and Gretel get a shiny new update in this thriller from TV vet and first-time feature director Daniel Sackheim. You will love it.
Toy Box...
Movie Maniacs 4 Figures
Now in its fourth incarnation, the Movie Maniacs line has taken on a dark life of its own. What began as a series of horror toys has evolved into an action figure line that encompasses a broader range of film characters, from psycho nasties to cyborgs. This fourth Movie Maniacs series is McFarlane Toys' broadest and most compelling yet, and is scheduled to include: the Blair Witch (from The Blair Witch Project) New Freddy Krueger sculpt (from A Nightmare on Elm Street) Evil Ash (from Army of Darkness) T-800 (from Terminator 2) T-1000 (from Terminator 2) and Candyman (from Candyman III). Wow what a line up, I don't think Mcfarlane is going to stop anytime soon and you can keep expecting this line of toys to keep rolling.
The Buzz...
Sony Pictures will fight recent fines imposed by California resulting from the death of a worker on the Spider-Man movie set. Total fines from the state Occupational Safety and Health Administration equaled $59,000.
Recent forest fires in the Pacific Northwest will provide footage for the remake of War of the Worlds, due out October 2002.
Although actor Ewan McGregor first turned up his nose at the sound of the title of Star Wars Episode II: Attack of the Clones now he thinks it's not so bad.
There won't be a fourth Indiana Jones movie until at least 2006, according to an interview with George Lucas conducted by Tele 7 Jour by way of Movie Headlines.
Stan Lee's much-uttered '60s catch phrase 'Nuff Said' provides the title for Marvel's December line of wordless comics. DC Comics will feature full-size art on its December covers without the usual logos in an event called Full Coverage.
Fox is buying into Neverworld, a sci fi pilot from Frasier star Kelsey Grammer's production company. The plot centers on a parallel universe. Robert Nathan (Law & Order) will executive produce with Grammer. Look for the series to debut in fall 2002.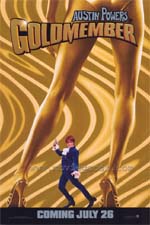 AUSTIN POWERS 3
COMING SOON
Goldmember is the title of the third Austin Powers movie planned for July 26. Shooting begins in mid-November. Mike Myers will again play Powers, Dr. Evil and Fat Bastard, but he'll also play Goldmember, a villain with some unusual physical qualities.
Vince Neil has made amends with bassist Jamie Hunting, who was kicked out of his band a coupla weeks ago but is now back in the fold. Former Ozzy bassist Phil Soussan filled in at three shows, but Hunting was eventually asked back, and he will now accompany the group to Buenos Aires, Argentina, where they are scheduled to play two shows on September 20th and 21st.
Insane Clown Posse are so miffed at former pals Marz over allegedly trying to steal their audience that they have posted a note on their website telling fans to "Stop liking Marz" and pulled 80,000 copies of their collabo album Tales from the Lotus Pod (released under the name Dark Lotus) from stores.
Talk-show queen Rosie O'Donnell is being sued by former members of her security staff, who claim she spied on them and illegally recorded their conversations.
Breakfast giant Kellogg's announcing plans to launch two cereal brands tied to Fox's The Simpsons, Homer's Cinnamon Donut Cereal and Bart Simpson Peanut Butter Chocolate Crunch.
Pamela Anderson will don her famous red bathing suit one more time to help promote the launch of Baywatch on TNN, which kicks off with a marathon on September 24.
Sally Field's guest star stint as a manic-depressive mom on ER earned the actress her second Emmy Award. Stage actor Michael Emerson won the male dramatic category for his guest role in the ABC legal drama The Practice, playing a psycho killer.
A preliminary accident report shows that the plane that crashed and killed singer Aaliyah and eight others in the Bahamas last month was substantially overloaded.
Keanu Reeves has signed away a sizeable back-end deal for two Matrix sequels. Reeves handed over his valuable profit-sharing points to the franchise's special effects and costume-design team. Apparently, he felt that they were the ones who made the movie and that they should participate in the profits.