Pick Hits...
Off The Record...
Rob Zombie
The Sinister Urge
Say what you want about Rob Zombie, but the guy has certainly created his own sound. From his patented gruff vocal sound to his guitar-driven dance beats, the former White Zombie frontman has created a sonic stamp that could probably stand up in a court of law as an actual audio trademark. The Sinister Urge is definitely a more guitar-driven effort than his recent barrage of remixes and soundtrack cuts. The opening song, Demon Speeding is a sharp blast of metallic guitars with nary a sample or drum loop in sight. The latest single, Dead Girl Superstar, is a bit more traditionally Zombie sounding but it speeds along at a brisk headbanging pace and has a great chanting chorus that is sure to get the kids fists pumping. Zombie has clearly defined his sound and The Sinister Urge is a fine example of his sonic offerings.
At the Movies...
Behind Enemy Lines
A Navy pilot is shot down over enemy territory, and struggles to survive the relentless pursuit of a ruthless secret police enforcer, a deadly tracker, and countless hostile troops. With time running out, the injured pilot's commanding officer goes against orders to carry out a desperate rescue mission. Designer Nathan Crawley and cinematographer Brendan Galvin create a chilling landscape of gray tones and mechanical and structural rubble. Enemy Lines is an equally uncomplicated war movie with straight-ahead, MTV-style action mixed with simplistic politics. This film will definitely attract its target male audience.
On Video...
Planet Of The Apes
Tim Burton's reimagining of the 1968 Planet of the Apes stands as a fine cinematic accomplishment in its own right while being over compared to the original. If there had been no original, this film would certainly be applauded but, alas, there is that first one and we'll always carry that version in our mind. This remake loosely follows the original, with some extra twists and turns and some delightful, typically Burtonesque flourishes along the way. A fast paced, fun, enjoyable outing with outstanding make up and visual effects. Check out the DVD with all it's special features, which clock in at an amazing 13 hours of extra viewing.
The Buzz...
Tom Hanks and Denzel Washington lead the nominees for this year's People's Choice Awards, the annual event whose winners are determined by a nationwide poll.
Oscar-winning actor Russell Crowe and Brian Grazer's Imagine Entertainment have teamed with Revolution Studios to develop a dramatic big-screen version of the 1960s TV sitcom Hogan's Heroes as a starring vehicle for Crowe.
New Line Cinema has purchased the comedy Good Cook, Likes Music from first-time writer Coleen Ventimilia, with Adam Sandler and Zhang Ziyi attached to star and Sandler to produce through his Happy Madison Prods.
Rapper Snoop Dogg may play Huggy Bear in the upcoming remake of Starsky and Hutch.
A redesign is in the works for Lady Death from Chaos! Comics. Danger Girl's J. Scott Campbell drew the new look which debuts in March in the four-issue mini-series Lady Death: The Gauntlet.
Jodi Foster is reportedly mulling a cameo role in the upcoming Red Dragon prequel movie to Silence of the Lambs and Hannibal. Foster is said to be open to the idea of a short appearance and likes the script.
The Royal Canadian Mint will produce a set of commemorative medallions based on the Harry Potter and the Sorcerer's Stone film.
William Shatner denies he can be heard releasing gas on Mind Melds, the video he and Leonard Nimoy have just released. The mysterious noise can be heard on the tape while Shatner is talking about his relationships with some of the other members of the Trek cast.
Canadian heavy metal gods Helix will be making a stop in the Bay on Sunday December 9th.
Fox will continue to push double showings of 24, the Kiefer Sutherland spy drama which has won over critics but not large numbers of viewers. Repeats of the show will continue each week through the end of December.
A fourth Evil Dead movie may be in the works, according to producer Robert Tapert. Director Sam Raimi and star Bruce Campbell are working on an unnamed low-budget genre film that Tapert hints could be a long-awaited fourth film in the series.
Britney Spears is set to play her shagedelic self in the upcoming Austin Powers 3: Goldmember.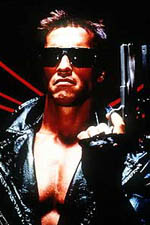 TERMINATOR 3 SET TO
BE A BLOCKBUSTER
Terminator 3 could end up costing more than Pearl Harbor and Arnold Schwarzenegger is ready to make good on his promise of I'll be back.
Admiral Janeway gets to order Captain Picard around in Star Trek X: Nemesis but only for as long as a cameo appearance.
Twisted Sister's Dee Snider recently posted a letter to fans on his website that hinted that the upcoming Twisted Sister reunion in New York will likely lead to a full-scale reunion tour.
Oscar-winning actress-singer Liza Minnelli is marrying producer David Gest in March in New York. It will be Minnelli's fourth marriage.
CBS is close to clinching the November sweep in overall audience, but NBC and Fox enter the last three nights in a virtual tie for the key demographic of viewers 18-49.