Pick Hits...
Off The record...
A*Teens
Teen Spirit
Mamma mia, here we go again. What sounded like a good joke to begin with four Swedish teens super-sizing ABBA covers has grown into an attempt as being a serious pop group. Tricking the Britney-loving set into loving them with last year's The ABBA Generation, this multi-gender bunch is now giving original songs a shot for this go-around. Full of influential spirit to the level of SClub7, a younger Ace of Base and Aqua. Parents won't have to screen for content this album which is full of Euro-pop beats, squeaky-clean topics (Sugar Rush anyone?) and a harmless kick here.
At The Movies...
The Mexican
Jerry Welbach, a reluctant bagman, has been given two ultimatums. The first is from his mob boss to travel to Mexico and retrieve a priceless antique pistol, known as The Mexican, or suffer the consequences. The second is from his girlfriend Samantha to end his association with the mob. Jerry figures alive and in trouble with Samantha is better than the more permanent alternative, so he heads south of the border. Finding the pistol proves easy. Getting it home is another matter. The pistol supposedly carries a legendary curse, a legend Jerry is given every reason to believe, especially when Samantha is taken hostage by a hit man to ensure the safe return of the pistol. Brad Pitt and Julia Roberts power this high star comedy.

On DVD...
Meet the Parents
A wild and wacky surprise box office hit has nice guy Ben Stiller heading off with wife-to-be (Teri Polo) to join her family at the wedding of her younger sister. What he doesn't know can hurt him: Dad (Robert De Niro) is a retired horticulturist cum CIA agent with a specialty in lie detection who feels no man is good enough for his oldest daughter and Stiller makes him quite suspicious. Stiller and DeNiro trade off comedy punches in a film that laces clever humor amongst the slapstick gags. Great fun for all.
<![if !supportLineBreakNewLine]>
<![endif]> The Buzz...
Classic comic knuckleheads The Three Stooges are getting the big-screen treatment by the Farrelly Brothers, the same duo who've brought us There's Something About Mary and Me, Myself, & Irene.
It's three more years for Frasier. NBC re-upped on the six-year comedy staple, to the reported tune of $5.5 million per episode.
CBS has dropped the curtain on Bette Midler's show. Despite ordering a full season of the actress-singer's sitcom debut, Bette, in October, CBS has apparently grown weary with the show's poor ratings.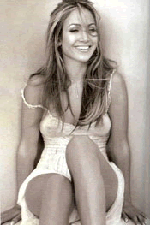 JENNIFER LOPEZ LAUNCHS HER OWN CLOTHING LINE
More famous for what she doesn't wear, Jennifer Lopez is making plans to launch her own urban clothing line. Lopez has reportedly signed a deal with designer Andy Hilfiger, Tommy's younger brother.

The Cartoon Network says its new series The Big O will debut Tuesday, April 3 at 5:30 ET.

Guardians of Order, a Canadian game publisher, are planning a role-playing game based on the El-Hazard anime property.

TNT will experiment with scheduling its upcoming super-hero/fantasy series Witchblade. The network will play each of the first 11 episodes during repeat episodes of Law & Order starting this June.

Christopher Lee will reprise a role he played in the 1967 Hammer horror classic The Devil Rides Out.

Mike Myers is closing to inking a $25-million deal to do Austin Powers 3.
<![if !supportLineBreakNewLine]>
<![endif]>AOL Time Warner announced Tuesday that it is merging the WB broadcast network and the Turner cable networks to create the nation's largest television group.
Hewlett-Packard Co. and RealNetworks Inc. are working together to create products that will let consumers easily play digital entertainment from the Internet on their living room stereos and televisions.

Tool's much delayed new album, Lateralus has been pushed back to from April 17th to May 15th, singer Maynard Keenan's birthday.

The 8th annual Rock Fest 2001 will take place July 19th through 22nd in Cadott, WI on a 320-acre site and will include Lynyrd Skynyrd and Jethro Tull, among others.

Aerosmith, intent on promoting the recently released Just Press Play, had to cancel it's planned assault on the Manhattan Virgin Megastore due to bad weather. The band had planned to march into the store with an army of robot women for an in-store like no other but scrapped the plans due to high winds and freezing temperatures.

Rikki Rockett confirmed that Warrant would be on the bill for Poison's annual summer package tour.
<![if !supportLineBreakNewLine]>
<![endif]>An elementary school teacher has resigned after her superiors threatened to reprimand her for letting a group of students' conduct a research project on Grammy-winning rapper Eminem.