Pick Hits...
Read It...
Codename: Knockout #0
Vertigo Comics
If your one for the fun action and in your face T&A like Austin Powers and Charlie's Angels then you are going to love this comic book. Knockout, the super sexy super spy otherwise known as Angela St. Grace, has to infiltrate the lair of villain Jigger O'Bitters in order to save her outwardly homosexual partner, the predictably campy but still humorous Go-Go Fiasco. This first issue shows lots of possibilities so it's worth checking out. Sit down to an enjoyable piece of pop due to a sly, cool intelligence, surprisingly funny sense of humor and sharp characterization.

At The Movies...
The Animal
When a police cadet (Rob Schneider) nearly dies in a car accident while driving through remote mountains, a strange beast rescues him, performing surgery on him in a barn, using animal parts as transplants. When he returns to civilization, he discovers that the influences of the animals within himself are causing him to behave oddly. With a sequel already in the works, one can expect this film to be a huge hit. Survivor fans will be interested to know that Colleen Haskell will play Schneider's girlfriend. <![if !supportLineBreakNewLine]>
<![endif]>
On Video...
Shadow of the Vampire
This delightful take on the vampire horror genre has screenwriter Steven Katz and director E. Elias Merhige recreating the history of the making of F.W. Murnau's classic 1922 silent-era vampire saga Nosferatu with a brilliant conceit. In his search for realism, Murnau (John Malkovich) casts a real vampire (Willem Dafoe) as the film's lead. In order to entice the undead actor, the director promises him the neck of the beautiful leading lady (Catherine McCormack), but the vampire's thirst gets the better of him (and the production). A very creative take on a familiar story.

The Buzz...
Pearl Harbor debuted in first place at the box office over the weekend with $75.1 million in ticket sales, the second-best Memorial Day opening ever, behind the $90.2 million gross for 1997's The Lost World: Jurassic Park.
KISS bassist Gene Simmons will release his autobiography Kiss and Make Up in January. The book will delve into Simmons' rough upbringing, his music career and his headline-making offstage affairs.
<![if !supportLineBreakNewLine]>
<![endif]>Microsoft launched a $50 million marketing campaign to try to lure America Online customers to its Internet service following AOL's recent announcement of a price increase. The price of Internet access is rising in the United States as competing providers close up shop and the remaining companies take advantage of the situation to boost rates.

The biopic Hysteria: The Def Leppard Story wrapped up shooting on May 12th. Post-production is under way on the film, which is not expected to be completely finished until July 16th, two days before its scheduled airdate at 9pm EDT on VH-1.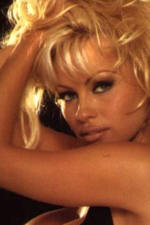 IS PAM BACK WITH
TOMMY LEE?
Although rumor has it that Pamela Anderson is back together with ex-hubby Tommy Lee, the blonde bombshell has been spotted at various hotspots with Kid Rock as of late.

Starting next month, reruns of Law & Order on TNT may include computer-generated ads embedded inside the show.
<![if !supportLineBreakNewLine]>
<![endif]>New Jersey disc jockey Glen Jones talked for over 100 hours, easily shattering the record for the longest continuous radio broadcast.
Spinal Tap's will play Carnegie Hall on June 4 as part of the ninth annual Toyota Comedy Festival, which runs from June 1-10.
Sony, Nintendo and Microsoft, all with new video-game machines capable of stunning game play and special effects, hope to become top dog in the $9.6 billion worldwide market for computer and video-game software.

Nearly 10 million people watched the season finale of the Sopranos, one of HBO's biggest audiences ever.

A federal judge in California has thrown out a U.S. bankruptcy court ruling that gave Anna Nicole Smith $475 million from her late husband's estate. The judge says he wants to review the case on his own and will determine the amount, if any, Smith will receive.

Lollapalooza, the annual road show that helped break bands such as Pearl Jam and Tool, tops Spin magazine's list of the 10 tours that changed the world. The magazine is due on newsstands June 5. The Beatles and Madonna also make the cut.

UPN's series finale of Star Trek: Voyager drew 8.8 million viewers, the network's highest ratings in nearly four years.
<![if !supportLineBreakNewLine]>
<![endif]>Victor K. Kiam, the entrepreneur known for TV commercials in which he said he liked Remington shavers so much I bought the company, died Sunday at age 74.
Disabled golfer Casey Martin has a legal right to ride in a golf cart between shots at PGA Tour events.