Pick Hits...
Off The Record...
Stone Temple Pilots
Shangri-La-Dee-Da
This 13-track album that finds the band simultaneously sounding like classic STP yet mellowing out quite a bit, with an overall effect that is very satisfying. The opening number, Dumb Love, is an absolute killer, arguably the band's heaviest number to date. Vocalist Scott Weiland adopts a deep-throated baritone that sounds like Sex Type Thing all over again, while guitarist Dean DeLeo blasts out detuned sludge riffs that just melt your speakers. Brenden O'Brien's production is top notch, sounding both raw and lo-fi, yet big, fat and modern. The album is a monster and Weiland really has turned into a versatile vocalist, able to swing effortlessly between hard rock belting, Bowie-style crooning and tuneful, melodic sugar sweetness. You will love it.
At The Movies...
A.I.: Artificial Intelligence
Sometime in the future of the 21st century, in a time when the Greenhouse Effect has melted the icecaps, submerging many of the coastal cities in water, mankind depends upon computers with artificial intelligence to maintain our way of life. Man has also found new friends in A.I., in the form of robots that are used for a variety of functions. This story is about a boy robot, David, and the emotional journey he makes toward becoming something more. It's a summer action picture with a purpose, a sci-fi blockbuster with heart. It's also a film that will make you think. You'll never look at Pinocchio in the same way again.
On Video...
Unbreakable
A successful follow-up (but not sequel) to The Sixth Sense by writer-director M. Night Shyamalan. Shyamalan again uses the canvas of the big screen to explore the meaning of life by way of characters cast into unusual roles. Here Bruce Willis plays a quite ordinary man who survives a train derailment in which all the passengers are killed. After some investigation it turns out that Willis who has never been sick a day in his life may be a modern day superhero, an unbreakable put here to protect us. His mentor is a comic book maven (Samuel L. Jackson) born with a disease that makes his bones brittle, who urges Willis to come to grips with his powers for the exercise of good. Slowly but surely the "super" man comes to find his place on Earth, but not without some shocking revelations. Fascinating.
The Buzz...
US boy band O-Town who are being tipped to hit No 1 in America with their new single All Or Nothing have revealed that they are not being managed by Lou Pearlman, even though he devised the Making Of The Band show on which the group was formed.
Jerri Manthey, a former Survivor contestant, will reportedly pose nude for Playboy. Word first surfaced on Craig Kilborn's late-night talk show, when her fellow contestant, Amber Brkich, leaked the news.

A federal appeals court rejecting Napter's attempt to have the injunction against it tossed. Only the Supreme Court stands between the troubled song-swapping site and a potentially devastating trial against the recording industry.
The boyhood home of Bob Dylan has sold for $94,600 on eBay. The house, in Duluth, Minnesota, may be turned into a Dylan museum, the new owner says.
Actor Oded Fehr, the warrior Ardeth Bay in the two Mummy movies, has signed to play a Justice Department investigator in NBC's new UC: Undercover series debuting next season.
Budweiser is taking top honors at the International Advertising Festival in Cannes, France, this weekend, thanks to its Whassup? and I Love You, Man campaigns.
Paul Stanley has announced yet another spokesman endeavors. The singer/guitarist will take his mug to new heights though when he pitches Folger's coffee on TV screens across America.
A British reality television program is seeking 25 fit young men to relive life in the hellish trenches of World War I. The BBC said successful applicants would endure up to two weeks in a muddy trench where they would be exposed to rats, maggots, dirt, tear gas and television cameras.
After 50 years of speculation, anticipation, and false starts, On the Road, Jack Kerouac's seminal novel about the Beat Generation, is finally making its way toward the big screen, with Brad Pitt attached to star.
IBM has built the world's fastest silicon-based transistor, a development that promises to make telecommunications chips run faster on less power. The transistors perform 80 percent faster than current technology while cutting power consumption in half.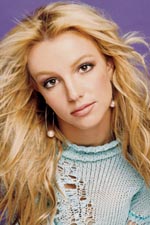 BRITNEY SPEARS
WANTS A TATT?
Britney Spears has been asked to think again about getting a tattoo. The teen pop princess and her boyfriend Justin Timberlake were set on getting matching tattoos on their bums. The pair even got as far as an LA tattoo parlor before Britney got a phone call from her advisor, who managed to convince her to think it over.
Doobie Brothers drummer Mike Hossack was hospitalized after crashing his motorcycle near Lake Tahoe. A band rep says he should make a full recovery.
Fans and former bandmates shelled out nearly $37,000 for items belonging to late 10,000 Maniacs guitarist Rob Buck at an upstate New York auction. The auction was to pay off the debts of the musician, who died in December of liver failure.
The Motion Picture Academy is fine-tuning this year's Oscar rules, including clearing the way for the first Feature Animation trophy and regulating the number of producers eligible for the Best Picture statuette.