Pick Hits...
Caught In The Act...
Stompin' Tom Connors
It's been a long road for this Canadian Legend, from the depths of poverty to playing at the glorious confines of the Thunder Bay Community Auditorium. Drawing enthusiastic responses from the eclectic crowd, (with chants of "You're the King" often heard), this Ambassador of our Country entertained the audience with timeless songs such as Bud the Spud and the Good Old Hockey Game. With a voice that defied his 70 plus years, Stompin' Tom songs may seen simple to the average folk, but they have the ability to make us proud of who we are and the land we live in, even if only for one night.
At The Movies...
Cats and Dogs
The talking-animal movie Cats & Dogs tells a live-action story that has all the broad humor of a classic cartoon. A Persian cat named Mr. Tinkles (voiced with comic fury by Sean Hayes of the NBC sitcom Will & Grace) wants to rid the world of dogs, of course, and dominate the human race. He faces two formidable foes: veteran canine spy Butch (Alec Baldwin voicing a beefy Anatolian shepherd) and Lou (Tobey Maguire) a beagle pup drawn into the inter-species intrigue by mistake. There's a sincerity to the eyes and faces of real animals that makes the jokes funnier by adding a sense of urgency. Computer animation can do a lot, but it can't do that. Like the best parts of this movie, the plot is ridiculous fun.
On Video...
Snatch
Two boxing promoters are aiming to strike it big with their latest fighter (a wiry Brad Pitt), an Irish gypsy bare-knuckle fighter. They've got him set to take a dive in a match rigged by crime don. Meanwhile, Franky Four Fingers acquires a fist-sized diamond to smuggle back to his Jewish Mafia boss in New York City. Two simple schemes, easy money all around, right? This all leads to a wild and tangled adventure involving a detailed look at the London underground. A stylized work with a gritty urban soundtrack and a cast of intricately developed characters, this film is a welcome follow-up to director (and Madonna's husband) Guy Ritchie's earlier Lock, Stock, and Two Smoking Barrels.
The Buzz...
Julia Roberts has been named America's Best Movie Star, by Time magazine, an honor, the magazine is quick to point out, that doesn't necessarily mean she's also America's Best Actress. Sean Penn, nabbed America's Best Actor, while Best Director went to Ang Lee, whose Crouching Tiger, Hidden Dragon won the Best Foreign Film Oscar this year and also became the highest-grossing foreign film in United States history. Other bests include Chris Rock (Best Comedian), The Daily Show's Jon Stewart (Best Talk Show Host) and Philip Roth (Best Novelist.)
Actors' unions reached a tentative contract agreement that could raise salaries for the middle-income actor. The agreement will likely avert a crippling walkout for the TV and movie industry. The three-year deal recommended by negotiators for the Screen Actors Guild and American Federation of Television and Radio Artists now must be approved by a majority of the unions' 135,000 members.
Five protesters, including Babe actor James Cromwell, were arrested during an animal rights demonstration that targeted the Wendy's fast food chain.
The Godfather of Soul will christen South Carolina's newest amphitheater. James Brown will make his first live appearance in his home state in nearly a year as he takes the stage at The Carolina Amphitheater, an open-air venue off U.S. 501.
Thousands were expected to turn up at Pere Lachaise cemetery to mark the 30th anniversary of the death of Jim Morrison, the mythic singer of The Doors. Outbreaks of rowdiness have marked similar anniversaries in the past. Between 10,000 to 20,000 fans were expected to turn up
CBS' Big Brother, which showed that reality television could be simultaneously offensive and dull, hopes to make amends in its second season. The new players who will be stuck in the Big Brother 2 house for three months amid prying cameras are aggressive, uninhibited and determined to win the $500,000 prize, the show's producer says.
The International Museum of Cartoon Art is still open thanks to a loan from its founder, but it remains in debt and may have to shut down in two months. Mort Walker, creator of the Beetle Bailey comic strip, averted foreclosure by loaning the museum $200,000.
Sevendust is putting finishing up its third album, Animosity, in an Orlando studio with producer Ben Grosse, with an October released date being eyed.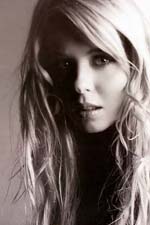 TARA REID DUMPS
MTV VEEJAY
After months of conflicting reports in the New York tabs about the state of their relationship, MTV's Carson Daly and American Pie's Tara Reid confirmed that they have broken up.
NBC's fall police drama UC: Undercover announced the high-profile casting of Ving Rhames of Pulp Fiction fame, in what's hoped to be the first of several big-name guest stars.
George Clooney was reportedly tickled to hear that he's the reason Julia Roberts and Benjamin Bratt have split up. "I didn't have time," the eligible bachelor told the New York Daily News, "I was too busy breaking up Tom Cruise and Nicole Kidman's marriage."