Pick Hits...
Off the Record...
Wave
Nothing As It Seems
Almost buried in a flurry of teen pop groups, Niagara Falls based Wave have one up on the competition. For starters they write and play their own material (Dave Thomson and Paul Gigliotti get credit on two-thirds of the tracks) and in a crowded formulaic market, they have a spot of originality. Sure, a lot of Nothing As it Seems consists of the usual harmonies and romantic gunk you've heard time and again, but now and then the guys stretch the envelope with pleasing results. Their current hit California is a bonafide smash, and slot opening for O-Town can't hurt either.
At The Movies...
Jurassic Park III
After being hired by a wealthy businessman to conduct an aerial tour of Isla Sorna, InGen's second site for their failed Jurassic Park experiment, Dr. Alan Grant once again confronts the world of living dinosaurs. After an accident forces Grant's aircraft to crash-land on the island, the seven humans must survive by outwitting the dinosaurs. But Grant soon discovers that there are other InGen dinosaurs he never knew about that exist on site B, and that they are a lot smarter than the humans thought. JP3 is a
good popcorn movie. Go into it with no big expectations and you'll be happy. If you want to wait and see it at home, Universal is already planning their attack this holiday season, staking out a December 11th video release, but some movies are just made to be seen on the big screen.

On Video...
The Family Man
Thirteen years ago Jack Campbell (Nicolas Cage) left for London for a prestigious financial internship, promising his girlfriend Kate (Tea Leoni) that they would be apart for only a year. Now Jack is a slick, high-powered Wall Street broker who never looked back. But as Christmas rolls around, Jack is in for a surprise, he wakes up one morning in suburban New Jersey next to Kate, in a world at the end of a path he might have taken 13 years earlier. His bachelor pad has been replaced by a modest house and his Ferrari is now a minivan. And, to his horror, his real life has been obliterated. Now he gets a glimpse of what might have been, with two kids and diapers,hoping it's just temporary. This film plays like It's a Wonderful Life for the 21st century. <![if !supportLineBreakNewLine]>
<![endif]>
The Buzz...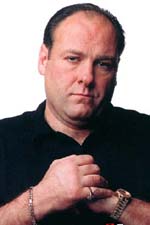 THE SOPRANOS NOT RETURNING TILL LATE 2002
HBO is announcing that next year's season of The Sopranos won't begin until at least June 2002 and maybe not until September making the show ineligible for the 2002 Emmys, which cover shows on between June 2001-May 2002.
At 81, science fiction author Ray Bradbury resembles a one-man film factory rather than a retiree. He has five films starting this year. Set to go before the cameras are The Martian Chronicles, Fahrenheit 451, The Sound of Thunder, The Illustrated Man and Frost of Fire.
Luke Perry's latest move is a jump to the left. The former teen idol who sent hearts aflutter as Dylan McKay on Beverly Hills 90210 is doing The Time Warp nightly on a Broadway stage in The Rocky Horror Show clad in fishnet stockings, high heels, garter belts and a corset.
Conservative talk-show host Rush Limbaugh has renewed his contract through 2009 in a nine-figure deal that Premiere Radio Networks says is the highest priced in the history of radio syndication.
A drug and alcohol rehabilitation clinic has received three offers from television producers wanting to feature its residents in a reality show like Big Brother, more proof that this reality TV trend is getting out of hand.
For the 10th anniversary of Nickelodeon's animated hit Rugrats, the makers plan to show an hourlong special with the characters 10 years older.
Country music star Trisha Yearwood says her divorce from musician Robert Reynolds did not have anything to do with the fact that she's had more commercial success than he has had.
Long-running medical drama ER passed into Emmy history when it picked up seven nominations and is now the most-nominated drama in Emmy history with 100 nominations. The show passed up Hill Street Blues' record of 98 nods.
Ally McBeal will soon be Ling-free. According to various media reports, Lucy Liu, who portrays Ling Woo on Ally McBeal, will only appear in four episodes of the series next season.
Hollywood heartbreaker Russell Crowe and Nicole Kidman are both vacationing in the tropical isle of Fiji. A tourism official, whose account won't hurt Fiji tourism any, tells The Associated Press that the two are vacationing together on lovely Wakaya Island but noted that they arrived on different days. Whether Crowe is getting cozy with Kidman now or not, he is a longtime pal of the actress and her soon-to-be-ex-husband.

Kelly Ripa has returned to cohosting chores on Live with Regis and Kelly after a five-week maternity leave.

The Offspring are threatening to call it quits if its next album doesn't live up to band members' expectations.

Kid Rock makes a cameo on the upcoming Willie Nelson album, The Great Divide, due out in stores through Island on September 25th. Rock will sing on the song Last Stand In Open Country.

W.A.S.P. will hit the road this summer for a U.S. jaunt with Dog Fashion Disco and Mushroomhead in tow. The tour is tentatively set to head out on August 22nd.