Pick Hits...
Play It...
WWF No Mercy
You start off with 65 playable characters that can wrestle in all the major television and pay-per-view arenas with 6 separate areas outside of the ring where you can fight. Plus, this game has new play modes such as the Guest Referee feature that was in Smackdown! for Playstation and a Ladder Match feature. The storylines themselves are hilarious and often mirror actual WWF events. All the other major window-dressings are here. Characters have pyro, Titantron videos, and theme music. The music is nothing to write home about again, but that's to be expected with the Nintendo 64. However, the actual game sounds are pretty cool. Now, when you slam guys on the ring steps or garbage cans, they make a crashing noise. Did I also mention you get to break tables at ringside as well? All in all, the game's good points outweigh the bad, and if you already own Wrestlemania 2000, you ought to seriously consider trading up to this year's model.
Read It...
Infinity Beach
Jack McDevitt
Scientists have been searching the universe for signs of intelligent, extra-terrestrial life for several hundred years at the opening of Jack McDevitt's new novel. Having been unsuccessful in all that time, a group of researchers has decided to take drastic, and controversial, action-deliberately inducing several stars into supernovae in order to announce the presence of the human race. McDevitt has written about intelligent alien species in several of his other novels, although we rarely get to see anything other than archeological evidence of their presence. Most of the time, the characters are left with a frustrating inability to comprehend their finds. This time, he's taken both his characters' and his reader's Star Trek/Star Wars preconceptions about aliens and given them a clever twist. As always, McDevitt's prose is well paced and easy to read, without being dumbed down in the slightest. Go read it.
On Video...
Finding Forrester
An emotionally stirring drama about a reclusive, white novelist who takes a black high school athlete under his wing. Sean Connery plays the acclaimed writer with one great book under his belt that has retired to seclusion for decades. Newcomer Rob Brown plays the basketball-playing boy who has a talent for literature. The unorthodox union brings the author out of his shell, as the boy leaves the courts of the Bronx for a Manhattan prep school, along the way taking up with a white girl (Anna Paquin). Written with an intelligent script and dialogue as the two men fight their respective demons.
The Buzz...
Cable network VH1 has announced that it plans to debut a slate of original programming over the next year that includes scripted series, reality shows and feature-length films.
Oddsmakers have installed Texas cowboy Colby Donaldson as the favorite to win the $1 million grand prize on Survivor, the CBS reality-based series.
Black Crowes front man Chris Robinson says the Atlanta-based rock veterans feel revitalized by their forthcoming Lions, their sixth album due May 8.
Pierce Brosnan is still contracted for at least one more James Bond film, but that isn't stopping speculation about who might replace the dashing Irishman as the next 007, with names both famous (Russell Crowe) and obscure (Gerard Butler) being tossed about.
Tool is shooting a video for the new single Schism with guitarist Adam Jones in the directors' chair. In addition, the band is scheduled to play the Edgefest in Toronto on July 1st.
The Walt Disney Co. is planning major cutbacks in its feature animation unit, with dozens of jobs to be eliminated and salaries to be slashed by 30 percent to 50 percent.
Turner Broadcasting System Inc. and DreamWorks SKG announced Tuesday a broadcast licensing agreement allowing the cable network to air such movies as Gladiator, American Beauty and Cast Away.
The Who is helping to organize a tribute album to themselves called Substitute the Songs of the Who that will feature a live Pearl Jam version of live version of The Kids Are Alright, among others.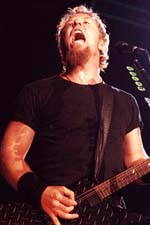 METALLICA WORKING ON NEW ALBUM
Metallica is beginning to write it's next album, sans a bass player. The band says they are starting to entertain the idea of finding a new bassist.
Hasbro Inc., the nation's No. 2 toymaker, reported a greater than expected first quarter loss Monday as the company was hurt by declining revenues for its Furby and Pokemon products and the sale of its interactive division.
Elisabeth Rohm will join NBC's Law & Order next season as an ambitious assistant district attorney, replacing Angie Harmon. Harmon, who played prosecutor Abbie Carmichael for three seasons, asked to be released from her contract earlier this month to focus on her personal life. She's marrying New York Giants cornerback Jason Sehorn in June.
Ani DiFranco, the Goo Goo Dolls, 10,000 Maniacs and others appear on a new CD to benefit safe school and youth leadership programs in New York state.