Pick Hits...
Off the Record...
Rollins Band
Nice
Over his last couple of albums punk vet Henry Rollins has morphed into a full-blown hard rocker. The stigma of his days as the volatile shaved head leader of Black Flag still haunts him to this day, a couple of decades later. But wait till you see him now. Gone is the pair of shorts and bare feet, he's got black leather pants, a longhaired backing band, his own hair has grown out, there's wah wah drenched solos and lots of jamming, and a naked blonde covered in greenbacks on the CD cover. We all know that Mr. Rollins is no Elvis Presley at the mic but it's not so much about the notes he hits as it is about the attitude, energy and delivery, and on all those fronts, the man steps to the plate and delivers a home run. Hurry and pick up this CD as soon as you can before Hank lays a beating on you.
At the Movies...
Serendipity
It's five days before Christmas in 1994, and Jonathan (John Cusack) and Sara (Kate Beckinsale) meet at a Department Store. They both have significant others, but nonetheless spend a lovely evening together eating at Serendipity, ice skating at Rockefeller Center, and talking like old friends who have known each other their whole lives. When it's time to part, Sara writes her phone number on a piece of paper, but just as she's about to give it to him, a gust of wind blows it out of their grasp. Sara, a strong believer in fate and destiny, spends a $5 bill that Jonathan has written his phone number on, and writes her own name and number in a used book that she then will sell to a random used bookstore. If they were meant to be together then they will someday, somehow, find the money and book. This film is more or less suitable for all audiences, and is the perfect antidote for the romantic in all of us.
On Video...
Along Came A Spider
The sequel to 1997's successful Kiss the Girls, which starred Morgan Freeman as Washington police detective, forensic psychologist and best-selling author Alex Cross, who foiled the work of a rather nasty serial killer. Here Freeman reprises his role, with Monica Potter coming on board as a discredited Secret Service agent who becomes his sidekick. It seems that a Senator's daughter is kidnapped by a criminal mastermind who wants Cross to write him up as the greatest criminal of the new century. It's up to Cross to figure out the obtuse clues and bring the baddie to justice. Plenty of plot twists and turns.
The Buzz...
Look for the new Mutant X TV series to debut Oct. 6 for local broadcasts and Oct. 7 for cable and satellite TV.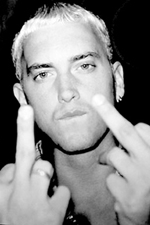 EMINEM TO STAR IN\ FEATURE FILM
Curtis Hanson, (L.A. Confidential) is helming the feature-film debut of rapper Eminem, and he wants Kim Basinger to play Slim Shady's mother. The Untitled Detroit Project, as it's being called for now, stars Eminem as Jimmy, a fictionalized version of his own bad-boy self. The Grammy-winning rapper will collaborate with Dr. Dre on the music for the film.
The second film of the Lord of the Rings trilogy reportedly will debut Dec. 18, 2002.
Actor Anthony Daniels, who plays C-3PO in Star Wars says fans who disliked Jar Jar Binks and the lighter elements of The Phantom Menace will like Episode II: The Attack of the Clones. It is definitely darker.
Halloween 8 won't make its scheduled release date of Oct. 5. We will be lucky to see this flick go straight to video, the film has been plagued with weeks of re-shoots ordered by the film company who was very unhappy with the quality of the movie.
Some movies for rental at Blockbuster will now carry a 'T' label for terrorism in the wake of the Sept. 11 attacks.
Johnny Craig, famous for his EC Comics' horror work in the late '40s and '50s, passed away. The 75-year-old artist also drew Marvel's Iron Man and Nick Fury, Agent of S.H.I.E.L.D.
Arnold Schwarzenegger and wife Maria Shriver are donating $1 million to the Twin Towers Fund. At the request of Mayor Giuliani, Schwarzenegger will also join the fund's board of directors.
Big Brother's third-place finisher, Monica Bailey is saying she'd really like to pose for Playboy. Bailey also tells the New York Post that she has an upcoming audition for CBS' Touched by an Angel.
Rock 'n' roll legend Chuck Berry is celebrating his 75th birthday with a hometown concert October 18 in St. Louis. Little Richard is also set to perform at the show.
ABC is celebrating the 50th anniversary of American Bandstand with a two-hour prime time special this spring, which will also include 71-year-old host Dick Clark showing classic moments from the shows and new performances by pop superstars spanning five decades.
Hollywood Records' Zoolander Soundtrack features new music by Wiseguys (featuring Greg Nice), No Doubt, The Wallflowers, Powerman 5000, Orgy and More.
Britain's legendary Motorhead has 25 reasons to celebrate. The band been influencing the gamut of hard music for the past 25 years and to mark the occasion Sanctuary Records Group's imprint label Metal-Is Records will be re-releasing a dozen key Motorhead titles, each with bonus tracks.
Museums and other cultural attractions around the country are reeling from the drop-off in air travel and tourism since the terrorist attacks, and some are cutting their staff and dropping admission fees.