Pick Hits...
Toy Box...
Space Ghost Cast
Now that Space Ghost has achieved superstardom, his co-workers also want a piece of the spotlight. And they get it, with the Space Ghost Supporting Cast Figures. Based on their TV counterparts from the Cartoon Network's Space Ghost: Coast to Coast program, Space Ghost's alien sidekicks are here. Brak comes with a variant arm, Moltar comes with a computer accessory, and Zorak comes with a keyboard. Each 7" tall figure features several points of articulation. Look for them in specialty stores in town.
At the Movies...
Spy Game
Robert Redford and Brad Pitt star together for the first time in this espionage thriller from accomplished action director Tony Scott. Robert Redford is Nathan Muir, a retiring senior CIA operative who agrees to one last mission to save his protege, Bishop (Brad Pitt), who has been arrested on espionage charges in China. Via many flashbacks, Muir recalls how he came to recruit Bishop, their years together on the front line and the woman who almost came between them. With pyrotechnics for the men and two generations of hunks for the women, Spy Game has universal appeal.
On Video...
The Sopranos: The Complete Second Season
The second season of the smash series is finally here, packaged in a five-volume VHS Collector's Edition box set for $99.92 and a four-disc DVD Collector's Edition box set for $99.98. The DVD's include four audio commentaries by the directors of selected episodes, interviews with the cast and creator David Chase, and The Real Deal featurette that features discussions about The Sopranos with critics, psychiatrists, former FBI agents and other experts. Wrap this up with a first season recap, episodic synopses, previews and all 13 episodes, this becomes a must have for the true fan.
The Buzz...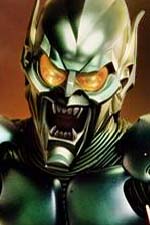 GREEN GOBLIN REVEALED
You can see clips of Spider-Man and the Green Goblin from the upcoming movie on line at Sony's official movie web site. Check it out at www.spiderman.
A computer-generated Bruce Lee will become the first deceased actor to be recreated for a major movie role. Dragon Warrior will use Lee's likeness.
Madonna's modest two-story childhood home went to the highest bidder in just 12 minutes.
Sam Michael, representing an Ohio real estate group, bought the pop singer's former Oakland County home and a few items of rock memorabilia with a bid of $331,000. Michael said he hopes to profit by reselling the 1.3-acre wooded property.
Marvel will offer a line of supersized prestige format hardcover collections starting in March. Look for Origin, Ultimate Spider-Man and The Complete Frank Miller Spider-Man.
Look for the return of Wesley Crusher to Star Trek in the next feature film. Wil Wheaton will have a cameo in the film, according to his official web site WilWheaton.net.
Agent Doggett will clash more often with Agent Scully in this, the ninth season of The X-Files, according to actor Robert Patrick.
Will Elton John sing the theme to the next James Bond film? Media reports in Ireland say the singer/songwriter is ready to record a song for the 007 film after Christmas.
You can bid on original Harry Potter watercolors from The Chamber of Secrets. The illustrations are expected to sell for up to $43,000. Christie's of London will hold the auction Dec. 6.
Expect word soon from Marvel Studios on movie adaptations of Iron Man, Namor, Hulk and the X-Men sequel.
A sequel to Tim Burton's re-imagined Planet of the Apes may be held off until 2003. Studio execs hope to increase the public's desire for a sequel before releasing one.
After nine months of legal wrangling, Tom Cruise and Nicole Kidman are reaching an amicable settlement in their divorce proceedings. No word on how they will split custody of their two children.
King World has cancelled Howard Stern's weekly syndicated series, The Howard Stern Radio Show. The final show airs this Saturday.
Aussie rockers Silverchair have wrapped up the recording of their as-yet-untitled fourth full-length album at Sydney's Studio 301. Frontman Daniel Johns is currently in Los Angeles with producer David Bottrill (Tool, Peter Gabriel) mixing the release, which is expected out in stores in early 2002.
Kid Rock will tour to support his new album Cocky in January.
Fifty workers at Graceland, the former home of Elvis Presley, are being laid off because of declining tourism since the Sept. 11 terrorist attacks.