Pick Hits...
Off the Record...
Bikini Kill
The Singles
You could call them the godmothers of the Riot Grrrl movement. Their music was too abrasive to ever make it into the mainstream, but Bikini Kill's uncompromising combination of lo-fi, hi-speed punk and female empowerment sensibilities helped pave the way for such prominent acts as Sleater-Kinney, Hole, and PJ Harvey. Led by the shrieking, intensely confrontational Hanna, the group was known for getting topless onstage, acknowledging only female audience members, and generally enacting the new feminism that would soon come to define the Riot Grrrl movement. The Singles is a vitriolic, caustic exercise in feminist punk rock chaos that also managed to be experimental, artistic, and catchy.
<![if !supportLineBreakNewLine]>
<![endif]>At The Movies...
Down to Earth
A comedian (Chris Rock) accidentally dies before his time in a bus accident. When he gets to heaven, there's no room for him yet, so they send him back to Earth temporarily in another body, and he falls in love with a crusading social activist. The hitch? They sent him back in a most unsuitable host body, a rich white man whose wife and mistress want to kill him. Chris Rock hasn't had the big starring roles that many of the other SNL comics have had, but this film will change all that. Expect nothing but non-stop laughter.
<![if !supportLineBreakNewLine]>
<![endif]>Read It...
Incredible Hulk no. 25
It's a no-holds-barred, all-out battle between the Hulk and his hated dark twin, the Abomination! The green goliath has been aimed like a gun at the man-monster responsible for the death of his wife, and General Thunderbolt Ross just pulled the trigger. Now two gamma-spawned titans clash in a war that will destroy a town, ravage a landscape, and climax in a masterpiece of revenge! Find out why people are saying this is the best (take on) Hulk since Peter David.

The Buzz...
Gladiator, Hollywood's high-tech return to the glories of Rome, led Academy Awards contenders Tuesday with 12 nominations, including best picture, actor and director.
Right behind the Roman epic is critical favorite Crouching Tiger, Hidden Dragon with 10 nominations.
AC/DC have been certified for sales of 63 million records, making them the fifth greatest-selling band of all time in the U.S., bested only by The Beatles, Led Zeppelin, Pink Floyd and The Eagles.

The sequel to the monster hit Scary Movie is moving closer to production, well ahead of its scheduled July 4 release.

With principal photography on Harry Potter the film halfway completed, scribe Steve Kloves is already working on a script for the sequel.

In a first for horror master Stephen King, the best-selling author has adapted someone else's work for the big screen. King put his hand to Patrick McGrath's novel Asylum for Paramount Pictures.

Bob Dylan will cover Dean Martin's Return to Me for an upcoming Sopranos episode, complete with accordion and Italian verses.

The California power crisis is spurring action film hero Arnold Schwarzenegger to contemplate running against Calif. Gov. Gray Davis.

NBC is close to giving the go-ahead for Spy Girl, a romantic mystery drama pilot about an Ivy League grad who joins a private investigation agency.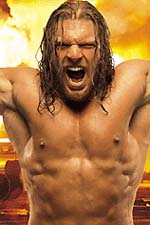 MOTORHEAD PLAYS
"THE GAME"
Motφrhead will provide the theme song for wrestler Triple H on the fifth installment of the WWF the Music series on a track called The Game. The album will be released next week.

Cheap Trick are mastering their latest studio album, which is likely to be released on their own label via their official website before hitting retail.

Marilyn Manson will head over to Japan for a series of dates on his Guns, God and Government tour.

In addition to the Metallica action figures that are on the way, McFarlane Toys will unveil toys made to the likeness of Kid Rock, Jerry Garcia, Jim Morrison and AC/DC's Angus Young.

Metallica are rumored to have decided on Bob Rock as the producer of their next studio album. Rock has worked with them on several albums, including the infamous Black album, and should join the band in the studio this spring.

The Beatles' 1968 recording Hey Jude and Ray Charles' 1962 I Can't Stop Loving You are among the 31 songs and albums the Grammy Hall of Fame has added to its official list of enduring classics.
22-year-old Nikki Cox, the buxom hostess of the WB's perky Nikki show, is engaged to comedian Bobcat Goldthwait.
The official Star Wars website has posted some glimpses of the amazing facial work that will be a
part of the Episode II licensed figures next year. Check it out at www.starwars.com.

Writer Chris Claremont's X-Treme X-Men will indeed be the third core book in Marvel's X-Men line, according to writer himself.