Pick Hits...
Off The Record...
Aerosmith
Just Press Play
Frontman Steven Tyler and guitarist Joe Perry have become part of the production team known as the Boneyard Boys (along with Mark Hudson and Marti Frederiksen) marking the first time we're getting Aerosmith as produced by Aerosmith. Just Push Play, the 13th studio album in the Boston bad boys' flamboyant career, doesn't stray too far from the polished commercialism introduced by the band in the '80s and '90s. Jaded, the first single, definitely kicks but is also smooth enough for the Top 40 while Fly Away From Here is the kind of power ballad that should heat-seek its way toward the top of the charts later in the album's life. These recent members of the Rock n' Roll hall of fame are still a relevant musical force.
At The Movies...
Exit Wounds
Having pushed the boundaries of his job description one too many times, tough-guy detective Orin Boyd (Steven Seagal) finds himself reassigned to a downtown precinct serving the mean streets of Detroit. Not only must he suffer the indignities of anger-management classes, he's also been briefly demoted to traffic cop by the 15th Precinct's commander. But when about 50 kilos of heroin go AWOL from the precinct's property vaults, Boyd is given a shot at redemption only to discover corruption at every turn. Full of comic bits and bone-crunching, metal-ripping violence for a healthy, young male contingent.

Read It...
Nightwing #55 (DC)
Why are Chuck Dixon and Greg Land so good on this book? Because Nightwing only appears in costume on two pages and you don't really miss him. Dixon's establishment of firm personalities for Nightwing's entire supporting cast makes this comic work wonderfully when he chooses to pull back to the ensemble level. And as for Greg Land, he's able to juggle new characters while putting a stamp of freshness on new ones. This is a consistently enjoyable solo hero tale, and one that will surely be flying off comic book shelves everywhere.
The Buzz...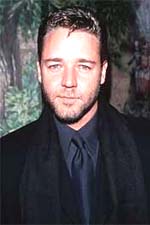 PLOT TO ABDUCT RUSSELL CROWE REVEALED
Horrifying new details about the plot to abduct Russell Crowe emerged, as cops revealed that
kidnappers planned to hack off his fingers one by one.

As NBC's Saturday Night Live enjoys a ratings revival so too do the hedonistic post-show parties, which peaked back in the 1970s with John Belushi and Dan Aykroyd knocking back quarts of beer with guests and jamming as the Blues Brothers.

Red Hot Chili Peppers will join No Doubt and other guests to collaborate on Action Figure Party's experimental rock debut, due April 10th.

Napster useage has dropped about 59% since the company implemented new technology to aid them in blocking users from sharing and downloading copyrighted material.
<![if !supportLineBreakNewLine]>
<![endif]>Alan Jackson garnered eight nominations to lead the list of contenders for the TNN Country Weekly Music Awards.
A 32-year-old high school dropout is reportedly accused of using the Internet in a scheme to steal millions from celebrities and tycoons on Forbes magazine's list of richest Americans.
Rap superstar Eminem and his wife, Kim Mathers, have reached a divorce agreement that gives them joint custody of their 5-year-old daughter.
A federal judge has rejected class-action status for a lawsuit against Blockbuster Inc., a blow to nearly 200 owners of independent video stores, over revenue-sharing deals with movie studios.
USA Networks has announced plans for a new cable channel called Crime, and has purchased the Web site created by the founder of the TV show, Cops.
Saying a Will & Grace character was based on him without compensation for use of his image, a Los Angeles interior designer is suing NBC and the writers of the award-winning television show.
Joey Ramone, lead singer of punk rock act the Ramones, is battling lymphoma. The 49-year-old singer has been coping with the cancer in a New York-area hospital.
When director Tim Burton revisits Planet of the Apes in the summer, there will be a familiar face on the ape-infested planet. Actress Linda Harrison, who played Nova in the original 1968 film, shot a cameo for the new 20th Century Fox remake.

Brad Pitt and Jennifer Aniston are working on a major new project together, one that'll take
about nine months to complete.

Sean Puffy Combs is hip-hoppin' mad over his ex-girlfriend's decision to go public with her demand for child support the day after he beat the rap on gun and bribery charges.