Pick Hits...
Off the Record...
Eden's Crush
Popstars
This is the long awaited album from made-for-TV group Eden's Crush, a five-girl vocal group of demographically correct, physically perfect specimens that came together on the WB's series Popstars. With the kind of talent behind the project, 14-time Grammy-winning producer David Foster, top choreographers, vocal coaches, and songwriters who have penned hits for the likes of Britney Spears, Christina Aguilera, Ricky Martin, 98 Degrees, and others, Popstars is pretty much a can't-miss proposition. From the single Get Over Yourself, which was cross-marketed into a hit, to the Spanish-language Mi Palabras to the album's requisite oldie, Sheila E's The Glamorous Life, Eden's Crush is a surefire hit. And if you think a made for TV band is new, ask your parents about the Partridge Family or the Monkees.
At the Movies...
A Knights Tale
After his Master dies unexpectedly, a medieval squire, William (Heath Ledger) decides to try jousting and hits the road with a couple of friends. On the way they run into an unknown writer named Chaucer who agrees to forge genealogy papers to provide William with a fresh history that will pass him off as a knight. With an acceptable pedigree now in hand, the young squire sets out to prove himself at the country's jousting competition. And, of course, he finds time to be chivalrous on the way. This is a sports-movie with a medieval makeover, with a stadium type soundtrack provided by Queen and AC/DC. Enjoyable, but those looking for the epic scale of Gladiator may want to pass on this one.
On Video...
What Women Want
Mel Gibson plays Nick Marshall, a chauvinistic ad exec that pretty much operates in a woman's world. Darcy Maguire (Helen Hunt) is an articulate, attractive manager snatched from a rival agency to be Nick's boss. His first assignment under her watch: to figure out how to sell to the untapped women's market. Desperate for inspiration, Nick attempts to navigate his way through a treacherous line of beauty products until a freak, movie-magic electrocution actually lets him hear what woman think. Nick's first inkling is to use his newfound knack to undermine Darcy so he can be top dog again. Naturally, he doesn't count on falling for his new boss, or developing a conscience. Cute and funny, and formulaic at times, this film will still fly off the shelves since What Women really Want is Mel Gibson.
The Buzz...
The producer of Survivor: The Australian Outback has admitted to staging scenes with stand-ins for the show's contestants, but he insists the technique is not deceptive, merely cosmetic. Executive producer Mark Burnett readily admitted to employing the cinematic technique of the pickup shot to capture wide-angle views after the fact, when the scene is uncluttered by close-up camera crews shooting the actual contests. As an example, Burnett explained that a river-swimming race was later re-staged with body doubles so that a helicopter crew could shoot uncluttered aerial shots.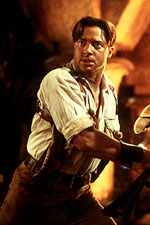 JAW DROPPING DEBUT FOR THE MUMMY RETURNS
With a jaw dropping $68.1 million debut, The Mummy Returns came and conquered not only all its weekend competition, but also several impressive box-office records. Astonishingly, the sequel to 1999's The Mummy, which was itself a surprise hit, out-earned Star Wars: The Phantom Menace ($64.8 million) as the biggest non-holiday debut in movie history.
Andrew Lack, who has presided over NBC News over the past eight years, was named president of the network on Tuesday, a position that gives him broad authority over entertainment and NBC stations.
Broadway's biggest hit in years, The Producers, received 15 nominations Monday, including a nod for best musical, as the 2001 Tony nominations honoring the best of the Broadway season were announced.
Robbie Ftorek, fired as coach of the New Jersey Devils last season, was hired by the Boston Bruins on Wednesday to replace Mike Keenan.
Napster has launched a new version of the file-sharing service called Napster 2.0 Beta 10 that allows the service to take acoustic fingerprints of users' files. The file-sharing service now periodically scans the files its users are sharing and randomly singles out songs for fingerprinting.
Ex-Motley Crue drummer Tommy Lee will join his former bandmate Nikki Sixx on The Howard Stern Radio Show on May 22nd at 7:30am to chat about the upcoming Crue biography The Dirt. The duo are also rumored to be appearing together at the Virgin Megastore in Times Square on the day the book is released.
The heads of the Hollywood writers union agreed Tuesday to forward a tentative contract settlement to the guild's nearly 11,000 members to vote on by June 4.
Songwriters Tom Waits, Randy Newman and members of the rock band Heart have filed a $40.5 million copyright infringement lawsuit against Internet music site MP3.com.
The producer of a comedy sympathetic to the Irish Republican Army has added a fraud claim to his lawsuit against movie studio DreamWorks and is now seeking $100 million in punitive damages. The suit accuses the studio, which is co-managed by Steven Spielberg, of suppressing the film to appease British officials.
The Federal Trade Commission will not block Spanish language broadcaster Univision Communications Inc.'s $1.1 billion acquisition of 13 television stations from USA Networks Inc.
Michael Vick, the top pick in the NFL draft, signed a $62 million, six-year contract with the Atlanta Falcons on Wednesday.
Actor Woody Harrelson was back in San Francisco, barefoot and promoting his eco-activism agenda. But instead of fining him for climbing the Golden Gate Bridge, police stopped him for running a stop sign on his bicycle.