Pick Hits...
Off the Record...
Slipknot
Iowa
Some releases just seem to take forever to come out and this highly anticipated release is one of them. Even with only one album under their belt it seems as if Slipknot have a definite vibe and distinct flavor about them. Corey's vocals are very recognizable, as is Joey's drumming. You hear a Slipknot song and you know it is them. The use of a DJ and samples in addition to traditional drums gives their sound a thicker feel than most, kind of like the difference between a store bought cookie and one mom made at home with big chunks of melted and warm chocolate. It's just different and, in my humble opinion, better. The guitars on the entire album are heavy and melodic and the time-complicated changes throughout the album are executed perfectly. All in all, if you liked the debut from Slipknot then you'll love Iowa. It's totally Slipknot. What more needs to be said?
At the Movies...
Rock Star
This movie is inspired by the true story of Tim "Ripper" Owens, an office supply salesman from Ohio, who replaced Judas Priest lead singer Rob Halford in 1996 after the band watched a video of Owens performing in a Judas Priest cover band. Fueling every metal fan's fantasies, Rock Star follows the saga of a long-maned wannabe (Mark Wahlberg) in a tribute band called Blood Pollution who gets the chance to become lead singer of his favorite group, Steel Dragon, which he may love even more than he does his metalhead girlfriend (Jenifer Aniston). This Behind the Music–flavored flick boasts appearances by metal gods from Dokken and Slaughter. Break out the hair spray and let the head banging begin.
On Video...
Exit Wounds
Action hero Steven Seagal is back on the big screen with a vengeance. And once again he plays a cop on the edge, whose tough-guy posturings and bad attitude to criminals has caused him to be demoted to a traffic cop on the mean streets of Detroit. But you can't keep a good cop down, and when 50 kilos of heroin disappear from the precinct's property room, Seagal is called back to action to uncover the corruption. His only help: gangsta DMX. Between the two, there's plenty of bone-crunching, metal searing action that should excite action-adventure movie thrill-seekers to no end.
The Buzz...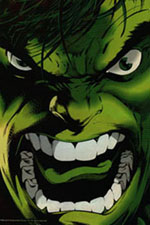 FILMING FOR THE INCREDIBLE HULK TO
START IN MARCH '02
Filming on Ang Lee's The Incredible Hulk movie is reportedly set for March 2002.
The long-anticipated Fathom movie, based on the hit Top Cow comic, is moving forward. Top Cow Productions inked a deal with James Cameron's Lightstorm Entertainment to co-produce the film for 20th Century Fox.
Don't look for The Last Man, the next Brad Pitt sci fi movie, any time soon. The film, directed by Darren Aronofsky (Requiem for a Dream), was to begin filming this fall but now won't begin production until next summer.
It's not a transporter accident. Roswell and Star Trek: Enterprise will cross over. Roswell executive producer Jonathan Frakes confirmed that the two shows would mingle.
Look for the Teenage Mutant Ninja Turtles to come back kicking and screaming. There's plans for a $40-$60 million CGI feature film from co-creator Peter Laird's Mirage Studios and John Woo's Digital Rim Entertainment.
Robert Iler, who plays A.J. on HBO's mobster series The Sopranos was defiant when arrested on robbery charges last month in Manhattan. Iler allegedly bragged and cursed at arresting officers. ``Don't you worry about me. I'm a millionaire,'' according to court papers. If convicted of second-degree robbery, he could face up to 15 years in prison. On the good side he will have lots of money to buy cigarettes.
Could Liv Tyler portray legendary '50s pinup queen Bettie Page? Warner Brothers is reportedly in active development on a biopic with Tyler in mind.
CBS is green-lighting an hourlong Survivor special set to air Thursday October 4 at 8 p.m. ET/PT, a week before Survivor: Africa bows in the same time slot. The special will take a look at how to play the game, as well as give a sneak preview of the show's new cast and location.
Rob Zombie and Ozzy Osbourne are kicking off their three-month, coheadlining Black Christmas tour on Halloween night. That's one day after Zombie releases The Sinister Urge, his first album in three years, and three weeks after Ozzy releases Down to Earth, his first studio effort in six years.
Former child star Taran Noah Smith, who played the youngest of three sons on Home Improvement, is battling his parents for access to his $1.5 million trust fund after accusing them of squandering it.
A former driver of Hollywood producer Peter Guber is pleading guilty to stealing a Picasso drawing and other property from the movie maker's home last year and trying to sell it at Christie's auction house. Sentencing is set for September 28.
Jane's Addiction have announced the first batch of dates for their upcoming tour. Live, rapper Mos Def, and Femi Kuti are among the rotating cast of opening acts. you can catch them in St. Paul, MN, at the Xcel Energy Center on October 23rd.
Musiq Soulchild won four awards and R. Kelly took three in Billboard magazine's first R&B/Hip-Hop Awards.
Actor Troy Donahue, a blond, blue-eyed teen heartthrob of the 1950s and '60s who later encountered and overcame drug and alcohol problems, died Sunday. He was 65.
Jerry Lewis, conducting his 36th annual Muscular Dystrophy Association Telethon, raised a record $56.8 million to fight neuromuscular diseases.